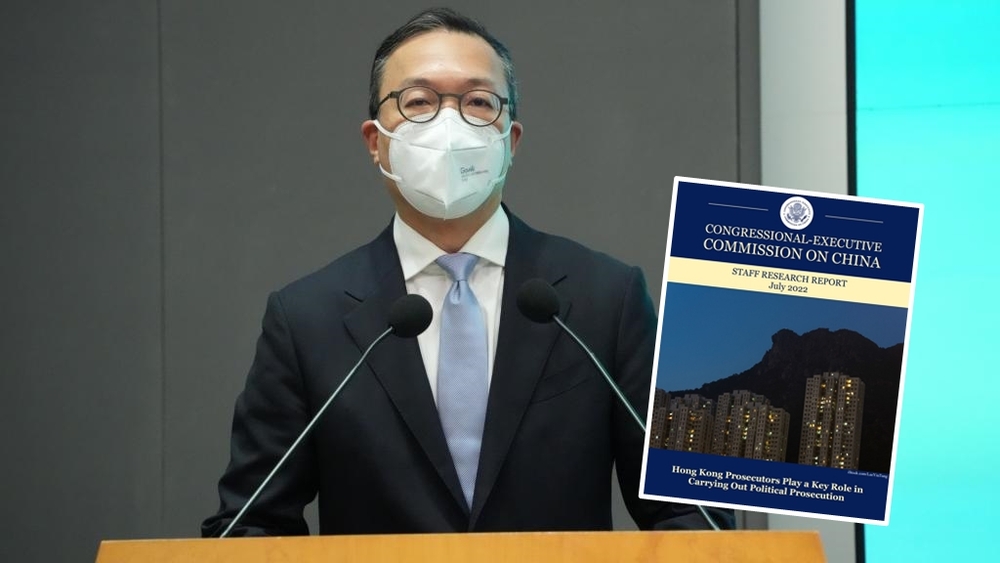 US panel suggests additional sanctions on Hong Kong justice chief, prosecutors
A United States' China policy panel has suggested expanding its Hong Kong sanctions to mid-tier officials, including prosecutors from the city's Judiciary.
In a staff research report by the Congressional-Executive Commission on China, it said: "if Hong Kong's Justice Department and prosecutors continue to expand arbitrary detention and political prosecutions, the United States and the international community should consider taking targeted actions to address the erosion of the rule of law, including additional sanctions."

The commission, set up in 2000 to monitor China's human rights and rule-of-law record, is an advisory body to Congress and the executive branch, but its members have had a significant influence on a number of high-profile China bills in recent years.

The report noted that the SAR government's hardline approach to dissent and pro-democracy views, and the growing number of political prisoners, raise serious concerns about the erosion of the rule of law in the city, with at least 10,500 people arrested for political and protest-related activity.

"Since June 2019, the Department of Justice has prosecuted at least 2,944 individuals on NSL and protest-related charges, some of which infringed on the universal human rights of a wide range of people, including protesters, journalists, civil society workers, and opposition political figures," it wrote.

The commission added that they have identified 15 prosecutors responsible for handling NSL and protest-related charges, which include the city's Director of Public Prosecution, Maggie Yang Mei-kei, and the acting Deputy Director of Public Prosecution of the Special Duties team Anthony Chau Tin-hang.

Others include Laura Ng Shuk-kuen, William Siu Kai-yip, Andy Lo Tin-wai, Ivan Cheung Cheuk-kan, Alice Chan Shook-man, Crystal Chan Wing-sum, Cherry Chong Man-yan, Derek Lai Kim-wah, Wilson Lam Yi Yeung, Edward Lau Wan-cheung, Vincent Lee Ting-wai, Karen Ng Ka-yuet, and Jennifer Tsui Sin-chi.

Apart from the prosecutors, the Commission also recommended additional sanctions on the city's new justice chief Paul Lam Ting-kwok, citing reports that Lam is "widely expected to continue to oversee the tough prosecutorial approach of his predecessor, Teresa Cheng Yuek-wah, against opposition figures, activists and protesters."

Commenting on the panel's proceedings, the president of the Law Society of Hong Kong Chan Chak-ming said that Article 63 of the Basic Law stipulates that the Department of Justice "shall control criminal prosecutions, free from any interference".

"Hong Kong has a robust criminal justice system which guarantees prosecutorial and judicial independence," he added.

Senior counsel Victor Dawes also said that any interference with local prosecutions and judicial independence should be condemned.