CMR Surgical sees Hong Kong as an important market for its surgical robotic system and a launch pad for its Asia-Pacific expansion, CEO Nerseth says in an interview.
CMR Surgical, a US$3 billion UK start-up backed by investors including SoftBank and Tencent Holdings, is keen to establish a presence in Hong Kong as it looks to expand into mainland China and the Asia-Pacific for its surgical robotic system.

The medical technology company's Versius system provides surgeons with multiple robotic arms to perform a wide range of keyhole, or minimally invasive, operations.

The company was targeting local surgeons in Hong Kong, an important market which will serve as a launch pad to bring its surgical robotic system to the region, Per Vegard Nerseth, chief executive of the Cambridge-based firm, said in an interview.

"Our vision is to build an intimate and long-term customer relationship with local surgeons, which means in Hong Kong we have decided to go direct to this audience," he added. "In time we will expand our Hong Kong team to include sales, marketing, professional education and technical support as well as clinical teams to support systems and growth."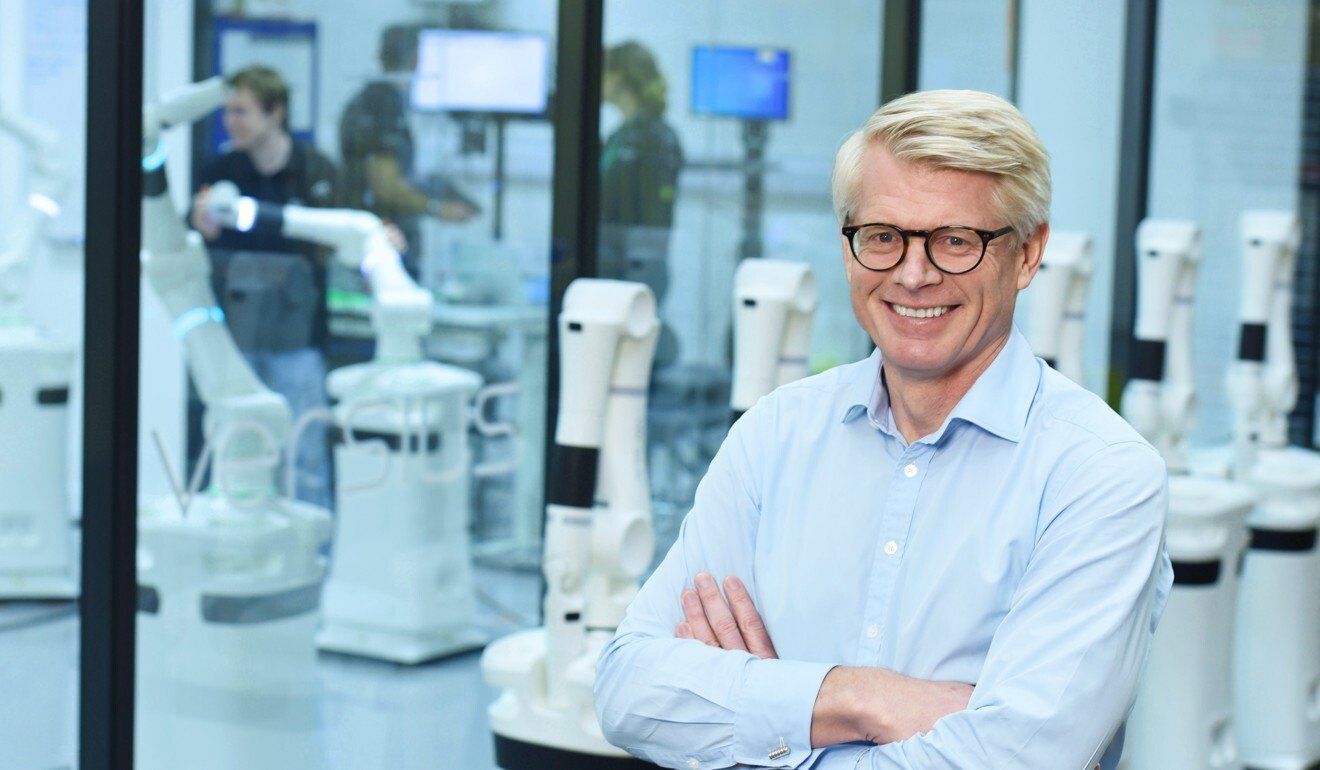 Per Vegard Nerseth, CEO of CMR Surgical.

The size of the global surgical robots market was valued at US$2.3 billion in 2020, and is expected to reach US$3.57 billion in 2021, according to a report from Grand View Research in May. The market is also expected to expand at a compound annual growth rate of 21.6 per cent from 2021 to 2028.

Some of the factors driving the sector growth included greater adoption and acceptance of minimally-invasive surgeries, the report said. The robotic system offers benefits such as shorter hospital stays to patients and other cost ad flexibility advantages, it added.

"Improvements in the development of instruments are likely to permit efficient working conditions for surgeons and are expected to fuel the regional market growth [in the Asia Pacific]," the report added.

As the first step of its expansion in Hong Kong, CMR Surgical placed the robotic system at the Chinese University of Hong Kong Jockey Club Minimally Invasive Surgical Skills Centre (MISSC) in April.

The demonstration at the MISSC, situated at the Prince of Wales Hospital in Sha Tin, allowed surgeons from Hong Kong to experience and test out the Versius system for the first time, Nerseth said.

The system's portable and modular design allows surgeons to only use the required number of arms needed for a given procedure. The system has been used to perform over 1,000 procedures, mainly gynaecology and colorectal related surgeries, across Europe, Australia, India and the Middle East, according to the company.

"We are working very closely with different hospitals, and we definitely hope to see systems within a few months [in Hong Kong]," Nerseth said. On the costs of the system, he said that they offer a pay-per-procedure approach, which means there is no capex or initial investment required for hospitals.

"Hong Kong will be the first entry into the region, with expansion from there into Japan, Singapore and mainland China. In the next five years we anticipate that Asia-Pacific will become a significant part of our global revenues."

The robotics start-up announced on June 28 that it had raised US$600 million in its series D financing round, giving it a US$3 billion valuation. The round was led by SoftBank Vision Fund 2 and co-led by Ally Bridge Group. Other investors included Tencent Holdings, LGT and GE Healthcare.

The funds will be used for the global commercialisation of Versius, as well as the continued development of the system's digital framework, according to the company.

The financing round "has really given us the horsepower to accelerate our global expansion … and follow our mission to [introduce] keyhole surgery to more people around the world," said Nerseth.

"I am convinced that some years down the road, it will be very typical for almost all hospitals around the world to have robotic [systems] as part of the offering to patients," he added.