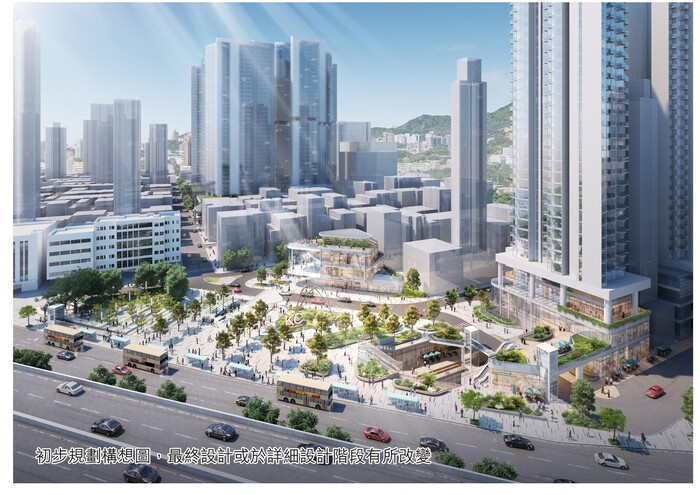 URA sets aside over HK$15 billion for Kowloon City redevelopment
The Urban Renewal Authority will set aside more than HK$15 billion for the urban renewal project in Kowloon City over the next 10 years, managing director Wai Chi-sing wrote in his blog.
The authority on Friday commenced the statutory planning procedures for the Nga Tsin Wai Road / Carpenter Road Development Scheme in the "Lung Shing" area of Kowloon City.

Wai pointed out that appropriate relaxation of the height restrictions has been proposed in the main site to allow greater flexibility in the design of buildings and lateral clearance between them, thereby releasing more space at ground level for pedestrian use.

Located at the heart of the district, the pavements and carriageways in the main site will be re-planned upon the relocation of the existing government and community facilities to the new government complex.

A portion of Nga Tsin Long Road and Nam Kok Road will be converted into two green pedestrian avenues, each at least 18-meter wide. Meanwhile. market square will be provided a connection to the new government complex.

The authority will also raise the maximum residential plot ratio from 7.5 to 8 and lower the non-residential plot ratio from 1.5 to 1 to reduce the commercial floor area and enhance the image of the district with its characteristic stores.

The reprovisioning plan has garnered support from the Kowloon City District Council, and a seamless transition of the public facilities could be achieved to minimize inconvenience to users of the public services, Wai added.

The new government complex and the other two sites will provide approximately 47,000 square meters of floor area for the government, institutional, or community facilities, tripling the existing area within the project boundary, hence enabling more room to provide community facilities for a wider group of beneficiaries.

In addition, Wai said the URA was mulling encouraging building owners to set up a maintenance reserve fund, where it will give additional deposit interest at the beginning of the owners' contributions to increase their motivation to set up the fund.