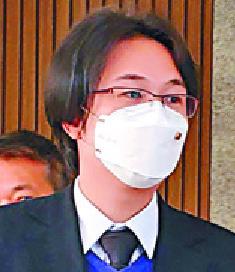 Unrest 'radicalized man in cop stabbing'
A merchandiser who stabbed a police officer in Causeway Bay last July 1 was an introvert and became "radicalized" amid the 2019 anti-extradition social unrest, two clinical psychologists told a coroner's court yesterday.
Both experts told coroner David Ko Wai-hung and a jury of three women and two men that Leung Kin-fai, 50, who worked at beverage giant Vitasoy, shied away from sharing his personal feelings and that his mindset eventually became "radical," leading to his "lone-wolf attack" and the taking of his own life.

Police psychologist Vince Ho Wing-sze said Leung might have appeared diligent and detail-minded at work but was unwilling to share feelings and thoughts with others, and that no one knew he was dissatisfied with the unfairness in society.

Ho said Leung marked down his calorie intake and the happenings in his office in his diary every day.

Officers have also found many of his books were on social fairness, including a book titled The Making of Hong Kong: From Vertical to Volumetric, and news clippings on issues like MPF contributions and doubly non-permanent resident children.

In 2016, he posted an advertisement on now-defunct pro-democracy newspaper Apple Daily to raise social awareness.

"All of these show he has his own perspective on issues and stands on a rather high moral ground, making him even eligible to be classified as an idealist," Ho said.

Leung, she said, thought he needed to do something against people in power upon seeing social conflicts and a strong dissatisfaction with "police's abuse of violence."

Ho said Leung could have suffered vicarious trauma resulting from his empathy with protesters and regarded himself as a victim after reading news about the unrest.

Leung, she said, regarded his suicide as sacred, judging from his leaving behind eight USB drives containing his opinions on social issues before the stabbing.

Hong Kong Psychological Society vice-president Amos Cheung Chuen-yih said Leung had suffered setbacks in his career development and felt unfairly treated.

Since then, he shifted his focus to social issues and eventually became a "binary idealist."

Cheung said: "Things were either black or white; friend or foe for him."

Leung chose to stab himself in the chest with the same knife with which he used to stab a police officer to vent his anger and to show that he was carrying out a noble deed, he said.

The inquest continues today.