New approach combines three common liver cancer treatments, says Clinical Professor Albert Chan.
A new way of treating liver cancer patients can increase their two-year survival rate by at least 20 per cent, Hong Kong researchers have said.

According to a study by the University of Hong Kong (HKU), a combination of three conventional treatments was successful in shrinking the tumours of half of 33 patients suffering from intermediate or late-stage liver cancer, allowing for the growths to be removed.

"What is unique about this approach is that we are actually incorporating three modalities into this combination treatment strategy," Clinical Professor Albert Chan Chi-yan on Wednesday said. "By doing that we can raise the efficacy from 10 per cent of complete cancer clearance to up to 50 per cent."

Chan added that in the past, only 30 per cent of liver cancer patients were suitable for tumour removal surgeries. Others would receive only one of the three types of treatment, but only 10 per cent of them could be completely cured.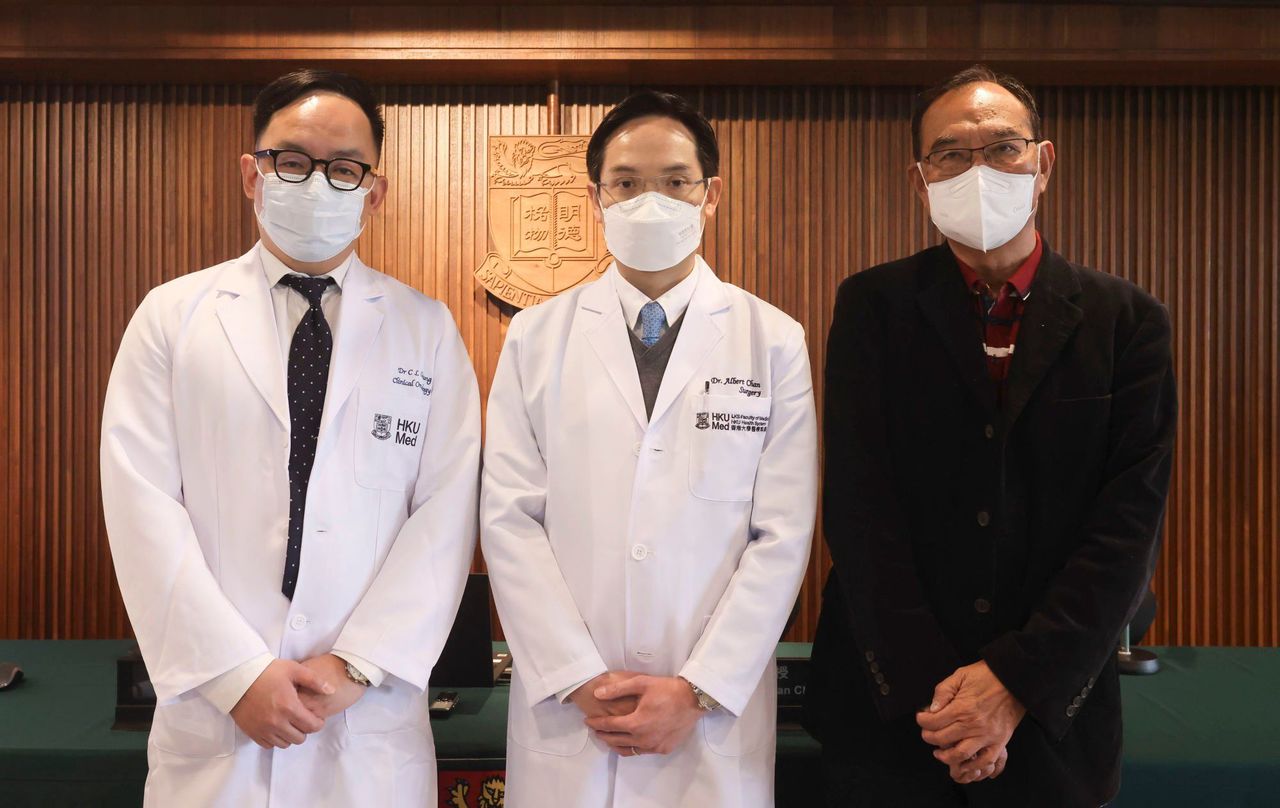 Attending a press conference on a new liver cancer treatment are (from left) Chiang Chi-leung, Albert Chan and patient Wan Ying-keung.
"We were not happy about this result and tried to improve it. We tried to turn this miracle into a frequent occurrence," he said.
The study has been published in the British medical journal The Lancet.
The patients, who initially had tumours ranging in size from 5cm (1.9 inches) to 17.5cm, received the treatments between March 2019 and January 2021. They were initially not eligible to have the growth removed for reasons such as its size or position.
After the treatments, the tumours of 31 patients shrank, with 22 of them seeing the growths reduced in size by 30 per cent.
Eighteen patients became suitable for tumour removal and four of them underwent the operation.
More than 90 per cent of the 18 survived two years after the treatment, with the average exceeding 30 months, compared to 50 per cent to 70 per cent of those who did not receive the new treatment.
Patients would first receive transarterial chemoembolisation (TACE), which would kill part of the cancerous cells, followed by stereotactic body radiation (SBRT) therapy to terminate more compromised cells and activate the immune system, and lastly immunotherapy to stimulate the production of white blood cells to fight the cancer.
Chan said his team hoped to expand the approach to all private and public hospitals in the long term.
"We are seeing about 1,800 new cases per year in Hong Kong," he said. "We are talking about over 1,000 patients who are not eligible for surgeries. Out of these 1,000 patients, we anticipate that about half of [them] will be eligible for this treatment."
Chan expected between 400 and 600 cancer patients a year could benefit from this approach and 200 to 300 of them could be completely cured.
Clinical Assistant Professor Dr Chiang Chi-leung said phase two of the study had been launched using another type of immunotherapy with a higher efficacy rate and 17 patients had been recruited so far.
Retiree Wan Ying-keung, 68, was diagnosed with liver cancer in early 2020 but was not suitable for surgery because the tumour was too large and close to blood vessels.
The combined treatment shrank his tumour, making the removal operation unnecessary.
"This is so remarkable and I was very happy," he said. "I had an appointment with the doctor yesterday, and he said the tumour had almost gone completely, and of course long-term monitoring is needed, but I am very grateful."
Only patients who are not eligible for removal surgery with growths at least 5cm can qualify for the combined treatment. The tumour must not have spread to other organs or invaded major blood vessels.
The new treatment plan is now available at Queen Mary Hospital. As the TACE and SBRT are fully subsidised by the government at public hospitals, patients would only need to pay about HK$200,000 US$ (US$25,610) for six months of immunotherapy.