The exceptionally early announcement that Zhang would stick around comes nearly two years before his current term is set to end.
The University of Hong Kong (HKU) has revealed that president Xiang Zhang will stay on for another term stretching through 2028, announcing the extension nearly two years before his current appointment is set to end.

In a letter to staff, students and alumni on Sunday, university council chairman Arthur Li Kwok-cheung said another five-year term for Zhang had already been unanimously approved.

Li praised Zhang's leadership over the past three years, saying he had steered the university to excellence in research and education during the coronavirus pandemic, and had pushed forward with groundbreaking new ventures in spite of challenges.

"The University has scaled new heights in furthering its core missions and has responded collectively to crises with demonstrated strength and resilience," Li said in the letter.

"Members of the Council and I feel that there is a strong need for continuity of [the] University's leadership, bearing in mind the challenges and developments that lie ahead."

Zhang's current term is not set to expire until July 2023. The last time the university announced its president's appointment was being extended, back in 2016, it did not do so until 10 months before his term expired.

In his letter, Li did not give a reason for the early announcement, but highlighted projects initiated by Zhang that would enable the university to "achieve even greater prominence on a world class scale". The initiatives included the Tech Landmark project on the Pok Fu Lam campus, the HKU-Shenzhen branch development, and a global professoriate recruitment scheme.

Speaking through a university spokesman, Zhang said he was deeply pleased by the extension and honoured by the trust placed in him.

"It has been a privilege to be able to serve as President of this great University, and I look forward to working together with my colleagues, teaching staff and students to further bring the University to new heights, both locally and internationally," he said in a statement.

Zhang, a Chinese-American physicist, was the first HKU president born and educated to the undergraduate level across the border.

His tenure in the top job has been marked by controversy, particularly during the anti-government protests
of 2019.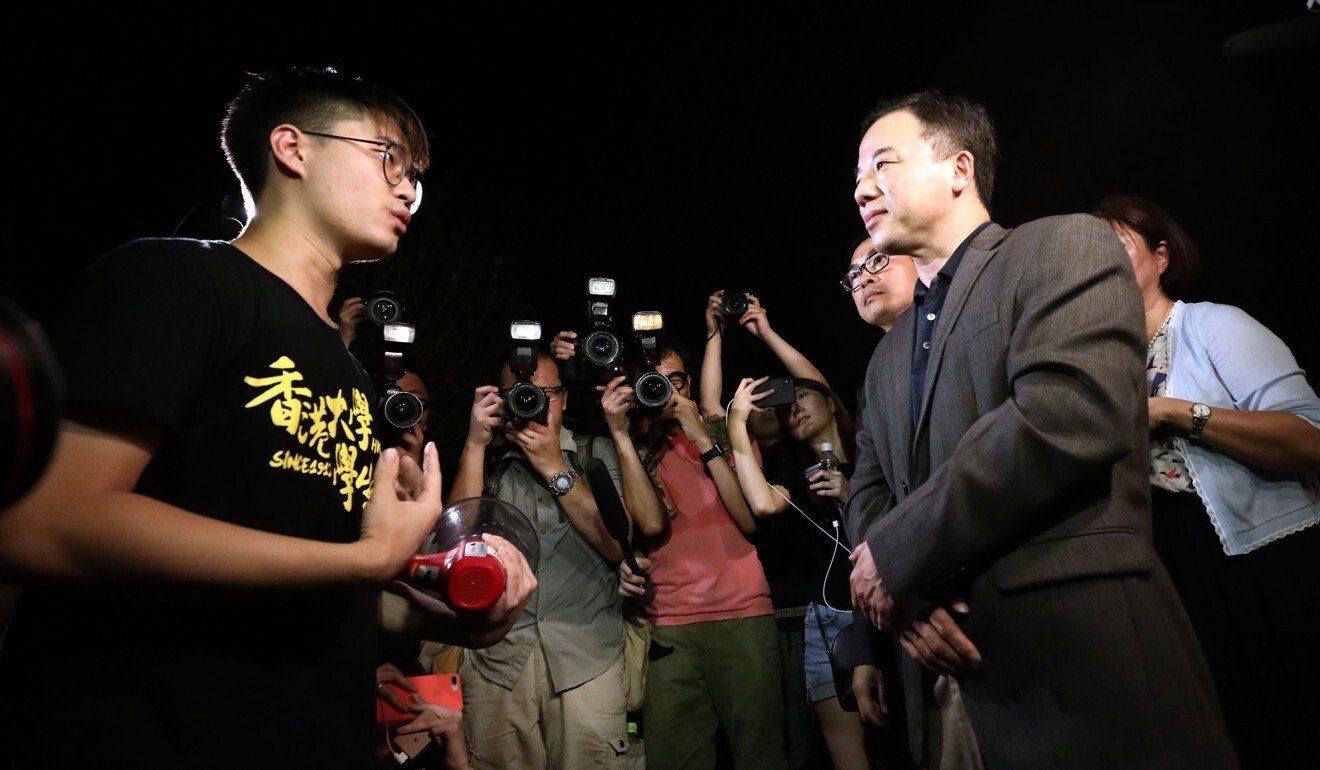 Xiang Zhang (right) speaks to students after a statement condemning violence during the 2019 social unrest drew flak.

A statement by Zhang condemning protesters' storming of the Legislative Council complex triggered a backlash, with some 2,000 students and staff signing a petition calling on him to retract it.

This July, the university took the unprecedented step of severing all ties with its student union and vowed to investigate members who had approved a resolution "appreciating the sacrifice" of a man who stabbed a police officer in the back before killing himself.

University management's subsequent ban on dozens of student leaders from entering campus sparked an outcry, with dissident council members accusing it of using "risk containment" as a pretext for arbitrarily depriving students of the opportunity to learn.

Four students from the university, aged 18 and 19, were later charged with advocating terrorism under the national security law.