New building will ease crowding and strengthen its stem cell research with laboratories.
A medical school in Hong Kong will build a new complex in five years to ease crowding and strengthen its stem cell research with new laboratories.

The expansion planned by the medical school of the University of Hong Kong (HKU) would start next year and cost more than HK$1 billion (US$127 million), the faculty dean, Professor Wallace Lau Chak-sing, said on Wednesday.

"Since our first academic building was built 20 years ago, the total number of students and staff has tripled from almost 3,000 to more than 8,500," he said.

"We lack space for teaching and research purposes. We have an urgent need to expand our medical faculty."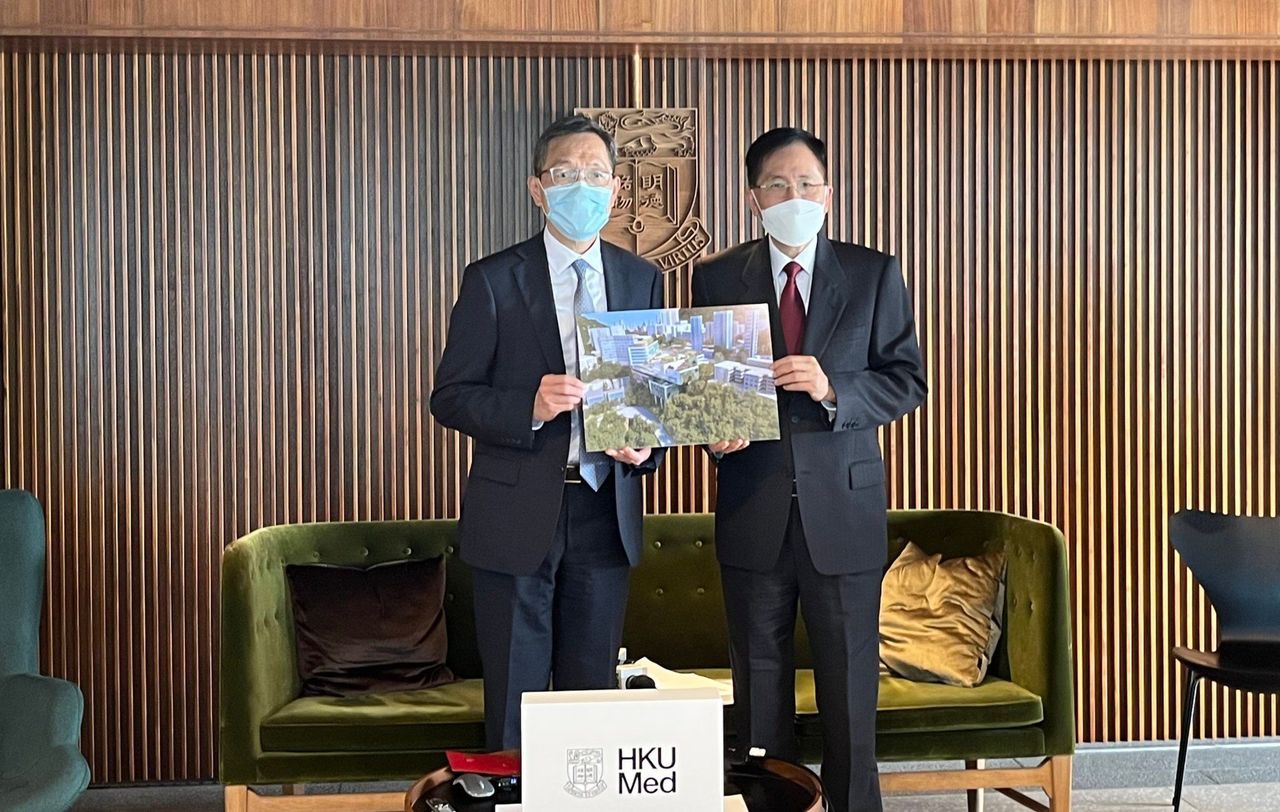 Professor Wallace Lau (left) with Professor Chan Ying-shing.
He added that the faculty also expected the government to increase the number of places for medical degrees at universities in the coming years to alleviate the manpower shortage in the healthcare system.
HKUMed has seven undergraduate degrees, up from four in 2002, and 633 students, including 295 and 210 studying medicine and nursing, respectively, are admitted each year.
Some 1,790 postgraduate students, 340 professors and 2,900 research, technical and admin support staff also shared the campus.
The new complex, part of the school's long-term expansion plan, would be located on a 1.6-hectare (3.9-acre) green belt site on Sassoon Road in Pok Fu Lam, opposite Queen Mary Hospital, as an addition to the medical campus.
Professor Chan Ying-shing, HKUMed's director of development and infrastructure, said the new building would feature classrooms for simulation and research facilities such as laboratories for stem cell and genomics studies.
"There is also a lack of laboratories for research," he said. "We hope that with the new building, we can quickly convert stem cells to other useful cells, which can be given back to the patient. It shows that the proximity of the hospital to research facilities is crucial."
While a small-scale stem cell laboratory is currently set up on the campus, he added, the school wished to have a bigger one that met international standards.
They had been researching the expansion and more details would be released, he added.
Chan said the new building's proximity to Queen Mary Hospital would save later-year undergraduate students time as they would attend lectures and training there.
"The location of the new building is crucial as the learning schedule of medical students is quite hectic," he said. "It will only take students and teachers three to five minutes to walk from the new building to the hospital."
Other facilities include lecture halls, study commons, seminar rooms, pathology teaching centre, clinical skills teaching centre, public space of 4,000 square metres (43,055 sq ft), barrier-free pedestrian walkways, covered paths and lifts linking Pok Fu Lam Road and Victoria Road.
Chan said the walkways would be convenient for nearby residents. The school had hired a consultant firm to plan the expansion, and more details would be released.
He added that the school would scale up its dissection laboratory as a short-term measure while a student dormitory would also be built in the long term.
The medical campus on Sassoon Road has a net functional area of 66,509 square metres, and the new building would provide an additional 26,000 square metres.
A proposal to change the land use to a government, institution or community site has been submitted to authorities and is subject to the approval of the Town Planning Board.
Construction costs would be covered by a government subsidy of HK$20 billion reserved for three local universities, including HKU, to expand their campuses.
The school opened another building at the same site last year. It caters to nursing and Chinese medicine students.