Changes to contracts will result in workers' monthly pay being cut by one-third, from HK$18,000 to HK$12,000, union says.
A leading KMB union has threatened to take industrial action next week if the Hong Kong bus giant insists on cutting the working hours of staff aged 60 and above.

The warning from the Motor Transport Workers General Union, which has about 8,000 KMB members, came on Thursday after talks with the management broke down over the issue.

A recent decision by KMB – which has suffered a drop in passenger numbers as a result of the coronavirus pandemic– to slash the working hours of those reaching 60 or above from eight hours to six hours a day has outraged the union. The new measure will take effect from March 1.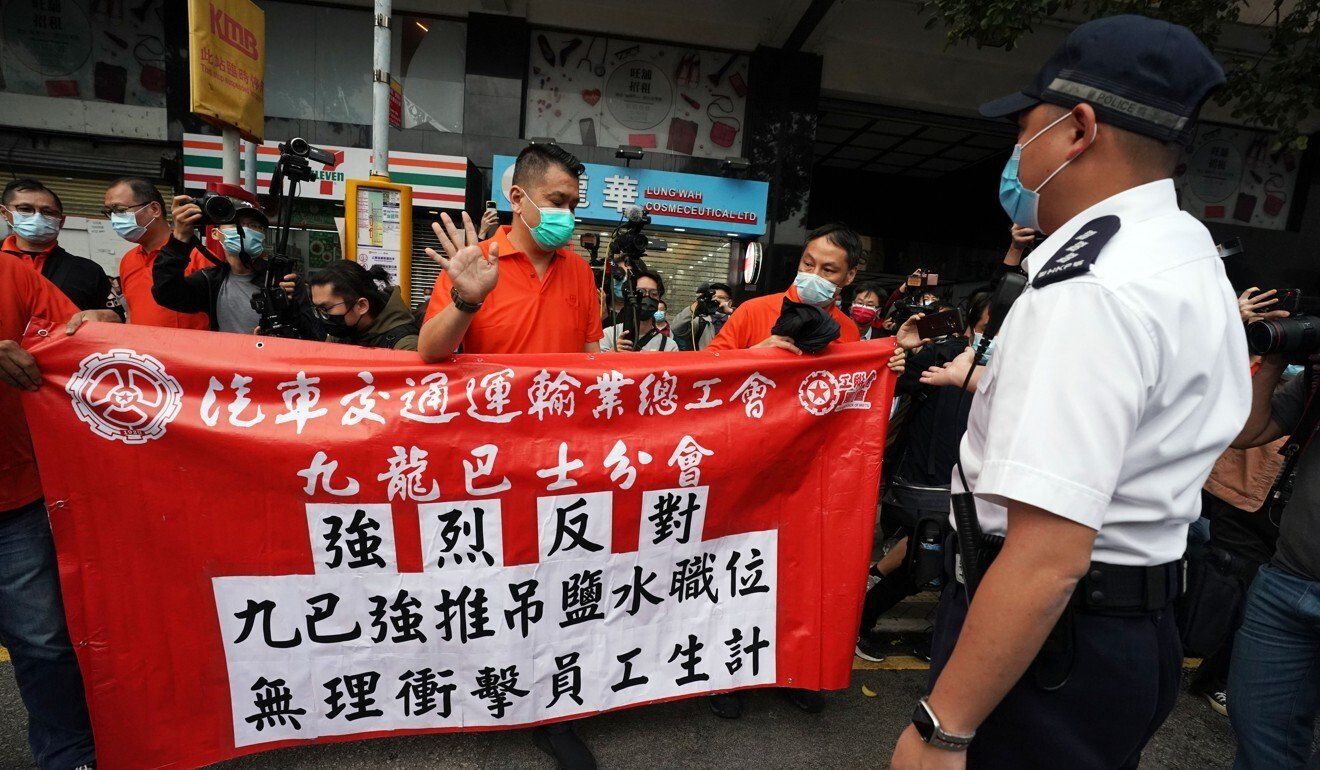 The union says the welfare of 1,000 drivers will be affected.

Lai Siu-chung, director of the union's KMB branch, said the change would result in the drivers' monthly pay being cut by one-third, from HK$18,000 to HK$12,000. Those reaching the retirement age of 60 will be employed on a contract renewed every year.

"This morning we had a meeting with KMB management and we demanded it defer the decision and give us two weeks to consult our members. However, the management has stood firm and refused to back down so we immediately halted our meeting," he said.

Lai said the company's move would immediately affect the welfare of more than 1,000 drivers aged 60 or above and also pose a far-reaching impact on their retirement benefits.

"KMB is unconscionable. This move only serves its purpose of cutting costs. But when an employee's pay is reduced by HK$6,000, how will he be able to raise his family?" he asked.

Lai said the union would give KMB a week to either return to the negotiating table or shelve the decision otherwise it would step up industrial action against the company, including work-to-rule action, and blitz operations to block certain bus terminals.

"We hope KMB will withdraw the decision before the deadline otherwise we have no choice but to drastically step up our actions," he said.

Lai also accused KMB of using different excuses to cut staff working hours and benefits over the past year resulting in average pay falling by at least HK$5,000 a month.

"Over the past year, we've had a very difficult life and been very tolerant over the company's various cost-cutting measures," he said, referring to cuts in services sparked by the coronavirus crisis. "I plead with KMB not to infuriate its staff any more."

Lai said they had contacted the Transport and Housing Bureau and Labour Department asking them to step in.

A company spokeswoman said most of those reaching 60 or above had agreed to or indicated they would actively consider the new contract terms.

"We have to emphasise that KMB has not reduced the working hours of any contract staff … KMB will continue to hire more drivers to meet the needs of passengers. We hope to offer working opportunities for the retired people under the present difficult situation," she said.

"Over the past year, KMB's patronage has decreased due to the impact of the pandemic. The new arrangement could enable retired staff to continue to have work opportunities while balancing the operation resources."

She also said it would only be applied to retired drivers who were about to renew their contracts.