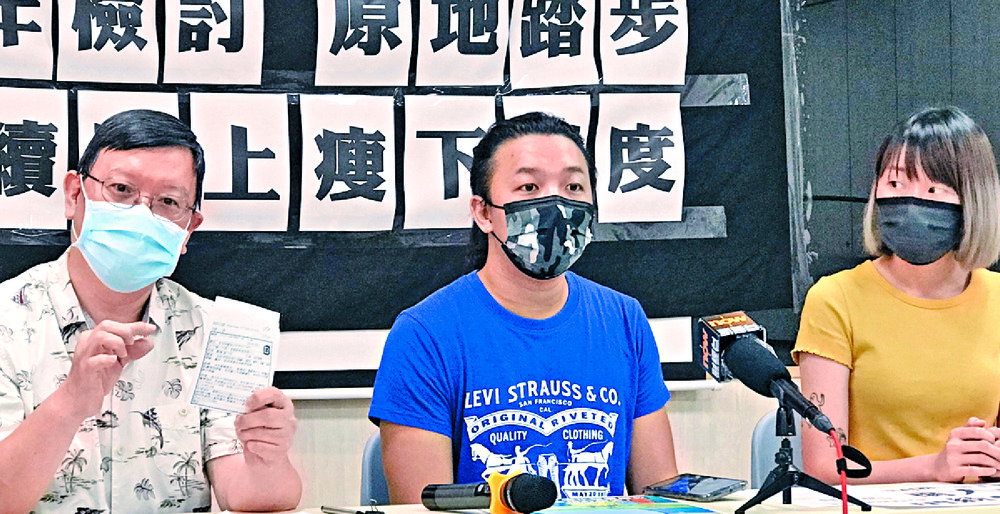 Union slams inequities in NGO pay
Unionists have slammed the government's failure to change a lump sum grant mechanism for non-governmental organizations, saying it fails to address the problem of sky high salaries for the chiefs and low salaries for frontline staff.
The Labour and Welfare Bureau announced last week that the government has decided to retain the lump sum grant system after finishing a four-year review through a task force.

The issue will be discussed in the Legislative Council's welfare panel today.

The review report, which was released last Monday, supported maintaining a mechanism whereby the government calculates how much grant money to give an NGO based on the number of workers it has and the midpoint salary of its staff, saying this gives the organization flexibility in deciding how much to pay executives and low-ranking staff.

The Social Welfare Organizations Employees Union said yesterday that the review had made no progress in tackling the problem of low salaries for frontline workers.

"The report recommended maintaining the subvention benchmark at midpoint salaries, claiming to provide flexibility for NGOs to employ staff. However, such flexibility is in fact exploitation of frontline workers, as NGOs can decide their own pay scales," said the secretary of the Community Care and Nursing Home Workers General Union, Cheng Ching-fat.

Cheng said there is a big difference in the starting pay of organizations: "Some offered HK$18,375, while others only offered HK$15,520."

Under the current system, an NGO can keep 25 percent of the government grant in reserve.

The union urged the government to lower the cap so frontline workers can get higher salaries. "Among 165 NGOs, the total reserve in 2019 to 2020 is HK$4.47 billion meaning around 20 percent of the subvention from 2020 to 2021 became NGO reserves," the union's chief executive, Issac Tsang Kei-nam, said.

"It is not reasonable for NGOs to have HK$4.47 billion in reserves. If the government fails to tackle the problem, they can adopt the old system, which provides a standard pay scale and allocates subventions to NGOs according to their actual costs," Cheng said.

The union also said at least five of the recommendations in the review report are the same as existing policies.

The report advised NGOs to disclose their annual financial reports and the remuneration of their senior executives in the top three tiers - a regulation that is already in updated guidelines issued by the administration wing back in August 2018.