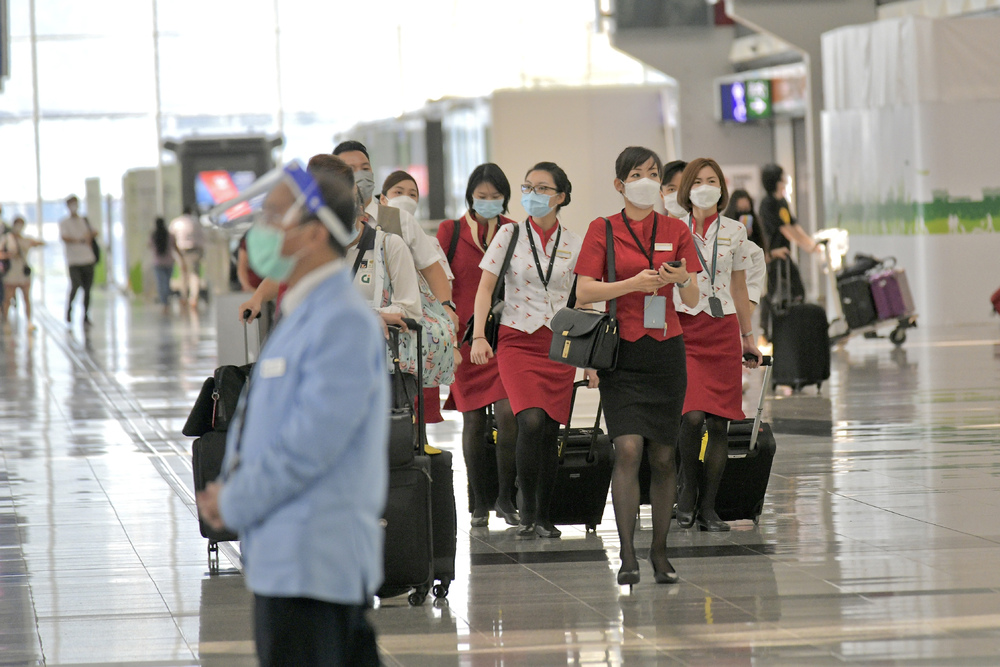 Union says base salary of HK$9,000 not attractive as Cathay eyes 2,000 new flight attendants
A base salary of HK$9,000 can hardly attract job-hunters, Cathay Pacific Airways Flight Attendants Union said ahead of the airline's first recruitment day since the Covid-19 pandemic to be staged on Friday (Oct 7).
Speaking on a radio program Wednesday, the union's vice-chair Grace Siu Wing-yan said newly recruited flight attendants are paid around HK$9,000 on a 70-flight hour basis. Yet, under the latest policies, colleagues won't get paid extra even if they switch to shifts with longer flight hours among themselves.

Although there are extra allowances for flying long-haul flights, Siu gave October as an example and noted that each flight attendant only served one long-haul flight on average. Including up to HK$2,000 allowance for staying overseas, flight attendants' salaries stood at about HK$11,000.

Cathay said that the recruitment program is to fulfill the operational needs in the next 18 to 24 months, aiming to hire more than 4,000 frontline workers, including 2,000 flight attendants.

The airline also invited former workers to return in May, but only about 100 headed back as of September, Siu highlighted. Even workers who returned, including those with more than 20 years of experience, were paid the base salary of HK$9,000 as well, according to Siu.

About 8,500 jobs were axed in October 2020 as Cathay announced the layoff as part of its restructuring plan and shuttered its subsidiary Cathay Dragon. The total number of employees fell by one-third from 34,258 in 2019 to 21,635 in 2021, according to reports.

Siu referred to statistics released by the union and pointed out that Cathay hired about 6,400 flight attendants in September last year, and the number dropped to only around 5,600 in September this year.

She worried that job-hunters at the recruitment may not know about the base salary of HK$9,000, while some interviewees only want to try out being a flight attendant for one to two years before switching to other industries. The situation does not favor the developments of the aviation industry in the long run.

She also expressed concerns about insufficient manpower during peak traveling seasons, including Christmas, with Hong Kong further easing travel curbs.