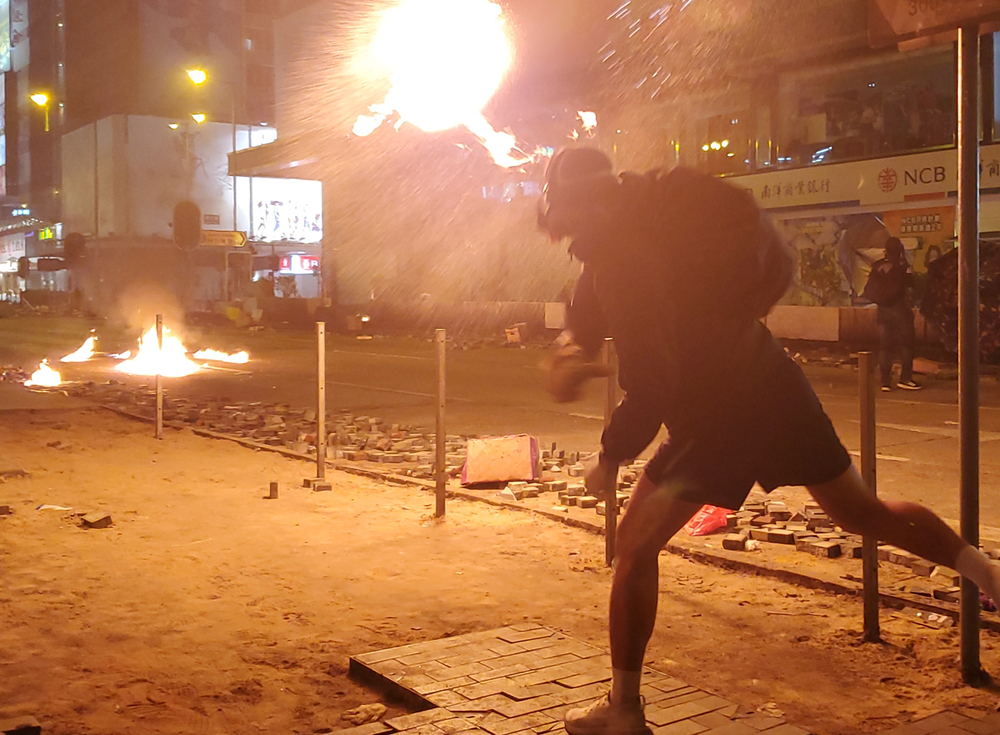 Uni student gets four years and nine months in jail for arson
A 21-year-old student from Hong Kong Shue Yan University was jailed for four years and nine months on Friday after he threw a Molotov cocktail at police in Sham Shui Po during the social unrest.
Cheng Wing-yeung was found guilty of arsoning on Tai Po Road in Sham Shui Po on October 6, 2019, conspiring to destroy or damage property and ignoring the safety of others.

According to the prosecution, about 80 people gathered at Boundary Street at 5pm that day and the anti-riot cops had been pushing forward along the road. Later Cheng turned into Sai Yeung Choi Street North and threw an ignited Molotov cocktail which started a fire.

Police fired three rounds of rubber bullets but no one was hit. Cheng then retreated and was intercepted and arrested by another group of cops on Tai Po Road.

In mitigation the defense said Cheng is a teenager who loves Hong Kong. He had hoped to become a journalist since he was in secondary school and wanted to contribute to the city.

The lawyer added Cheng had only threw the Molotov cocktail to stop police from proceeding forward in that split second. He wished not to hurt anyone and he didn't carry any raw material that could make another Molotov cocktail.

However district judge Edmond Lee Chun-man said Cheng's action could radicalize the tense confrontation between protesters and police. Even he had no intention to harm anyone, he was being reckless as to whether the lives of others would be endangered.

It was lucky that the shattered glass didn't splash in the area and created a more adverse situation. Still it must be taken into account that the liquid contained in the Molotov cocktail had already started a fire.

Given that Cheng admitted parts of the details in the case and he was a 19-year-old teenager when he committed the offense, Lee decided to send him behind bars for four years and nine months.