NGO poll of 5,000 youngsters rates government performance as 19 out of 100, with respondents saying housing shortage is top concern.
Hong Kong secondary school student Jimmy Liang Xikun's biggest wish for the new year is to finally move into a public rental home with his family after almost a decade of waiting.

The household of six, which includes Liang's prematurely born baby sister, is crammed inside a 200 sq ft, two-bedroom cubicle flat, which costs them HK$7,000 (US$896) a month.

"We are always stuck in our bedroom, except at mealtimes, because there's not much space to move," the 14-year-old said on Sunday. "I normally study in the living room, but I can hardly focus when my baby sister is around."

The family's sole breadwinner is Liang's father, who is employed as a construction worker and earns HK$30,000 a month.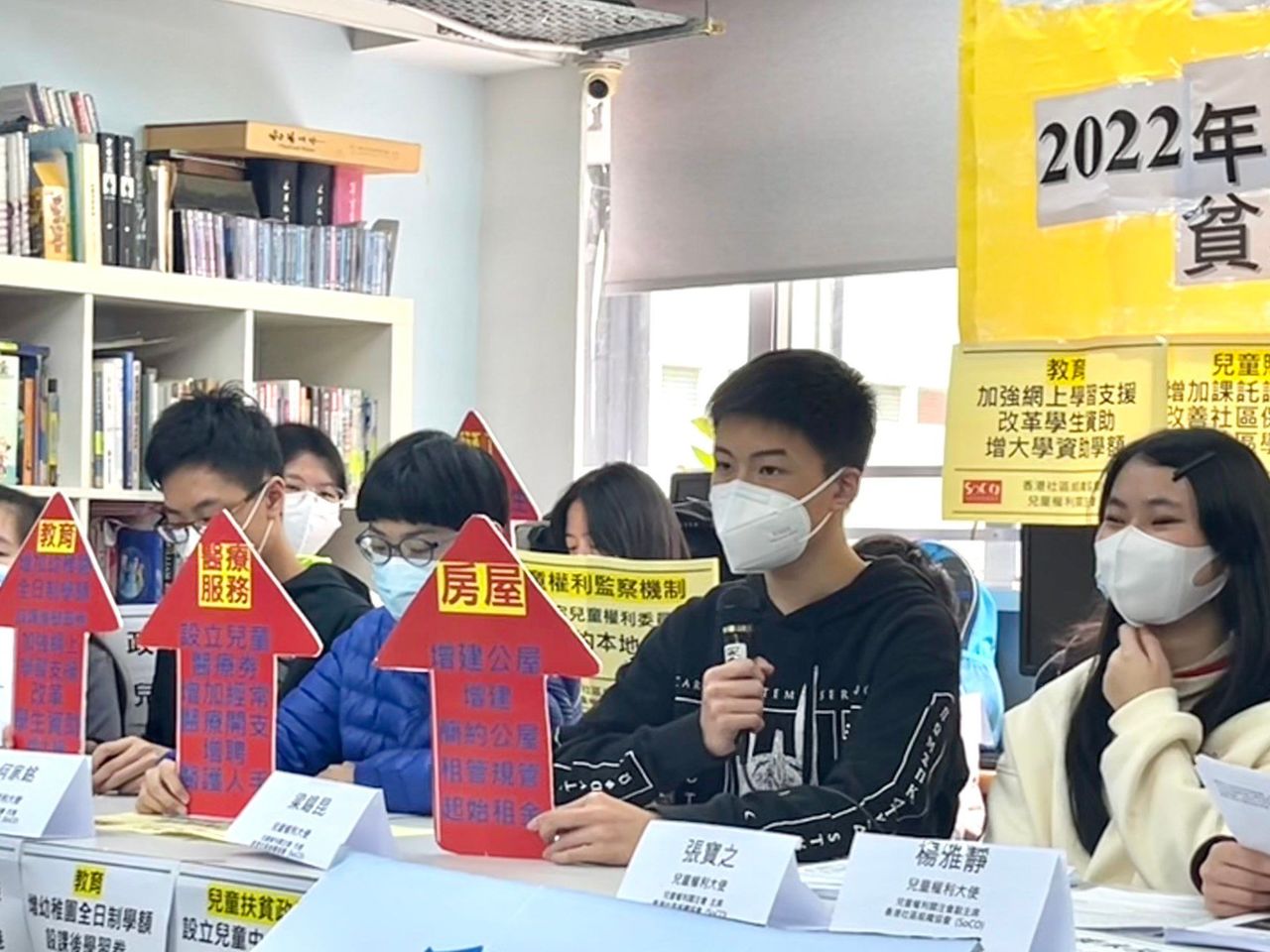 Jimmy Liang (centre) and his family have waited to go into public housing for almost a decade.
While the family also receives some elderly and student allowances from the government, medical expenses for Liang's sister have put pressure on the household's finances.
The secondary student said he wished authorities could shorten the waiting period to move into public housing, so each member of his family could enjoy at least 75 square feet of space, per standards set by the city's Housing Authority.
Hong Kong's largest poverty-focused NGO, the Society for Community Organization (SoCO), and its affiliate, the Children's Rights Association, on Sunday highlighted the unresolved housing crisis when they released a more than 100-page annual research report focusing on the city's underprivileged youngsters.
In the document, the association asked 5,000 members aged six to 17 to rate the Hong Kong government's performance, with the youngsters giving local authorities an overall score of 19 out of 100.
The young members involved in the study also said the city's housing shortage was their top concern, followed by education and healthcare policies.
Meanwhile, SoCO estimated that more than 260,000 residents were living in "inadequate housing", such as cubicle or subdivided flats and cage homes, with the figure including at least 50,000 youngsters under the age of 18.
Members of the city's youth generation have also said that small living spaces and the struggles of living below the poverty line have also affected their health and personal development.
Bianca Zhang Baoji, 15, lives in a 90 sq ft subdivided flat with her parents and 25-year-old brother in Sham Shui Po, one of the city's poorest districts.
"When I study, I always need to stay on the top of my bunk bed because that's the only way to get more light out of my window," she said.
"And that's how we save on electricity bills. I also developed myopia because of that."
Zhang's parents are Chinese citizens holding two-way permits, which do not grant the couple permanent residency or allow them to work in Hong Kong to support their daughter, who was born in the city.
Instead, the family of four survives off Zhang's HK$4,000 social welfare subsidy and also takes out loans to cover their living costs and HK$4,000 monthly rent.
"My father always tells me to focus on my studies and not to worry about finances. It's very hard, but there's nothing I can do," she said.
Zhang said she wished the government could alleviate the financial strain on her family by increasing the amount of money given out through the Comprehensive Social Security Assistance and her student subsidies.
Sze Lai-shan, deputy director of the SoCO, said that, while Chief Executive John Lee Ka-chiu's administration had launched the light public housing scheme and pushed ahead with the Northern Metropolis initiative, the public housing supply was unlikely to meet rising demand over the next five years.
The Northern Metropolis refers to an ambitious initiative to construct up to 186,000 homes and develop an I&T hub in northern New Territories close to the border with mainland China.
She also expressed doubts that the average waiting time for public housing could be cut down to 4½ years by 2026-27, as promised by Lee.
The average waiting time for public housing stood at 5.6 years as of September 2022.
Sze also urged authorities to speed up the construction of public flats and transitional homes, as well as provide regular rental allowances, to alleviate the impact of the shortage on impoverished households, especially those with young children.
In October, an analysis of official figures by Oxfam Hong Kong found the median monthly income for the city's bottom 10 per cent of households fell by 22.9 per cent from the pre-
Covid
level of HK$3,500 in 2019 to HK$2,700 between January and March 2022.