Eight men and one woman among 11 suspects rounded up when 2,000 protesters gathered outside police station in Tsim Sha Tsui on the night of August 11, 2019.
Eight protesters were jailed on Friday for up to 52 months each for rioting outside a police station in a Hong Kong shopping district during the 2019 social unrest, with a ninth defendant sentenced to up to three years of correctional training.

The eight men and one woman were among 11 suspects rounded up on a section of Nathan Road near Kowloon Park on the night of August 11, 2019.

The District Court trial heard that about 2,000 protesters had gathered in the area to erect roadblocks, confront police and barricade the main entrance of the police station in Tsim Sha Tsui. A constable tasked with handling the unrest sustained second-degree burns on both legs during the incident after being hit by a petrol bomb.

Two defendants, Kate Lee Wing-kei, 30, and Nip Ka-po, 27, pleaded guilty to rioting in January before the start of the trial, as the pair were respectively seen putting out tear gas canisters fired by police or blocking roads during the riot.

District Judge Lily Wong Sze-lai convicted seven others in July after finding sufficient circumstantial evidence, including the defendants' attire and protest-related equipment, to conclude they had intended to take part in the disturbance.

The seven comprised: Liu Wai-ming, 28; Chong Ka-ho, 27; Wong Chin-po, 24; Lo Hau-shing, 21; Poon Koon-hung, 28; Law Hon-ming, 25; and a 17-year-old teen, whose name cannot be revealed for legal reasons as he was only 14 when he was charged.

Passing sentence on Friday, the judge said the riot was premeditated and involved several acts of violent conduct, including the throwing of petrol bombs and hard objects, which constituted a challenge to police's authority and the rule of law.

Law, who was also convicted of illegally possessing nine spent tear gas rounds, received the heaviest jail sentence of 52 months. Liu, Chong, Wong, Lo and Poon were each imprisoned for 50 months.

Lee and Nip received lesser terms of 40 months and 42 months, respectively, because of their guilty pleas. The 17-year-old boy was spared jail and received a detention period of up to three years at a training centre due to his young age.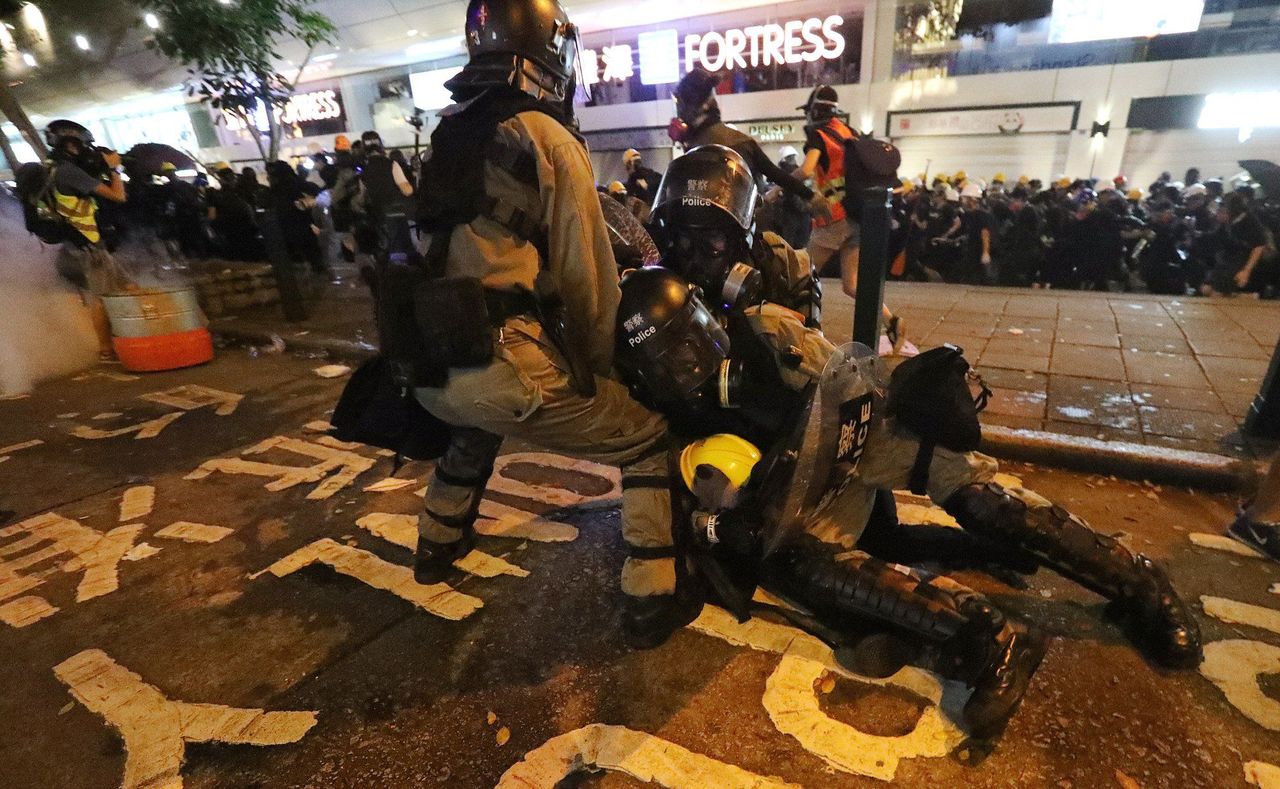 Three police officers take down a protester in Tsim Sha Tsui on August 11, 2019.

In July's verdict, District Judge Wong acquitted Siu Ching-hei, 26, a social worker at the time of the riot, after finding grounds to believe he could have gone to the scene at his supervisor's request to persuade protesters to leave.

Another defendant, 24-year-old Law Lok-man, fled to Taiwan before the start of the trial.

Separately, a Chinese University student was remanded in custody on Friday after he admitted charging a campus checkpoint last year in protest against the institution's decision to step up security following the 2019 unrest.

History undergraduate Cho Tak-hei, 22, pleaded guilty at Sha Tin Court to taking part in an unlawful assembly over the minute-long ruckus outside exit A1 of University MTR station on January 11, 2021.

Some 10 black-clad protesters stormed the security barrier shortly after noon, knocking over railings and throwing starch powder and eggs at guards. They also called on students and visitors to walk straight past the checkpoint without showing their identification documents.

Before the incident, some students had expressed outrage over the university calling police over a politically charged protest on campus in November 2020. National security officers arrested at least nine people in connection with the demonstration.

Cho was caught by staff following a brief chase. He had admitted wanting to protest against the security measures, accusing the university of potentially stripping students of their rights to enter campus.

Acting principal magistrate David Cheung Chi-wai adjourned the case until September 2 for sentence.

Also charged in the case were former CUHK student union chief Owen Au Cheuk-hei, 23, and his fellow schoolmates, Leung Yat-hei, 23, and Ian Leung Ho-wai, 26. The trio denied the charge on Friday and will return to court on September 22 for a pretrial review.