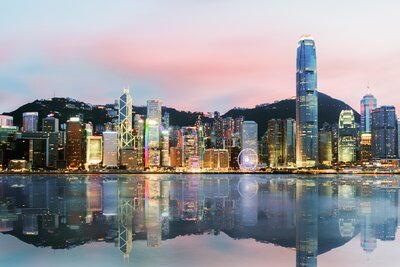 UBS Fined $1.5M In Hong Kong For Compliance Failings
Hong Kong's securities regulator said on Tuesday that it has hit UBS with fines of HK$11.55 million ($1.5 million) for a string of regulatory breaches, including a failure by the Swiss banking giant to disclose financial interests in listed companies in its investment research reports.
The Hong Kong securities regulator has said it has reprimanded and fined UBS AG and UBS Securities Asia for breaching its code of conduct. (iStock)

The Hong Kong Securities and Futures Commission said it has reprimanded UBS AG and hit it with a fine of HK$9.8 million for breaching its code of conduct for licensed firms. The commission also reprimanded UBS Securities Asia Ltd. and handed it a $1.75 million penalty for the same offense

"The SFC considers that UBS failed to act with due skill and care and put in place adequate systems and controls to ensure compliance with the applicable regulatory requirements," the regulator said on Tuesday.

The commission said it found that UBS failed to disclose its holdings in companies that it recommended to investors in 215 research reports between May 2004 and May 2018. The breach was caused by an error in the investment bank's "legacy" technology for tracking its shareholdings, according to the statement of disciplinary action.

UBS breached requirements to act with due skill and in the best interests of clients, the SFC said. The Swiss lender had also failed to establish proper internal control procedures.

The Hong Kong watchdog said it also found that UBS AG failed to obtain proper permission from 91 clients for 913 transactions between November 2012 and February 2019. The Zurich-based bank also did not record instructions from clients in 35 telephone calls, which involved over 2,000 transactions for more than 400 customers, between August 2017 and June 2019.

UBS AG also failed to assess its clients' knowledge of derivatives for more experienced trades between January 2018 and June 2020, the commission said. And the bank failed to check that 15 clients between October 2015 and February 2020 understood the risks of an automatic trade order.

The SFC said that UBS brought some breaches to its attention. The regulator said it took into account that the investment bank has strengthened its internal systems and offered to compensate clients.

UBS said on Tuesday that it has "worked closely with the regulators to resolve these matters."

The Hong Kong authority has cracked down on UBS. The SFC suspended the bank's initial public offering license in March 2019 for just under a year. The move was part of a sweeping measure in which the agency handed down a total penalty of HK$786.7 million to UBS and other finance firms for failing to fulfill their duties during several initial public offerings.

The SFC also fined UBS HK$400 million in November 2019 for overcharging its customers in "opaque" trades over 10 years.