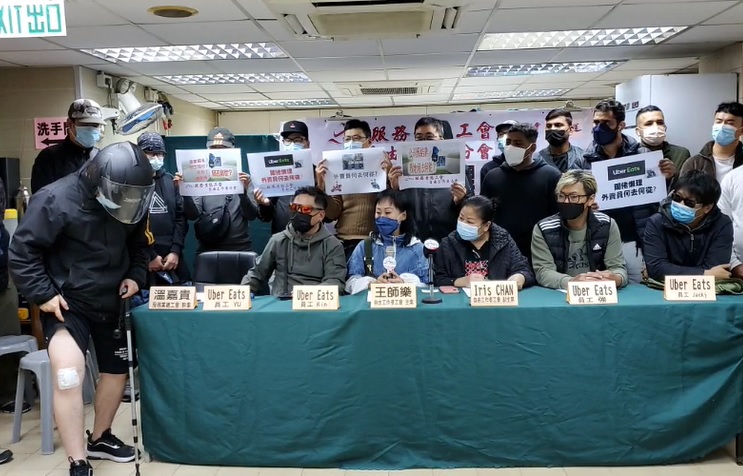 Uber Eats says nothing about severance payments to deliverymen
A hundred Uber Eats delivery people said they were not told about any severance payment nor compensation, despite the delivery platform shutting down its Hong Kong operations by the end of the month.
Uber made an announcement on November 30 to end the five-year-old takeaway delivery platform in the city, saying it is a difficult decision and that it will help employees, restaurant partners, delivery people, and consumers in the transition.

However, unionists said the company has not offered any help so far.

A 45-year-old deliveryman surnamed Ma said that he had contracted with the company for over three years.

He said that he did not understand the contract written in English and that the staff explained to him that he was employed by the company on a full-time basis, with fixed working hours and working areas.

He had to work at least 12 hours per day and not less than 6 days per week. Moreover, he had to provide a doctor's certificate to apply for sick leave.

He also said that there was a penalty system whereby salary would be deducted if he failed to deliver an order within a specified time.

"During the process, the staff did not mention whether I was self-employed under the contract, and they refused to provide me with a copy of the contract or let me take photos of it," he said.

He added that he had asked the company about the severance arrangements via email and their app on the day when Uber Eats announced its closure but has not yet received a reply.

The trade union said that these employees have to comply with the guidelines issued by the company and that the contract also specifies the requirements for working hours and holidays, which proved that Uber Eats has the majority of control over them.

"They should be considered as being engaged under a contract of employment, therefore the company should provide labor benefits, including Offsetting Long Service Payment and severance payment, to those who have served for more than two years," the union said.

It called on Uber Eats to meet with the employees as soon as possible to discuss the relevant arrangements, otherwise, the union will step up complaints to the Labour Department along with the employees concerned or take other remedial action.