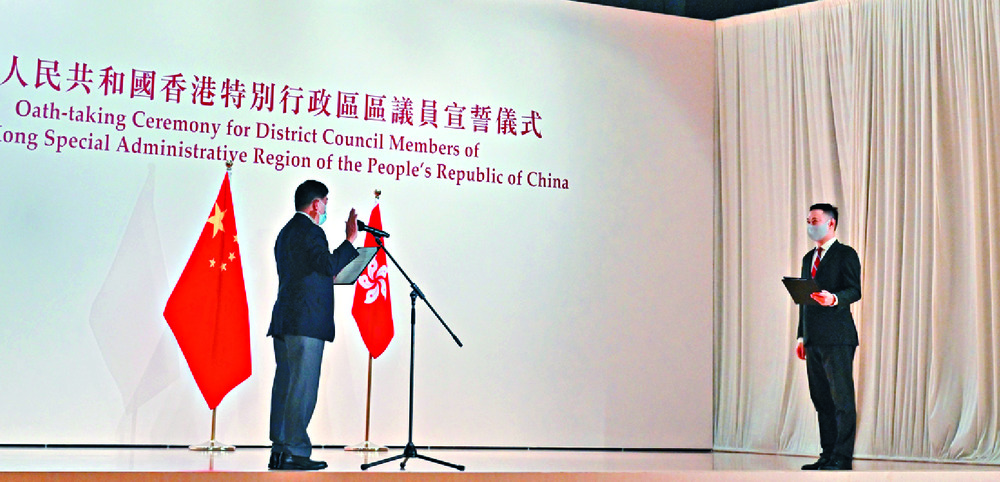 Typhoons delay oaths verdicts
Authorities need more time to review questionable oaths taken by 17 pro-democracy district councillors case by case, with the process delayed by cyclones hitting Hong Kong in the past weeks, says the Secretary for Home Affairs, Casper Tsui Ying-wai.
The 17 councillors from New Territories West, including Yuen Long District Council chairman Zachary Wong Wai-yin from the Democratic Party, and his partymate Roy Kwong Chun-yu, took their oaths on October 8. However, they were told their oaths were questionable the same day.

But authorities have yet to announce a verdict on whether they will be disqualified.

The government took only four to five days to consider the additional information provided by councillors in previous oath-taking ceremonies.

After taking part in an activity in Wong Tai Sin yesterday, Tsui said the delay in making a decision was prompted by the typhoons - Lionrock and Kompatsu - which had battered Hong Kong in the past two weeks.

"We are still working on it, therefore we do not have the results yet," Tsui said.

"I am looking into their representations one by one seriously, therefore I cannot rush to a decision, and we will announce the results once we get to a decision," he added.

The October 8 oath-taking ceremony involved 68 councillors.

Tsui, who was administering the oath, cast doubt on the oaths of 17 district councillors who pledged allegiance to the SAR and to uphold the Basic Law.

However, in an earlier oath-taking ceremony for New Territories East councillors on October 4, 16 out of 50 councillors were unseated after Tsui questioned their oaths.

Tsui took only four days to consider the councillors' explanations.

As for the Kowloon and Hong Kong Island district councillor ceremonies held last month, Tsui took only five days to consider councilors' explanations.

Ten in Kowloon were disqualified and seven on the Island.

Meanwhile, Yuen Long district councillor Tommy Cheung Sau-yin said he was absent from the ceremony due to a medical operation, and he had applied to authorities to postpone his oath-taking.

North District councillor Wong Hoi-ying has also made the same application for undisclosed reasons.

Kwai Tsing district council chairman Leung Kam-wai and Tai Po district councillor Herman Yiu Kwan-ho were both unable to attend the ceremony as they are in custody.

Tsui said: "For those who are unwell, away from Hong Kong or in an environment that is hard to take an oath, I will arrange for them to take an oath as soon as practicable."