Prefabricated homes in high-rise Hong Kong should be more robust to better withstand tropical cyclones, developer says.
The destructive power of typhoons and a lack of private sector interest are preventing the wider use of a construction technique hailed by many for its potential to fix Hong Kong's housing crisis, according to experts.

They outlined some of the barriers to industry-wide adoption of modular integrated construction (MiC) after Hong Kong leader Carrie Lam Cheng Yuet-ngor called for the Housing Authority to deploy the method in more projects to accelerate the building of homes.

The average waiting time for a public housing flat in Hong Kong is 5.9 years, the longest in more than two decades.

The MiC technique involves integrated parts being fabricated, finished and inspected in a factory, often based in mainland China, then transported to a building site for assembly.

Eliza Wong Yeuk-lan, a member of the Construction Industry Council and Swire Properties' projects general manager, said there was still room for improvement when it came to constructing higher-rise buildings using the technology.

"The challenge in Hong Kong is we are still subject to typhoons and [adverse] weather conditions ... the structure needs to be more robust," she said.

Earlier research by the University of Hong Kong found MiC could speed up construction by 50 per cent, but Wong noted there was limited data available at the time of the study. She said the council would need more information before it could properly assess the technology for a range of different projects.

A government official, meanwhile, said it should do more to encourage the private sector to adopt the MiC method in the long run, with most such projects currently run by the administration.

"For private developers, they have their own considerations like finance and how to construct in the most efficient way," said Winnie Ho Wing-yin, director of the Architectural Services Department.

"If the market, supply chain and stakeholders are not ready, they need to make an extra effort as a pioneer.

"I think the government has the responsibility to act as a pioneer."

While MiC is considered cheaper than traditional construction methods, Ho acknowledged that adopting the new technology could initially be more expensive as developers would need time to adapt.

"It's normal for the government department ... to drive these new technologies. It will take time to get to that stage. Once the industrialisation process builds momentum, then it can be cheaper."

The city's major developers have not used MiC in any mass housing projects so far.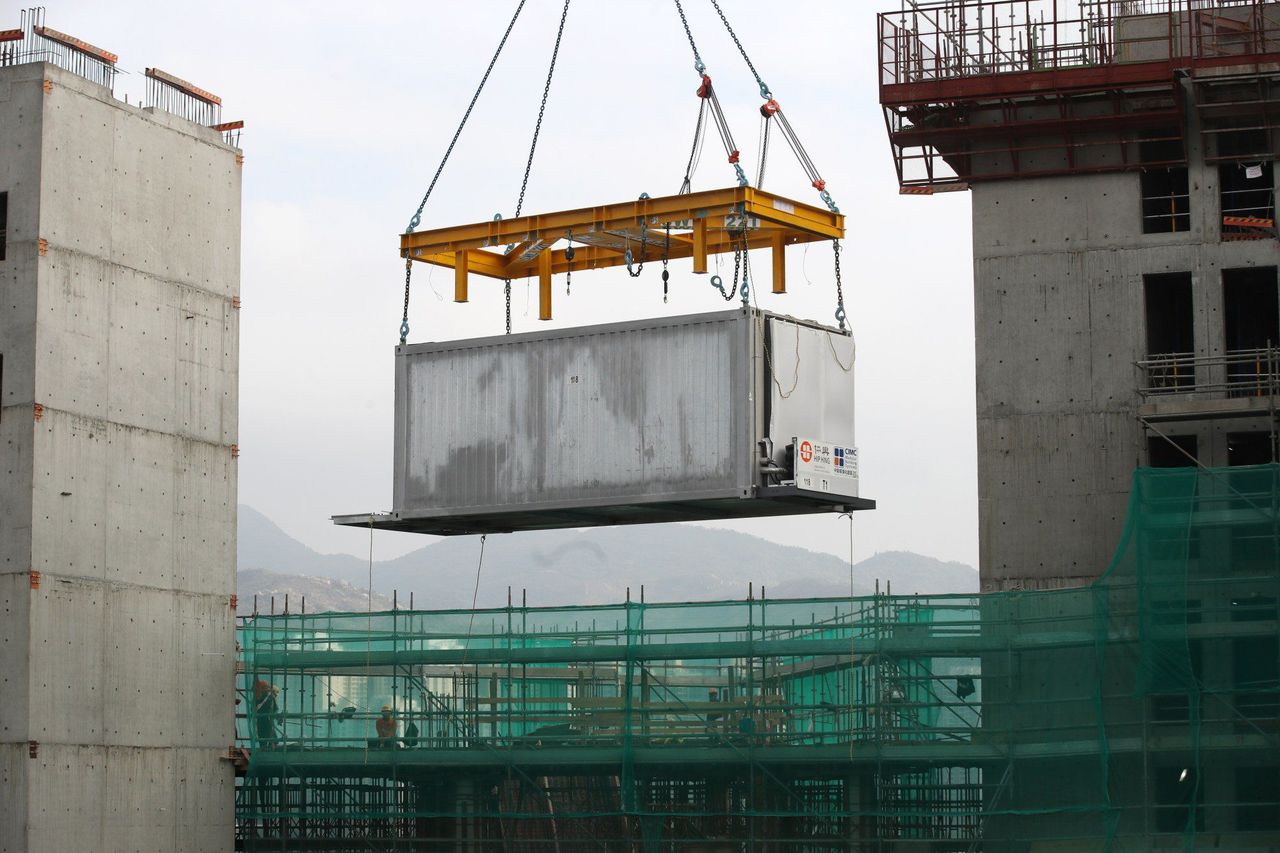 A building project using modular integrated construction technology for homes.

On a smaller scale, the latest such project in the private sector is a 1,224-place student dormitory for the University of Hong Kong at Wong Chuk Hang. With completion expected by 2023, it will feature four residential colleges in two 17-storey towers.

Meanwhile, the Housing Authority is experimenting with MiC in a 12-storey housing block of 240 flats in Tung Chung.

The authority, the city's main public housing provider, is expected to use the construction method for a second building of about 40 storeys, which will be the city's tallest such block when completed in 2026.