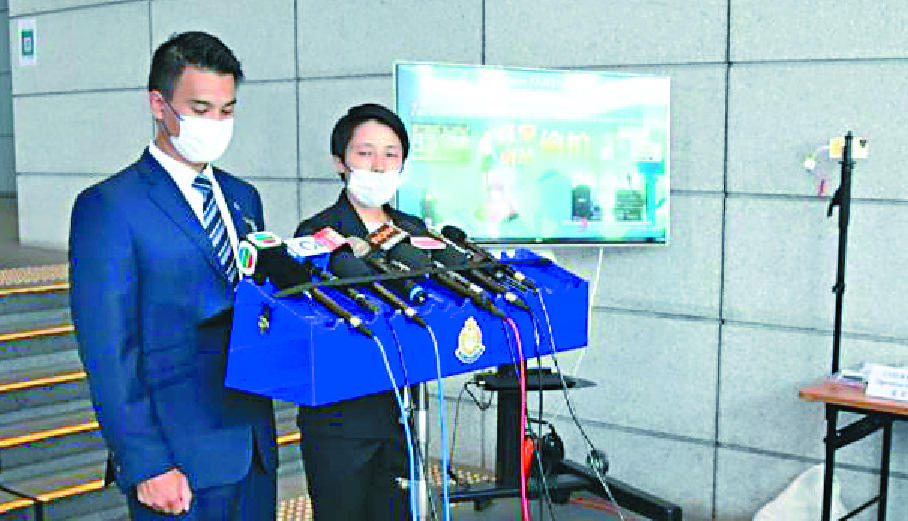 Two ran upskirt pics site with 50,000 members
Two men behind a website that offered more than 30,000 upskirt pictures and videos of women for sale have been arrested.
A 33-year-old photographer and a 36-year-old administrator were held for conspiracy to outrage public decency in an operation codenamed "Farshadow" in Hung Hom and Sha Tin on Friday.

They have been released on bail and should report back to the police this month.

The photographer, also a cleaning company employee, was responsible for taking pictures and videos before uploading them to the website for sale from HK$200 to HK$400 each, police said.

The administrator, also the chief executive of another company, oversaw the website's operation, proceeds and solicited people to join the website's membership.

Deputy Superintendent Cheung Wai-ho of the cyber security and technology crime bureau said the pictures and videos were taken in public places, such as MTR stations and malls.

The faces of victims were left unblurred to attract more clicks, Cheung said.

He added that the website, founded in 2017 and having amassed more than 50,000 members, would solicit such photos from members.

Sales proceeds were paid into Hong Kong or Macau bank accounts, with the website's administrator then purchasing gaming cards and reselling them, Cheung alleged.

"This was to clean up the website's proceeds, which increased the difficulties for the investigators," he said.

Cheung said police seized 12 computers - one of which had more than 30,000 upskirt pictures and videos - 10 mobile phones, nine SIM cards and six filming tools.

When asked if it was illegal for members to browse or download the pictures and videos, Cheung said it depends on the content.

"If anyone publishes or possesses the upskirt pictures and videos, they might breach the Control of Obscene and Indecent Articles Ordinance or Prevention of Child Pornography Ordinance," he said.

Police said anyone who published obscene articles online was punishable with a HK$1 million fine and three years' imprisonment.

Separately, police are hunting for a man who allegedly took pictures of a 14-year-old girl in the lavatory of a Ho Man Tin mall on Sunday.

At about 7pm, the girl saw a person's hand clutching a phone reach into her toilet stall in the lavatory of Oi Man Plaza on Chung Hau Street.

She alerted her father, who subsequently reported the case to the police.

The case has been classified as acts outraging public decency and is being handled by the Kowloon City investigation team.