Hong Kong yesterday reported 97 Covid deaths, with the demise of a 27-year-old asthmatic man and a 52-year-old woman with breast cancer coming in for special attention as both of them had recovered from Covid infections last month but died after collapsing at home on Wednesday.
Still on a downward trajectory were new daily infections, which came in at 2,644, with 1,368 detected in PCR tests and 1,276 in rapid antigen tests.

The Centre for Health Protection's principal medical and health officer, Albert Au Ka-wing, said the SAR has seen 1.17 million infections and 8,344 deaths in the fifth wave so far. The death rate is 0.71 percent.

Hospital Authority chief manager for quality and standards, Lau Ka-hin, said 90 patients aged 27 to 104 died on Wednesday, 85 of whom were above 65.

Lau said 44 of them were unvaccinated, 21 had received a single jab, 17 two doses and two three injections.

The 27-year-old man who died was admitted to Pamela Youde Nethersole Eastern Hospital due to complications arising from his long-term bout with asthma between March 16 and 18. He tested negative on March 16 but positive while being discharged on March 18.

The man was discharged with a low viral count, but collapsed at home Wednesday and wasn't breathing when emergency personnel arrived.

Another unvaccinated patient, a woman with breast cancer, tested positive in a rapid test on March 12. She consulted a doctor at a designated Covid clinic the same day and received medication to ease her symptoms.

Lau said the woman also collapsed at home on Wednesday - her heart had already stopped when she was rushed to the hospital.

Lau reported another seven deaths from Tuesday due to lagged results.

Au said health authorities have been in talks with the Education Bureau for one to two weeks regarding how to prevent Covid transmission following the resumption of in-person classes.

"Although the number of infections has been decreasing, there will still be new cases and some students will be infected. But schools will not be asked to suspend classes just because there is one single case," Au said.

Students should get tested every day and stay at home if they develop any Covid symptoms, he said.

The Education Bureau had earlier announced primary schools and kindergartens could resume half-day face-to-face classes as early as April 19.

Secretary for Education Kevin Yeung Yun-hung yesterday said the bureau is considering allowing senior grades at primary schools to resume classes first after the Easter holiday.

While all schools will resume face-to-face classes by May 16 or 17, Yeung said the bureau will let secondary schools with a 90 percent vaccination rate among students and teachers resume full-day in-person classes.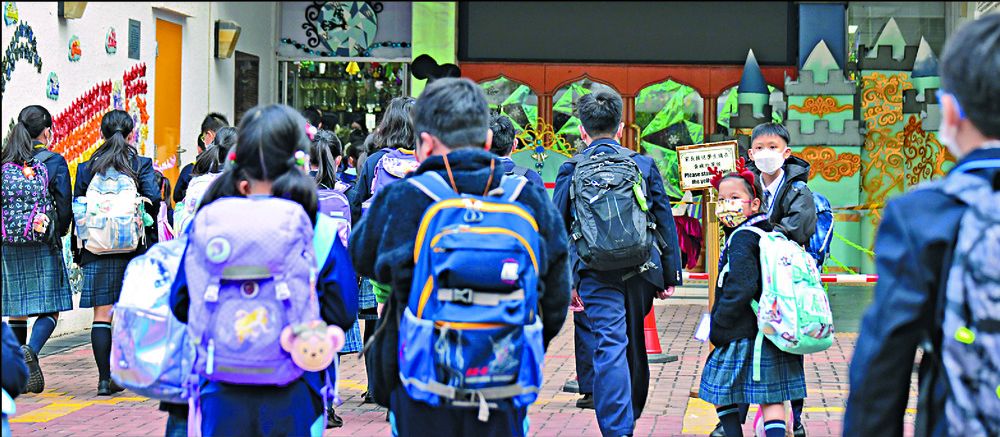 Schools will not be made to suspend classes 'over a single case,' Au said.