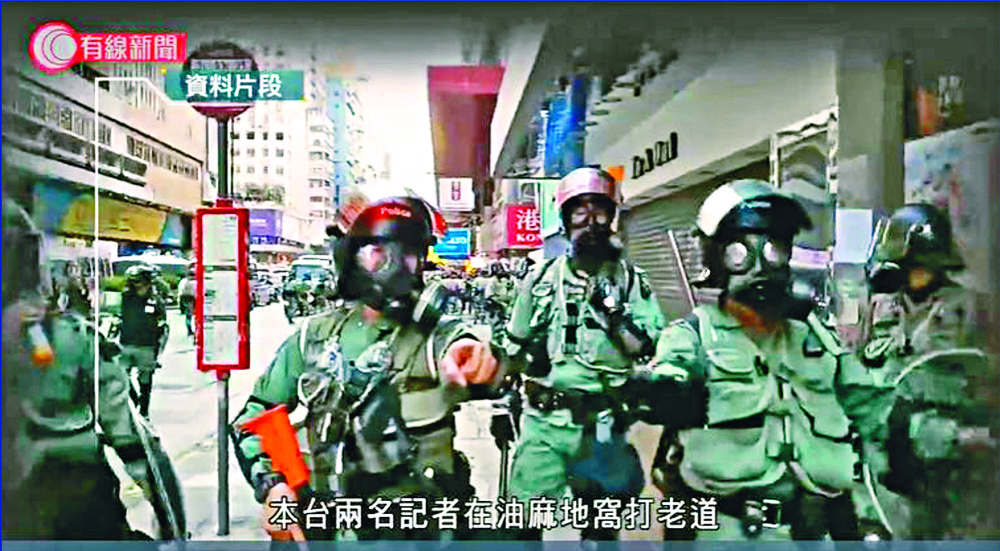 Two cops to be disciplined over i-Cable gripes
Police will take disciplinary action against two cops who i-Cable News complained about during its coverage of the 2019 unrest.
The news broadcaster reported yesterday that two of its journalists were shooed away by two cops when they were reporting outside the police cordon line at Waterloo Road in Yau Ma Tei on October 20, 2019.

The two cops did not display any police identification to the reporters and their shoulder tags did not reveal their police numbers.

The Complaints Against Police Office made a ruling this year that the accusation for dereliction of duty is valid, meaning that the police involved had failed to display police identification.

The office said that the two cops did not treat the two reporters impolitely or obstruct their news coverage. However, advice will be given to the two police officers.

The now-disbanded Civil Human Rights Front had applied to the police to hold a protest at Tsim Sha Tsui on October 20, 2019. Despite police objection, thousands of protesters still marched in Kowloon in opposition to an anti-mask law.

Police had deployed a water cannon spraying blue dye to evacuate protesters, which stained Hong Kong's biggest mosque, the Kowloon Masjid and Islamic Centre.

Several reporters, bystanders and former Indian Association chairman Mohan Chugani were sprayed by the blue stream. Chief Executive Carrie Lam Cheng Yuet-ngor apologized to Islamic religious leaders after the incident.

The Hong Kong Journalist Association applied for a judicial review in early October, 2019 against the commissioner of police at the time, Stephen Lo Wai-chung, to contest that the police force failed to facilitate journalistic activities in compliance with constitutional and public law duties.

The association had observed police misconduct towards journalists over the few months before October 2019, such as incidents of abusive language and deliberately blocking reporters' line of sight.