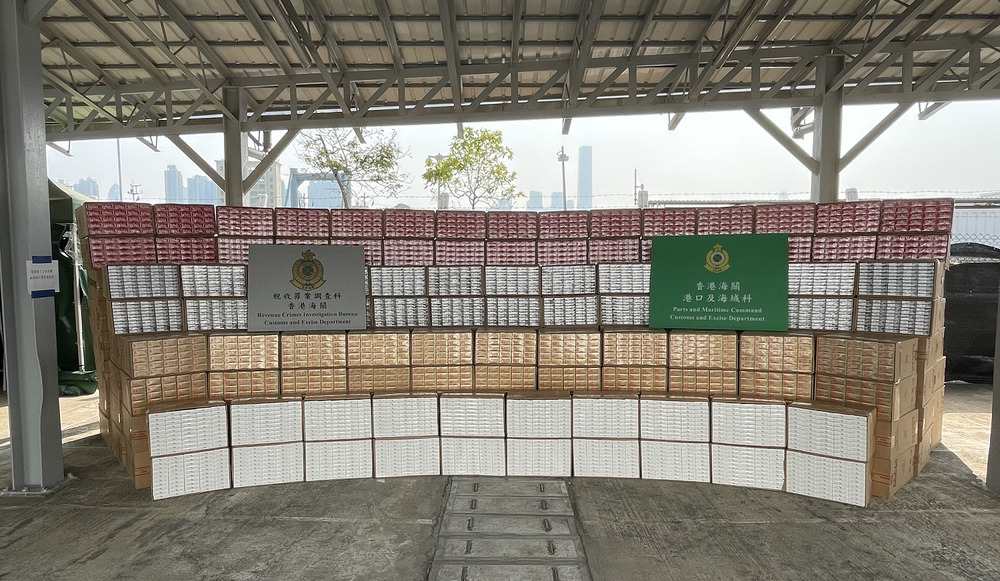 Two arrested in customs' HK$100m illicit cigarettes bust in Yau Ma Tei
Two men were arrested by customs Tuesday last week as officers busted a smuggling case and seized 36 million suspected illicit cigarettes valued at HK$100 million, with a duty potential of about HK$69 million. 
After risk assessment and in-depth investigations, customs intercepted a suspicious barge in the waters near Yau Ma Tei Anchorage in the morning on December 20, and seized the batch of suspected illicit cigarettes inside three 40-foot containers on board. 

The two men arrested were aged 43 and 56, according to customs. A set of drug-inhaling apparatus was also confiscated from one arrestee. 

Customs also found that the brands of some of the suspected illicit cigarettes seized are uncommon in Hong Kong, and believed that the syndicates intended to provide illicit cigarettes for overseas markets as well. 

Investigations are ongoing and customs may make more arrests. 

Including the cigarettes seized in this operation, customs has seized about 751 million suspected illicit cigarettes this year as of yesterday (Dec 29), exceeding last year's total seizure of 427 million cigarettes by 70 percent. 

Customs said they will continue to trace the source and the flow of the illicit cigarettes. 

Customs also warned that smuggling is a serious offense, and the maximum penalty of importing or exporting unmanifested cargo carries a HK$2 million fine and seven years' imprisonment.