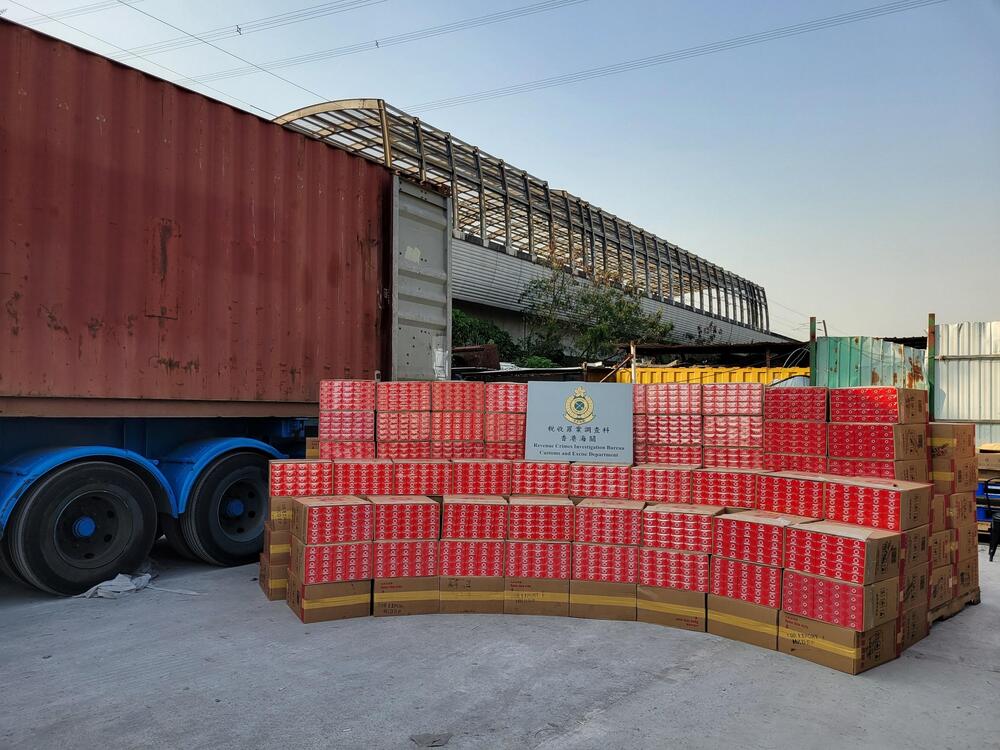 Two arrested as illicit cigarettes worth HK$29m seized by customs
Two jobless men were on Friday arrested by customs in an operation in Tuen Mun where about 10.5 million suspected illicit cigarettes worth HK$29 million were seized.
The seized illicit cigarettes also came with a potential duty of about HK$20 million, according to customs.

The batch of illicit cigarettes was seized from a 40-foot container at a logistics site in Lam Tei this morning when officers were conducting spot checks. The two 28-year-old cigarette dealers were also arrested by officers at the scene.

Customs believed the batch of illicit cigarettes arrived just earlier this morning via waterways and was stored at remote logistics sites to dodge officers' inspection.

The suspects were breaking down that batch of cigarettes into smaller packages and were about to send them out to other warehouses throughout the city for storage and sales.

Officers predicted that since logistics was affected by the pandemic, the suspects stocked up on the cigarettes for stable supply during Easter holidays.

Customs said they are still investigating the source and flow of the cigarettes and more arrests may be made.

They added so far, they have seized over 75 million illicit cigarettes this year, and warned the public that any one convicted of importing or exporting unmanifested cargo could face a HK$2 million fine and seven years in jail.

They also encouraged the public to report any suspected illicit cigarette activities by calling Customs 24-hour hotline at 2545 6182 or send an email to crimereport@customs.gov.hk.