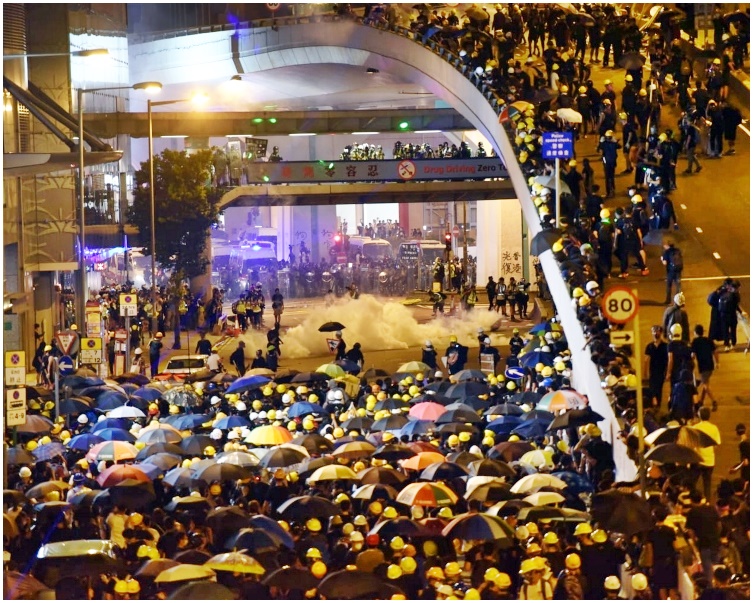 Twenty persons convicted of rioting in Sheung Wan in 2019
Twenty persons on Saturday were convicted of rioting in Sheung Wan on July 28, 2019 following the assembly that took place at Chater Garden on the same day.
A total of 24 persons were charged with rioting on Des Voeux Road West between Western Street and Queen Street on July 28, 2019. One defendant pleaded guilty and 20 were convicted by the court. Three were acquitted of the charge.

They will be remanded in custody until their sentence is handed down on December 4.

Today in District Court , judge Johnny Chan Jong-herng said the riot took place at about 7.02pm that day when the police defense line pushed eastwards. Protesters threw bricks and glass bottles at police, as well as lobbing smoke grenades back at officers, a behavior which "causes actual bodily harm to others".

Chan added that more and more protesters showed up and continued to disrupt order and peace. They didn't disperse, but retreated and covered each other, indicating their intent of taking part in the riot together, one of the elements of this offense, he pointed out.

Chan also agreed with the prosecution that each of the defendants is an accomplice in this case, who actively took part in the riot and committed the crime.

The verdict was scheduled to be announced in July, yet Chan adjourned the case until today so that he could take into account the common law doctrine of "joint enterprise" before making the judgment, which was in October ruled as not applicable to unlawful assembly and rioting cases by the Court of Final Appeal.

Read more: Top court rules 'joint enterprise' not applicable to rioting and unlawful assembly cases

Among the 20 convicted defendants, a 33-year-old clerk surnamed Mok and a 20-year-old hairdresser surnamed Tsui were found guilty of assaulting a police officer and possessing radiocommunications apparatus without a license, respectively.

The 23 defendants are Cheung Chi-lun, 21, Chan Tsz-hong, 28, Jung Wang-yeung, 20, Tsui Hing-kwan, 20, Chan Hei-chun, 24, Tsui Yiu-ming, 21, Lam Siu-fung, 24, Choy Chak-sun, 40, Yeung Chi-sing, 20, Lam Sing-yu, 19, Wong Chung-yan, 22, Wong Kam-shan, 20, Lee Siu-hong, 21, Chow Kam-to, 18, Mok Cheuk-fai, 33, Wong Fei-hung, 19, Cheung Ka-chung, 20, Tam Sze-miu, 23, Law Man-wing, 22, Polly Choi Po-yu, 23, Tam Yee-ting, 25, Luk Ying-wai, 27, and Wong Pak-yin, 21.