Counting of ballots begins at Hong Kong Convention and Exhibition Centre and is expected to last into early Monday morning.
Hong Kong's first Legislative Council poll after an electoral overhaul ordered by Beijing closed on Sunday with a record low turnout even as crowds thronged the city to take full advantage of free train and bus rides meant to get out the vote.

Counting of about 1.35 million ballots began at 11pm at the Hong Kong Convention and Exhibition Centre and was expected to last well into early Monday morning.

For 14 hours beginning at 8.30am, voting proceeded without any major incident amid a heavy police presence and under the watchful eyes of anti-fraud officers who had warned against illegal acts such as calling for a boycott of the polls or casting blank ballots.

The 30.2 per cent turnout was the lowest since Britain handed the city back to China in 1997, falling below the 43.57 per cent recorded in 2000 and the 39.1 per cent from 1991. The turnout for the Election Committee constituency was 98.5 per cent and 32.2 per cent for the functional constituencies.

The highest participation rate was 58.29 per cent, recorded in 2016.

With the main opposition snubbing a poll it claimed was aimed at clipping its wings, attention focused mainly on voter turnout as a key indicator of public acceptance of the new electoral system Beijing ordered in March to ensure only "patriots" held power.

In the run-up to Sunday, officials emphasised that turnout was not the only outcome that mattered and pointed to the diversity they said the legislature would now have with more groups, especially ones representing grass-roots interests, having a stake.

City leader Carrie Lam Cheng Yuet-ngor also sought to play down fears of residents shunning the election, arguing that a low turnout would "not mean anything" and could instead indicate public satisfaction with the administration.

After voting at the Raimondi College polling station in Mid-Levels, Lam told the media she did not have any "particular expectation" on the level of public participation.

"The government has not set any target for voter turnout rate, not for this election, not for previous elections, because there is a combination of factors that will affect the voter turnout rate in any election," she said.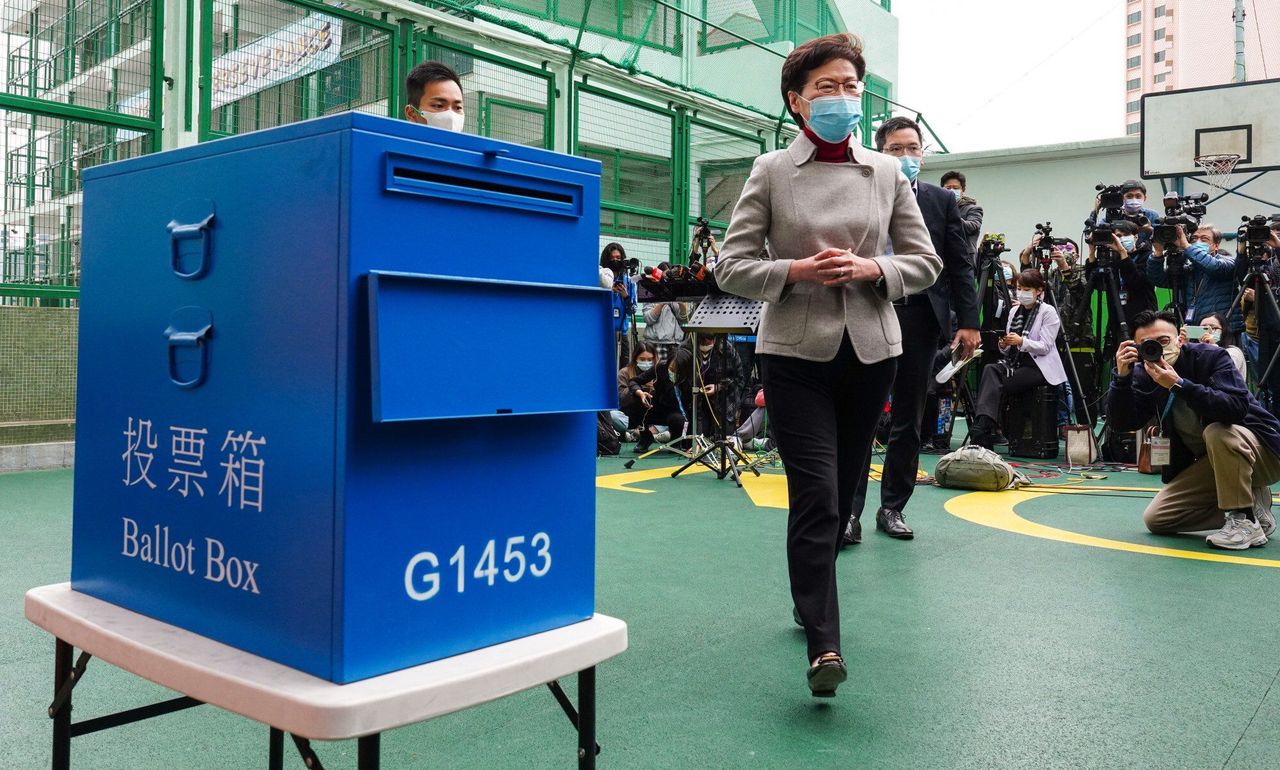 Chief Executive Carrie Lam casts her vote at Raimondi College.

Rather than focusing on the turnout figure, she said she wanted to ensure the election was held in a "fair, open and honest manner".

Some 153 candidates were vying for 90 seats, 20 more than the previous Legco.

"You can see that they actually come from a very diverse background with very different opinions on a range of issues," Lam said.

The day began with senior political figures turning out to cast their ballots and urging residents to vote. Accusing previous opposition lawmakers of abusing their power and acting as foreign agents, Chief Secretary John Lee Ka-chiu said the new electoral system had removed such bad actors.

"I hope that in this election, we can elect lawmakers who consider Hong Kong's interests, solve the city's problems and have positive interactions with the government to help Hong Kong's long-term development," he said.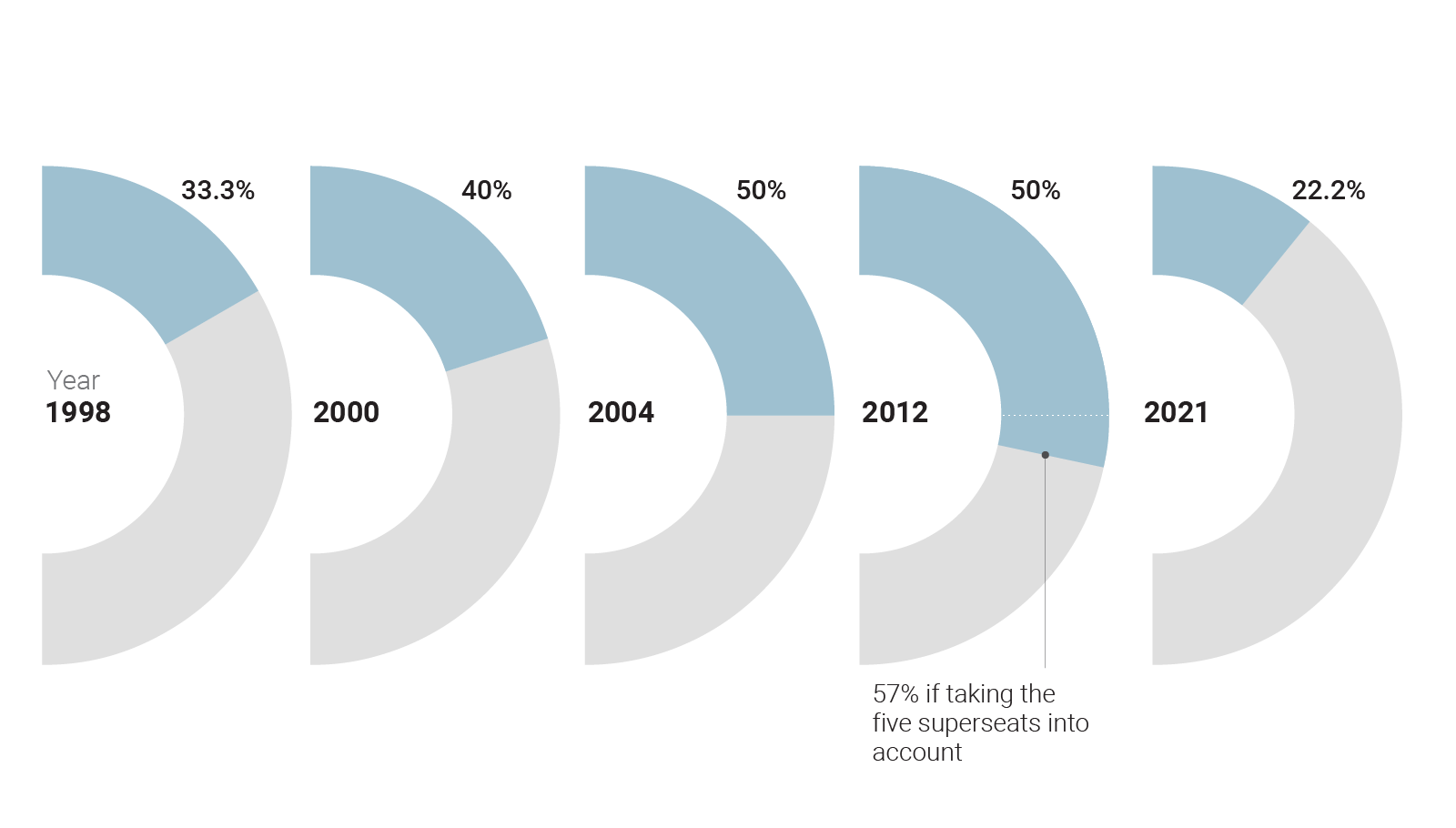 The poll was the first time since the handover that all seats were contested. Up for grabs were 40 seats in the Election Committee constituency, decided by its 1,448 members who also choose the chief executive, 30 seats in the functional constituencies which represent industries and professions, and 20 seats in 10 geographical districts, directly decided by residents.

Sources earlier told the Post that members of the pro-establishment camp had worked to ensure no seats were walkovers, which appeared to be the case at least in the geographical constituencies, where many candidates made emergency appeals and last-minute stops to get out the vote.

Even seasoned veterans such as Regina Ip Lau Suk-yee, dubbed the "queen of votes" for garnering the most ballots on Hong Kong Island in 2016, urged residents to head to polling stations.

The New People's Party chairwoman was out before voting began, urging people cast their ballots and she appeared again on the streets at dusk, expressing worries over the sluggish turnout.

Ip described her situation at the time as "extremely dire" as many people were using the free transport to go sightseeing or shop instead of voting.

"I have had to work very hard to connect with new voters," she said. "I am excited today to welcome our new electoral system but I am also worried I may not have enough votes."

But moderate candidate Jason Poon Chuk-hung of Hong Kong Island East said such emergency appeals were a turn-off to voters.

"I think I better not make emergency appeals in such a robotic and soulless way. I hope I can persuade the voters in person to vote for me," he said as he handed out fliers in the afternoon.

State news agency Xinhua published a commentary on Sunday evening, arguing the fact that more the 1 million people had voted by 5.30pm had dashed the "lies and slanders" of the foreign forces that tried to destroy the election.

"[The turnout] has reflected the general public's confidence in the new legislature," said Xinhua, which also cited the more than 90 per cent turnout in the Election Committee constituency.

The election also marked the first time residents living in mainland China were allowed to vote without needing to cross the border. Three polling stations were set up at Heung Yuen Wai, Lo Wu, and Lok Ma Chau Spur Line control points.

Only about 20 per cent of those eligible registered to vote. Those the Post spoke to were happy at the opportunity, with several saying they hoped to see more ideas in Legco on taking advantage of developments in the Greater Bay Area.

During the September poll involving more than 8,000 voters to choose members of the Election Committee, counting only ended the next morning. The administration has been under pressure to ensure Sunday's contest went off without any hiccups that could embarrass the government and Beijing.

Queues formed at several polling stations as slow Wi-fi connections delayed voting as officials verified identities through a new online system. At Sik Kong Wai Village Office, in a rural part of Yuen Long, voters became disgruntled after waiting for more than an hour, despite a sign outside saying the wait was estimated at half that time.

"You said 30 minutes here, you are deceiving voters," an elderly man was heard shouting outside the station.

Simon Peh Yun-lu, head of the Independent Commission Against Corruption– which oversees the election laws – said the agency had received 29 complaints related to voting interference by Sunday morning. It had dispatched officials to ensure people were not calling on others to cast blank ballots or to boycott the election.

Peh stressed voters continued to have "free will" to cast blank ballots. "Voters should have their own ideas about voting and not be disturbed by others," he said.

But residents appeared to have had other ideas for their Sunday as well. Away from the polling stations dotted across the city, which saw a smaller trickle of people as the day wore on, the rest of Hong Kong was in a festive mood, as buses and trains were jam-packed with merrymakers taking advantage of free rides.

At several MTR stations, the operator had to close off several exits at different times for crowd-control purposes. Tourist attractions such as Ocean Park and Disneyland were teeming with visitors, many of whom flooded in because of the free transport.

At a packed coffee shop on the waterfront in Kennedy Town, Esme Chan said she and her three friends were having a "picnic day" travelling around the city on the MTR for free, after choosing not to vote in an election that was "meaningless".

The 28-year-old education sector worker said she voted for the opposition Civic Party in the 2016 election.

Referring to the "patriots" criterion for this year's election, Chan said: "They don't allow the people who they don't like [to enter]. So how do we vote for the people we want to choose?"

Amid the crowds of elderly and middle-aged voters, a sprinkling of more youthful voters were spotted by Post reporters visiting polling stations.

One of the younger voters spotted at the City One polling station was 25-year-old Amy Tsang. The social worker said she felt she had a civic duty to take part, even though she felt she could hardly relate to the candidates.

"The disqualifications and jailings definitely affected my will to vote and my choice," she said. "Pro-establishment candidates definitely won't get my vote."