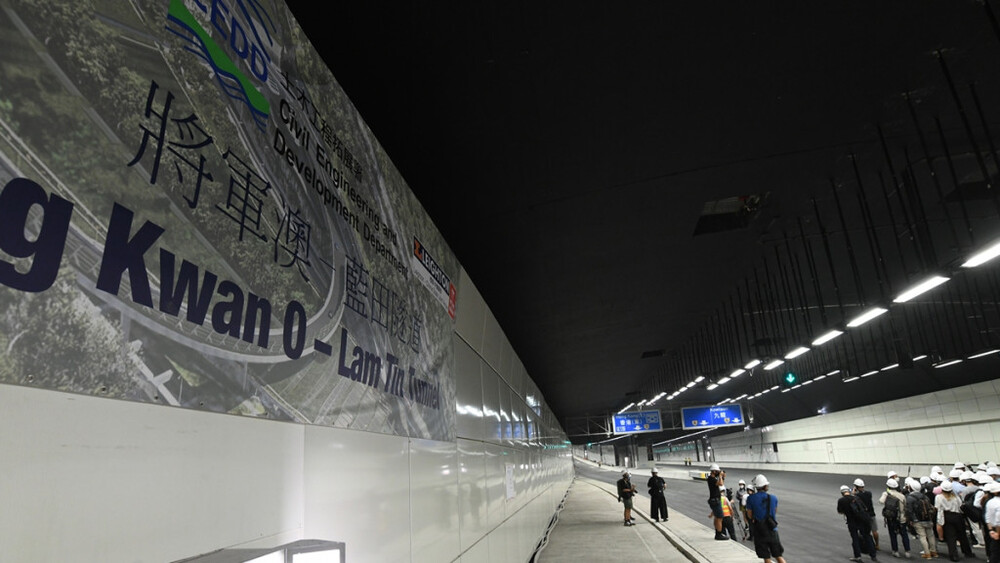 Tseung Kwan O-Lam Tin Tunnel to start operating on Dec 11
Commissioning of Tseung Kwan O-Lam Tin Tunnel will take place on December 11, bringing a 20 minutes faster journey between LOHAS Park to Kwun Tong.
The Civil Engineering and Development Department announced that the construction is now in the final stage.

"Projects of the inside part of the Tunnel and the Cross Bay Link are almost completed," said a spokesperson of the Department.

The Tunnel is a new trunk road linking Tseung Kwan O and the urban area, with a total length of about 3.8 kilometres, of which about 2.2km is in the form of a tunnel.

It connects the Cross Bay Link and Po Shun Road in the east; and the Eastern Harbour Crossing, Cha Kwo Ling Road in Kwun Tong and the Trunk Road T2 under construction in the west.

The Cross Bay Link is approximately 1.8km in length, of which about one kilometre is a marine viaduct.

It links the Tunnel and Wan Po Road adjacent to LOHAS Park.

In addition to diverting the traffic at Wan Po Road, the marine viaduct will connect to the cycle track along the Tseung Kwan O waterfront to form a five kilometres coastal cycling track loop.

The Tunnel and the Cross Bay Link will "provide a new route between Tseung Kwan O and Kwun Tong as well as the Eastern Harbour Crossing", according to the Transport and Logistics Bureau, shortening the journey time between the LOHAS Park and Kwun Tong Town Centre by up to about 20 minutes during the morning peak hours.

"Around 40 percent of the traffic which previously travelled through the Tseung Kwan O Tunnel will divert to the new tunnel, alleviating the congestion problem of the Tseung Kwan O Tunnel," said the Bureau.

The government also announced to waive the toll for the Tunnel from the day when it and the Cross Bay Link are open to traffic.

Citybus and New World First Bus plan to launch two new routes in parallel with the commissioning of the new TKO-LTT and Cross Bay Link, to provide direct and fast journey to Tsim Sha Tsui and Mong Kok.

The Kowloon Motor Bus Company (KMB) would also add three new routes to provide services plying between Tseung Kwan O and Tai Po, Tsuen Wan and Cheung Sha Wan.