Broadwood Road remains sealed off after 30 storeys worth of bamboo poles came crashing down on Friday, killing a 55-year-old construction worker.
Heavy wind and rain under a No 8 typhoon warning halted clean-up operations on Saturday at a high-rise Hong Kong estate where the collapse of massive scaffolding during the onslaught of Tropical Storm Lionrock killed a construction worker.

Management of the Beverly Hill residential estate in Happy Valley's Broadwood Road, where 30 storeys worth of bamboo poles came crashing down on Friday, told homeowners that works would resume after the No 8 signal was lifted.

Broadwood Road, which was engulfed in debris during the tragic collapse, remains sealed off.

Workers from the CR Construction Company, the contractor for the renovation project behind the scaffolding, were on standby to resume the clean-up, the estate's management office told homeowners on Saturday morning.

A resident of the Beverly Hill estate said the main entrance to the estate was still blocked by the collapsed scaffolding as of 6pm on Saturday.

She said residents had to negotiate an alternative route, partly submerged in water, with scaffolding over their heads – to leave the estate.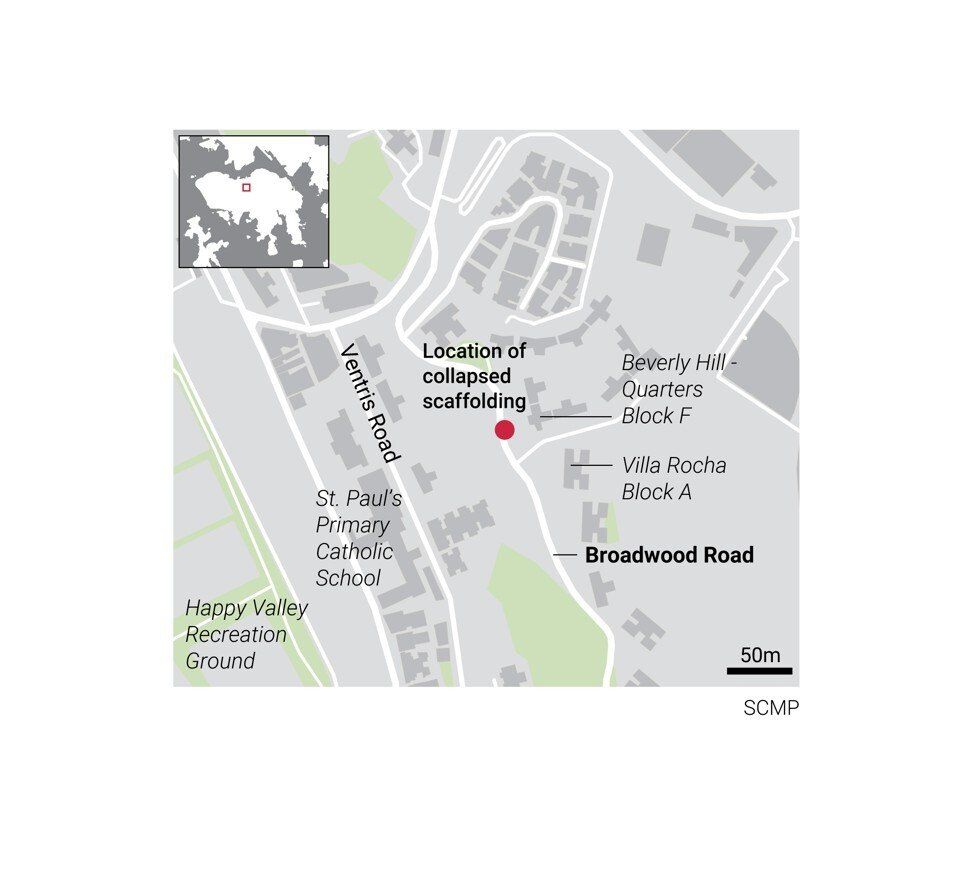 Most of the debris had been cleared from the road, but some remnants of the devastation remained, the 21st floor occupant added.

Up to eight workers were seen battling strong gusts of wind and torrential rain to remove poles from the entrance at about 6pm.

Referring to Friday's fatality, the resident said: "I was more devastated that someone had to work in bad weather conditions and then died than the inconvenience caused to me by the collapsed scaffolding."

The management office also said it had received several inquiries from homeowners asking to donate money to the family of the 55-year-old worker who died.

She was one of seven people working on the ground level of the renovation site when the scaffolding collapsed at about 10am on Friday under the strain of heavy wind and rain.

The woman and a male colleague were trapped under piles of bamboo and netting. It took firefighters 80 minutes to pull her from the wreckage but she was later pronounced dead in hospital. The other workers were unharmed.

Two motorists were stuck in their cars on Broadwood Road, but both emerged without serious injury.

The Hong Kong Observatory raised typhoon signal No 8 at 6.40am on Saturday and expected it to remain in force until the evening. The Observatory also issued an amber rainstorm warning at 1pm.