Travel-related stocks advanced, bucking losses in the broader local market, after Hong Kong decided to ease its quarantine measures from September 26.
Travel and tourism stocks rallied after the Hong Kong government unveiled measures to ease Covid-19 rules to salvage the economy, as the local market slipped into bear territory and the city lost its ranking to Singapore among global financial hubs.

Chinese online travel agency Trip.com Group jumped 5.1 per cent to HK$206.80 and the city's flagship carrier Cathay Pacific Airways added 1 per cent to HK$8.92. EGL Holdings, a hotel and restaurant operator, jumped 36 per cent to HK$1.05, while HK&S Hotels added 3.2 per cent to HK$7.19.

The Hong Kong government is scrapping the mandatory hotel quarantine requirements for overseas arrivals from September 26, lifting one of the world's toughest Covid-19 control regimes since the start of the pandemic in early 2020. Travellers will only be required to go through three days of home medical surveillance, with curbs on citywide movements.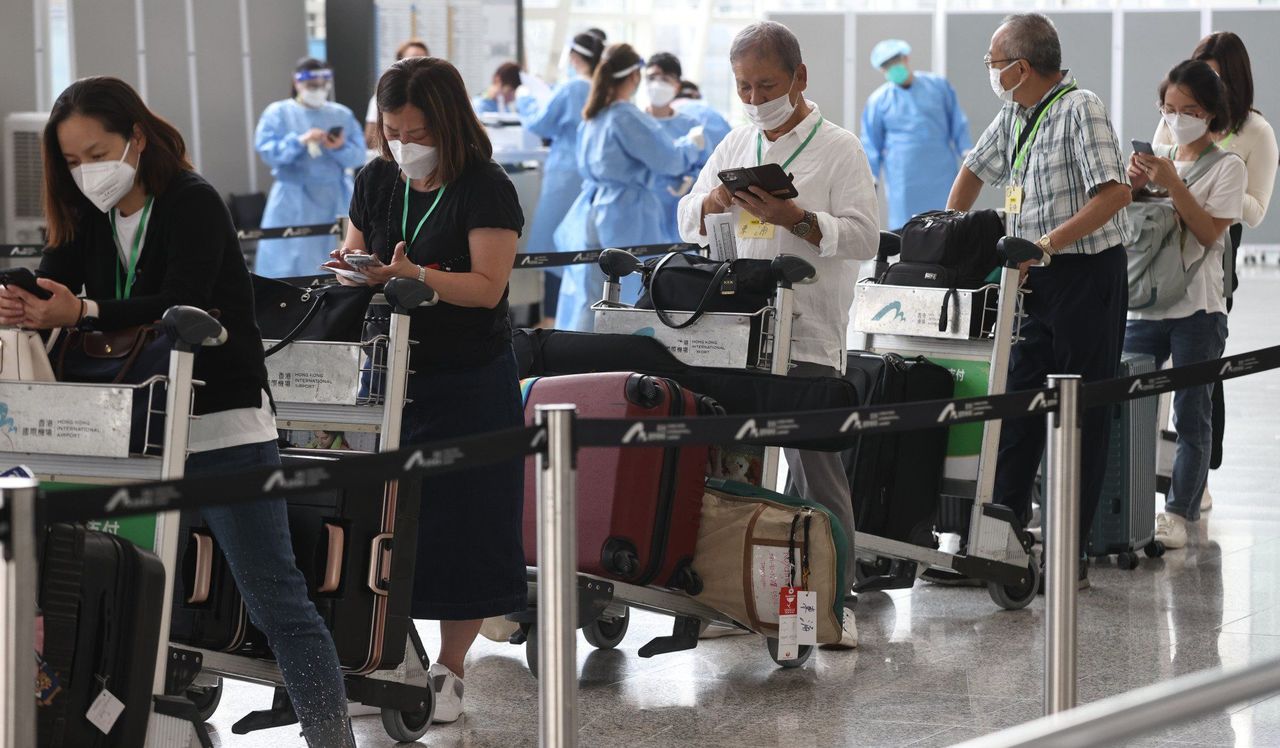 Arriving travellers seen at the Hong Kong airport as the government announces changes to its quarantine policy from September 26.

"That's a catalyst for relevant stocks, particularly those local travel-linked stocks in Hong Kong," said Wang Chen, a partner at Xufunds Investment Management in Shanghai. "But the impact on the broader market will be limited, as lots of the listed companies in Hong Kong have their main businesses on the mainland, where the Covid restrictions are still in place."

Hong Kong ranked fourth in the latest semi-annual ranking of the world's leading international financial centres published by the China Development Institute in Shenzhen and the London think tank Z/Yen Partners. New York was ranked as the top financial centre, followed by London. Singapore jumped to third from sixth place.

The Hong Kong Monetary Authority raised its base rate this week to a 14-year high of 3.5 per cent, while commercial lenders from HSBC to Bank of China (Hong Kong) lifted their prime rates for the first time since September 2018, making it more expensive to fund purchases of homes and other consumption goods.

Some investors and analysts had earlier predicted a meaningful and sustainable rebound for the city's stocks, if the government scrapped the mandatory quarantine. CCB International said that the move would put Hong Kong back on its feet as a global financial hub, while Invesco said that the sectors that were hit hardest by the pandemic such as tourism and travel would get a respite from sell-offs.

The Hang Seng Index has dropped 23 per cent this year, making it the world's worst-performing benchmark, as the US$4.8 trillion Hong Kong market reels from a flurry of headwinds – from concerns about economic growth in China and a depreciating yuan to aggressive interest-rate increases by the US Federal Reserve.

The decline probably has more room to run, even as the 73 members on the Hang Seng Index trade at a record 27 per cent discount on average to their book values based on Bloomberg data. The Fed's hawkish stance on rate increases means that capital outflows will continue in the Asian region and historical data shows that local stocks are prone to underperform on the back of increases in prime rates by the biggest commercial banks.

"The biggest headwind that is weighing on Hong Kong stocks is not the pandemic, but global tightening that's triggering consistent capital flights from the local market," said Wang at Xufunds.