Changing rules resulting from Hong Kong's 'zero-infections' Covid-19 strategy meant some who travelled abroad scrambled for flights, quarantine hotel rooms.
US citizen Michael Chu went ahead with his summer holiday to New York, knowing there was a possibility that Hong Kong's Covid-19 pandemic rules for travellers could change at any time.

Back in the city with his girlfriend after a stressful return journey and spending more than he bargained for, he said: "It definitely wasn't worth it."

Hongkonger Annie Tam* went on holiday to Britain and France with her British husband and their two young daughters.

Their ordeal began when her husband, who was vaccinated, tested positive for Covid-19 in Paris, and again after the family returned to Hong Kong, landing all four in quarantine for 20 days.

"It feels like everything that could go wrong went wrong, and I'm not sure I've got the mental strength to go through that again," she said.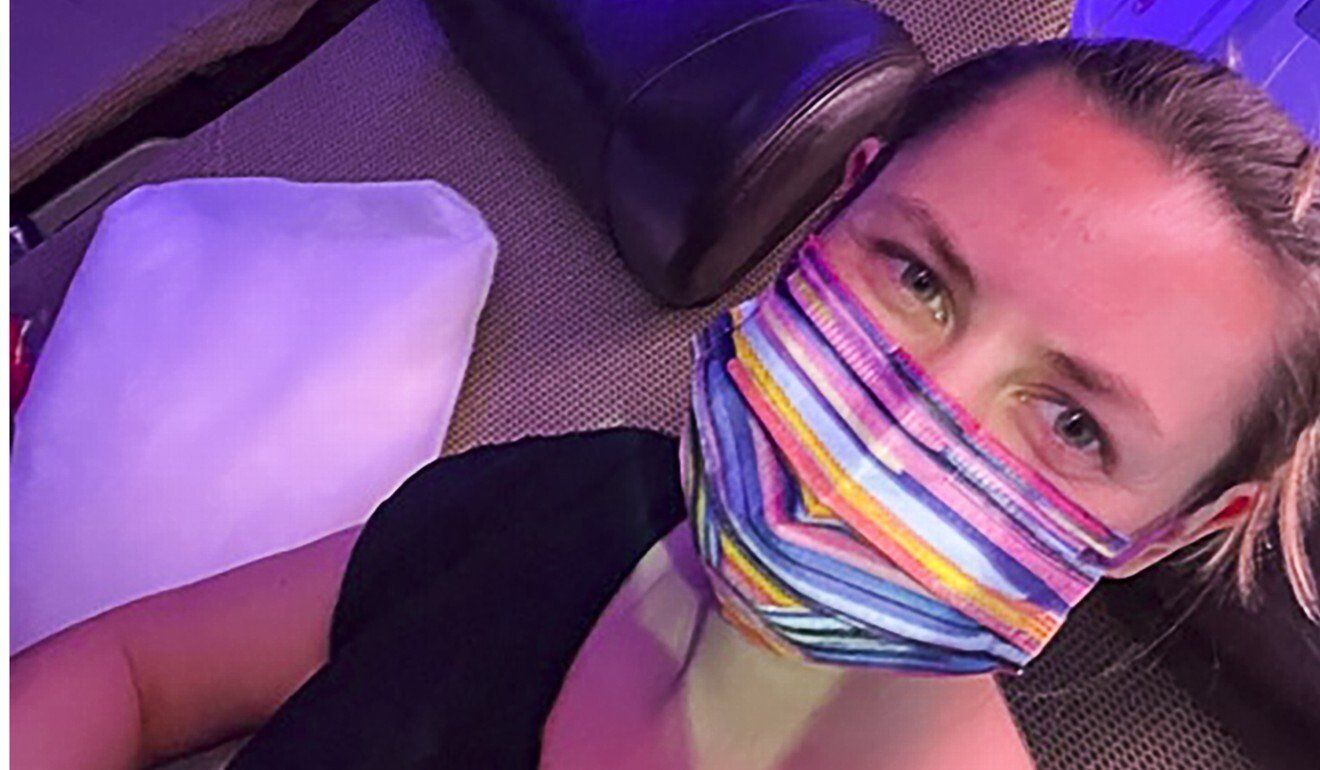 Teacher Gemma Cauchi left Hong Kong to see her family in Britain, but spent much of the time on edge amid the rules changes.

They are among the Hong Kong residents who went ahead with summer holiday plans despite the pandemic, only to return with woeful travel tales of anxiety, stress, added costs, and a scramble to book flights and rooms in quarantine hotels.

Like Chu and Tam, others who spoke to the Post advised those making travel plans despite the ongoing pandemic uncertainties to think hard before they go.

There was a surge of travellers leaving Hong Kong over the summer months, which coincided with the more infectious Delta variant causing infections to spike in many parts of the world.

As Hong Kong responded by changing its rules, some who left had to struggle to keep track of how they were affected.

City authorities banned flights from Britain to Hong Kong on July 1. On August 20, they added 15 countries to a "high-risk" list, taking the total to 25. Arrivals from countries including the United States, Spain and France were among those who suddenly had to spend 21 days in quarantine.

Earlier, vaccinated residents had to spend just one week in a quarantine hotel when they returned.

But that changed on August 20 for those coming back from countries deemed high-risk. They now needed to produce a pre-departure negative test result for the coronavirus, spend 21 days in hotel quarantine, and be screened for Covid-19 seven times after arrival.

There were 27,088 people who travelled overseas in May, 37,536 in June and 52,172 in July, according to official data.

June and July saw passenger departures from Hong Kong International Airport jump 38 per cent month on month, the biggest rise over the past year. The city's flagship airline, Cathay Pacific, carried 2,585 passengers on July 29, the highest number in a single day so far this year.


Vaccinated traveller tests positive

Looking back now, Chu, 33, who works in consulting, said he would not have returned to New York on August 18 to visit his family for the first time in three years if he knew the hassles that lay ahead.

He was aware that Hong Kong was changing the quarantine rules for those returning from the US, but decided to go ahead anyway with his girlfriend, a mainlander who works in finance.

"At that point, my family was already expecting me to show up, so I was not going to cancel everything," he said.

The couple booked their 21-day stay in a Hong Kong hotel before leaving, and enjoyed their two-week holiday in New York, visiting shopping centres and dining out.

It was their journey back that proved a nightmare. When they left New York on September 1, Hurricane Ida delayed their plane's departure, causing them to miss their connecting flight from Zurich by five minutes.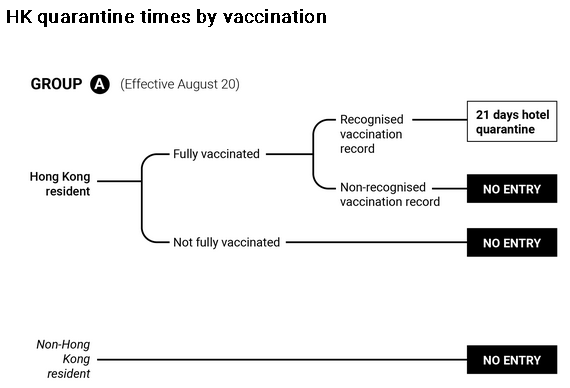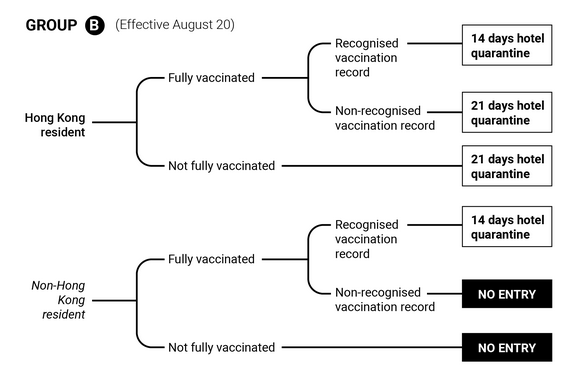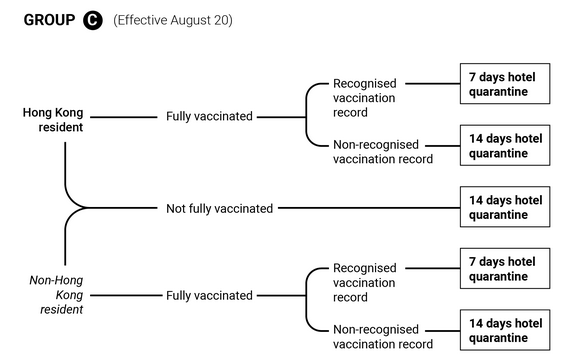 That gave them less than 24 hours to find a new way back to Hong Kong before their preflight PCR results became invalid and their quarantine hotel reservation would be cancelled.

They managed to get back in time on September 3 by paying extra to fly via Istanbul and Seoul.

Chu said that in the end, they spent US$11,000 (HK$85,500) on flights and US$10,000 in quarantine.

But, recalling that masks were not required in the US and nightclubs were packed, he added: "To be honest, even though I had such a terrible experience, I still think Hong Kong is definitely one of the safest places to be during the pandemic."

He appreciated that while Hong Kong's rules for arriving travellers were strict and could change at any time, the measures were effective in keeping people safe.

Tam, 36, an executive with a multinational company, left for Britain on June 17 with her husband and two daughters, as he wanted his family to meet their baby girl. They planned to spend four weeks there.

When Hong Kong banned flights from Britain on July 1, the couple decided to spend three weeks in Paris so that they could return from there instead.

Tam said they wore masks and stayed outdoors most of the time, but her husband, who is also 36 and works in Hong Kong, caught Covid-19 despite being vaccinated.

She recalled that her first thought was: "How are we going to get home to Hong Kong?"

They ended up staying four weeks in Paris. Her husband's flu-like symptoms lasted four days and the family self-isolated until he tested negative for Covid-19. Tam and the girls also tested negative.

The family eventually flew back to Hong Kong on August 9, but three days later, her husband received a preliminary-positive test result and was taken to the North Lantau Hospital Hong Kong Infection Control Centre.

As close contacts, Tam and her daughters were sent to the Penny's Bay quarantine centre for 20 days. Her husband joined them after six days, and the family finally returned home on September 3.

Recalling the experience, Tam said being confined for three weeks with two young children took a mental toll on her. Although glad they got to see family and friends in Britain, she said she would not take the risk of travelling again any time soon.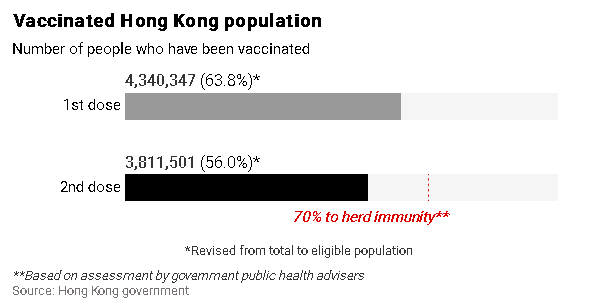 'Go if you have money to burn'

Marketing events consultant Zoe Belhomme, 35, had not seen her parents in Britain in two years and chose to go ahead with her travel plans even after Hong Kong announced it was banning flights from there.

"I thought, what if I wait another year and my dad's no longer there? He's nearly 80," she said. She took her daughters, aged three and one.

With the ban on flights from Britain, she decided to extend her holiday by spending three weeks in Portugal with her mother-in-law before returning to Hong Kong.

Her husband, who is British, flew from Hong Kong to join the family there.

"We had a really lovely holiday in Lisbon. A great time, and it was completely worth it in my opinion to do that," she said.

Then, the day before they were due to fly back to Hong Kong, they realised that her husband had spent 90 minutes in transit at Amsterdam on his way to Portugal, and Hong Kong had added the Netherlands to its list of high-risk countries.

They had to rebook their flights so he would clear the requirement to spend 21 days outside a high-risk country before returning to Hong Kong.

That cost tens of thousands of dollars, and they also had to extend their quarantine hotel booking from seven to 14 days.

"I'm 100 per cent glad I went, but the more important question is, would I do it again? The answer is no," she said.

Teacher Gemma Cauchi, 32, found it "priceless" to see her family in Britain after 18 months apart, but said she would not want to relive the stress she experienced returning to Hong Kong.

Cauchi left Hong Kong on June 1, planning to return on June 30. She got married in Hong Kong during the pandemic last year and was finally able to celebrate with her 89-year-old grandmother, parents and brother, who live north of Bristol.

When Hong Kong announced the flight ban from Britain, Cauchi managed to book a flight back on June 27, but could not find a quarantine hotel for her new dates.

All her family members made calls to multiple hotels before she finally found a hotel in Yau Ma Tei. The trip cost her about HK$15,000 more than she planned to spend.

While she enjoyed the time spent with her family, she said she was on edge much of the time once the rules changed in Hong Kong.

Now her advice for those thinking of going away is this: "Only do it if you have enough money to burn. Book three weeks at a quarantine hotel and hope for the best."

Tourism sector lawmaker Yiu Si-wing sympathised over the inconvenience faced by the summer holidaymakers, but said he believed Hong Kong authorities prioritised their "zero-infections" strategy over the cost or benefits to travellers and the tourism industry.

"The decision to extend quarantine rules again for returning travellers also made it incredibly hard to manage quarantine bookings, especially since the supply of rooms is quite limited," he said.

"From an industry perspective, of course we hope to have borders reopened. Other regions have eased restrictions and used vaccine passes as a basis to reopen to visitors, or even to adopt the 'live with the coronavirus' strategy."

But Yiu said that the industry had no choice but to accept that resuming connectivity with mainland China on the basis of zero infections was the only way to return to travelling again.

"We've given up any expectations that Hong Kong will open up to quarantine-free travel with other countries any time soon," Yiu said.

"So the sector is hoping for more financial aid from the government to sustain travel operators, or to resume cross-border travel with the mainland as soon as possible."

Brian King, associate dean of the school of hotel and tourism management at Polytechnic University, said Hong Kong was taking a decidedly cautious approach, as vaccination rates worldwide remained uneven and infections kept rising.

He said Hong Kong authorities based their travel restrictions on scientific recommendations, with a strong emphasis on minimising imported cases and new variants.

"I won't say whether 'zero Covid' is the right or wrong approach, but over time, it's becoming increasingly unsustainable. It can't be maintained permanently," he said.