'I feel that the issues we're facing are not given enough attention by the broader LGBT movement,' Henry Edward Tse says.
Transgender activist Henry Edward Tse is wasting no time in raising awareness about the discrimination his community faces as he waits for Hong Kong's top court to hand down a far-reaching judgment on his case.

The Court of Final Appeal is expected to soon give its ruling on whether the government had wronged Tse by not allowing him to change his official gender on his identity card without a full sex reassignment operation, even though the 31-year-old had his breasts removed and underwent hormonal treatments.
Tse, who founded Transgender Equality Hong Kong, recently published Visibility vs Invisibility, a booklet to raise awareness about the diversity in the city's transgender community.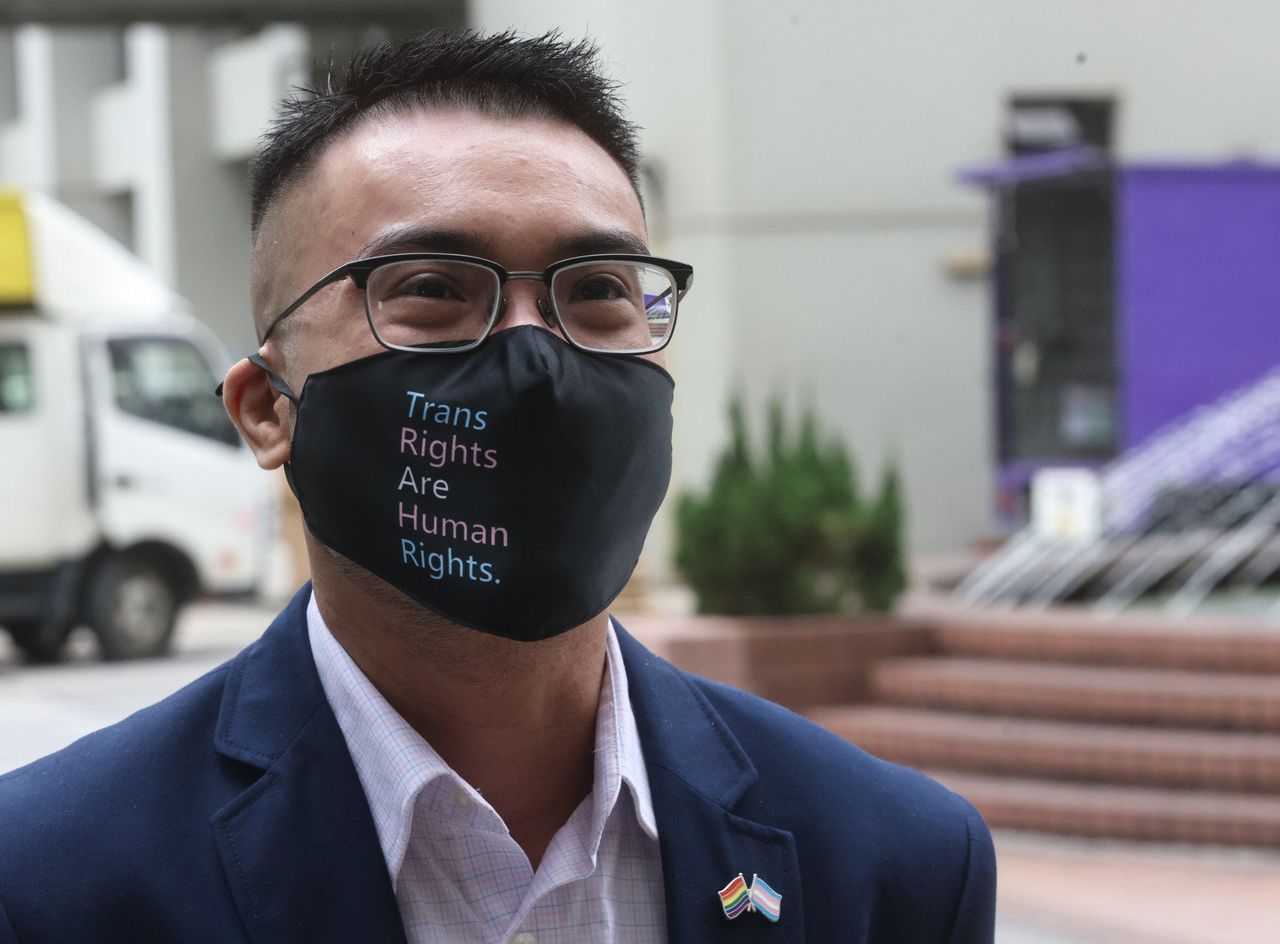 Henry Edward Tse, founder of Transgender Equality Hong Kong.
"I feel that the issues that we're facing are not given enough attention by the broader LGBT movement due to various reasons. That's one of the reasons why I started my organisation," he said.
"I decided to start this project so that we can show the diversity within these rather invisible subgroups within the LGBT community."
The activist met the Post ahead of Lunar New Year to talk about the project, joined by two others featured in the booklet. They recounted their struggles as they wrote out their aspirations for the coming year on fai chuns, a festive decoration hung on walls and doors for good fortune.
According to the Hospital Authority, the number of people diagnosed with gender dysphoria seeking treatment at its Gender Identity Clinic (GIC) at Prince of Wales Hospital in Sha Tin has been on the rise.
The number of people who underwent sex reassignment surgery or related operations grew from 18 in 2019-20 to 21 in 2021-22, while those with gender dysphoria seeking services at the GIC increased from 950 to 1,040 over the same period.
The booklet, available as a physical copy and online, tells the stories of people who transitioned, with a focus on transgender men. Tse also shares his own journey, along with others such as two non-Chinese speakers and Ryousuke Chau Hoi-yan, who lost his hearing at a young age.
Better known by his nickname Hoi Jai, the 31-year-old, who spoke through a sign language interpreter, recounted to the Post how he navigated a disability and self-doubt while transitioning.
At the heart of Tse's court battle against the commissioner of registration is that the latter has refused to allow transgender people to change the official gender on their identity cards, unless the person in question had undergone full sex reassignment surgery. The medical procedure – involving an operation on the genitals – is considered unnecessary, and even risky, by many in the transgender community.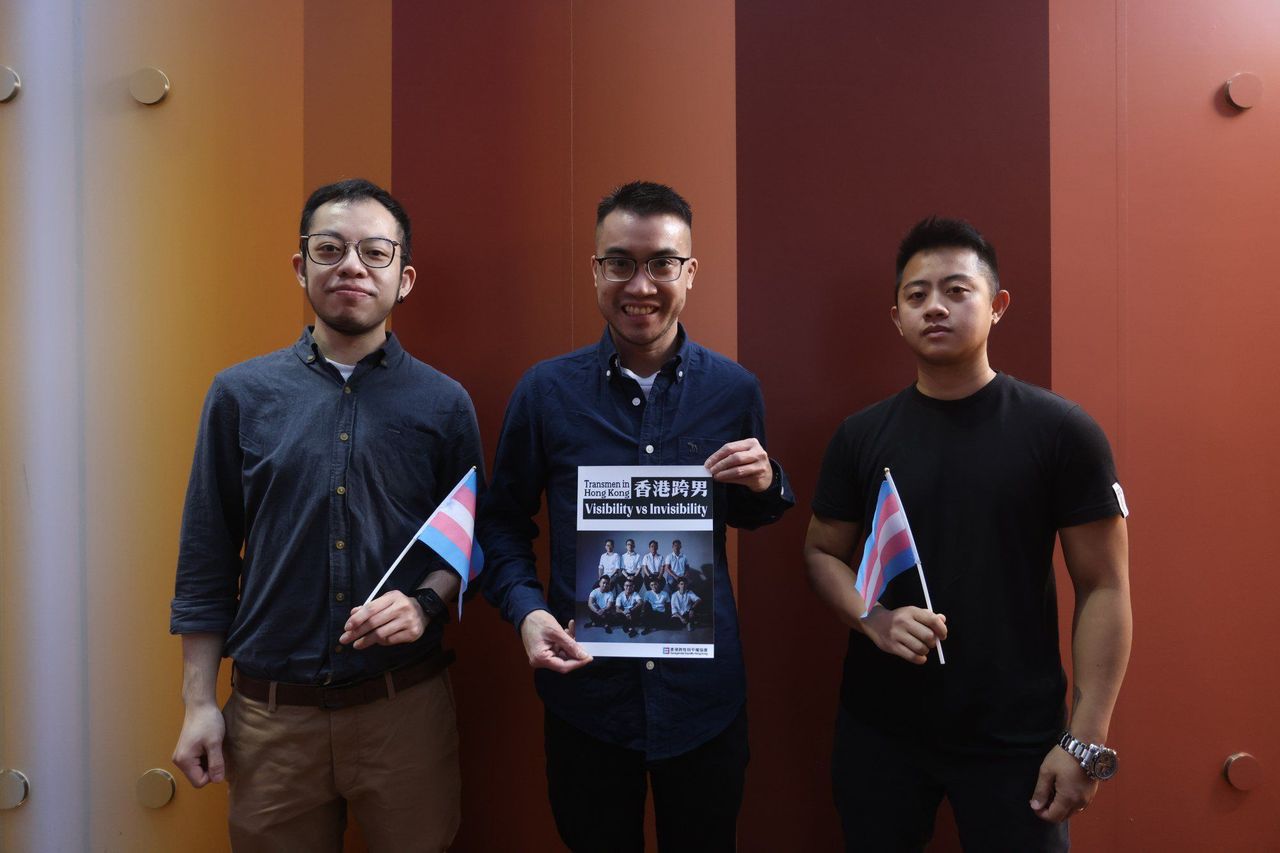 Henry Tse (centre) with Ryousuke Chau and Frances Suarez in Causeway Bay.

Transgender people report that it becomes a hassle when they are required to show their identity cards and explain the incongruence between their appearance and the gender displayed.

Such a task is even more difficult for Chau, who said he did not have any friends who could interpret through sign language before he met Tse and other allies in the community.

"I had to try to explain it myself in the past, but it's very hard to explain it clearly, given there is also a sense of discrimination," he said, referring to the challenges he experienced both as a transgender man and a person with a disability.

He said the city had a lot of catching up to do, given its reluctance to adopt a more relaxed approach to gender at a time when many countries were instituting policies and practices to make the transgender community feel more included, such as building unisex public toilets.

Filipino Frances Suarez, 33, is one of two non-Chinese speakers featured in the booklet.

He said while he had not faced hurdles in accessing information relating to treatment as a member of an ethnic minority group in the city, he still faced other struggles.

"It's so difficult to voice your opinion because you're a small part of the community, and being a transgender man, that's also another struggle," he said.

Suarez expressed optimism about the city's views on acceptance, saying he could sense that some things had changed. As a teaching assistant at an international school, he said he felt his work environment was open and accommodating.

"It's not the whole community changing. It's a portion of it," he said. "The progress is slow and the progress is not complete.

Both Chau and Suarez supported Tse's cause to lobby against the need for full sex reassignment surgery to have their gender formally recognised on ID cards.

Suarez said the operation was costly and risky, often resulting in various complications that required further medical attention for the rest of the person's life.

Authorities argue that a uniform standard is required to warrant a change of gender and a doctors' diagnosis alone is too arbitrary.

Suarez said: "But unless you put yourself in our shoes, you wouldn't understand."

He added that the authorities had also failed to consider whether the public health system had the capacity and know-how to carry out such a procedure.

As for the fai chuns, Tse unfurled the red pieces of paper. "Victory" and "ID card without the surgery" were the messages written in Chinese calligraphy.

"It has taken too long. We hope we'll finally have something good happening this year," Tse said.