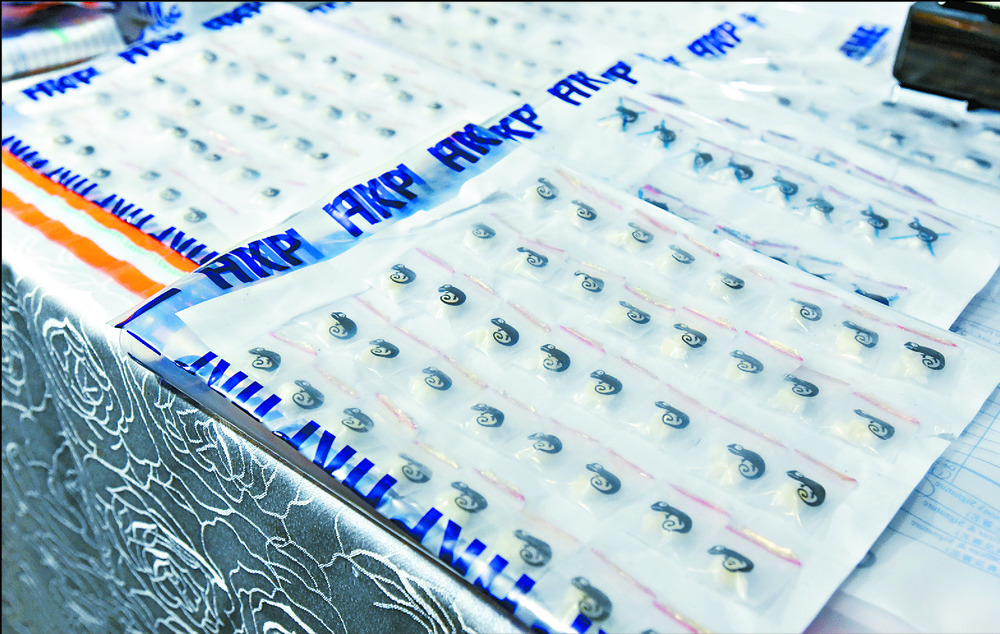 Traffic tantrum leads to wanted man, coke haul
A driver who allegedly tried to intimidate a minibus driver had been on the police's wanted list for years before being arrested on Wednesday for trafficking in HK$1.7 million worth of suspected cocaine.
A video clip that went viral online earlier showed a Porsche driver claiming to be a triad member scolding and trying to intimidate the minibus driver in Cheung Sha Wan last Friday.

The Porsche driver, 35-year-old jobless man, Liu, was arrested five days after his apparent intimidation attempt - along with another man and two women for trafficking in dangerous drugs and illegally importing "strategic goods," which included eight gas masks.

Chief Inspector Wong Chi-tang of the organized crime and triad bureau said police attached importance to the online video as Liu disregarded the safety of other road users and claimed to be a triad member.

After officers identified the man, they found he has been on the police wanted list for years, Wong said.

It is understood that Liu is a member of the Wo Shing Wo triad.

He was involved in a drug possession case in 2017 and another two cases of claiming to be a triad member and disorderly conduct in public places.

He later jumped bail and was wanted by the police.

"Police officers staged an ambush outside the man's residence [on Wednesday night] and stopped him and another man as they were leaving the apartment. We seized 210 packs of cocaine weighing 101 grams," Wong said.

"In his apartment, officers seized another 1.6 kilograms of cocaine, HK$390,000 in cash that is believed to be the proceeds of crimes, and a batch of strategic goods, including eight gas masks, nine filter canisters and seven goggles. All strategic goods were brand new and have not been used," he said.

The 1.7 kilograms of cocaine seized during the operation were worth about HK$1.7 million, Wong said.

Liu and the other man, as well as Liu's girlfriend and his Indonesian helper, were all arrested and still being detained last night.

Wong said the police also towed away a car, which is believed to be the one Liu was driving when he had that argument with the minibus driver on Friday.

The minibus driver who was subjected to the intimidation attempt by Liu has since been found to possibly be the most highly-educated minibus driver in the city as he has a master's degree in transport policy and planning from the University of Hong Kong.

Li read civil engineering for his undergraduate degree at HKU and served as a transportation engineer for two years before going on to do his master's.

He went to work in Brunei studying its transportation system and planning for two years and returned to the SAR and subsequently set up a company, minibus service operator Auf Nachfrage Bus.