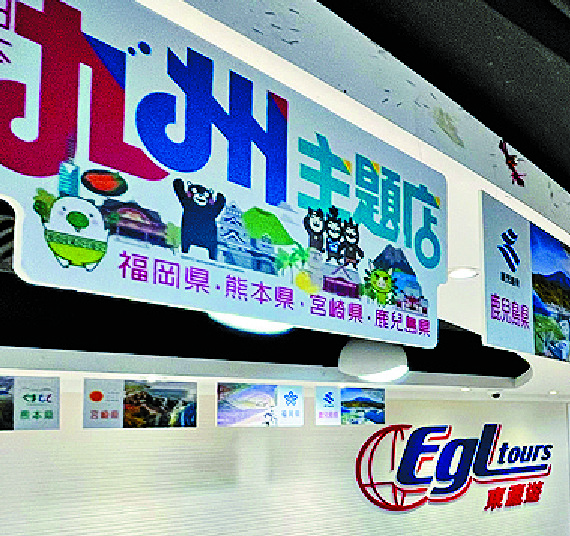 Tours bounce back as pandemic fades
Tour business has resumed to 50 percent of pre-pandemic level, travel agency EGL Tours' boss Steve Huen Kwok-chuen said, with over 200 group tours organized by his agency to Japan departing end of this month and April.
Huen said yesterday that his agency - which specializes in tours to Japan - will organize around 200 group tours for the Easter holiday in April, following 100 and 150 group tours that have completed during the Christmas and Lunar New Year holidays.

He expects to see more tours to be organized in July during the summer holidays.

Huen hopes to increase the agency's manpower by 20 percent, as it needs 600 staff in total to fully operate to the pre-pandemic level, by the third quarter of 2024. He also plans to open another branch in Telford Garden next month.

He also said that since people could not travel for three years during the pandemic, his agency now provides several six-day or seven-day tours, instead of five-day tours in the pre-pandemic stage.

Meanwhile, Cathay Pacific said it has carried over 1.11 million passengers last month, 35 times of the figure in February last year.

"By the end of March, the Cathay Group will be operating approximately 50 percent of pre-pandemic passenger flight capacity, covering more than 70 destinations," said the airline's chief customer and commercial officer Lavinia Lau Hoi-zee.

The flagship carrier will increase flights especially to passengers' most popular destinations. "London will start to see five return flights a day on select days from April. For Japan, we plan to step up from the current 73 to 120 return flights per week by the summer peak," Lau said.

The airline aims to operate more than 110 return flights per week to 15 mainland cities by the end of this month, including resuming services to Shanghai Hongqiao airport and Haikou Meilan International Airport in Hainan.