Chief Secretary Eric Chan says he has written to several consulates to ask them to reconsider Covid-19 restrictions.
Hong Kong's No 2 official has appealed to several countries to drop "unnecessary and inappropriate" Covid-19 tests for travellers from the city amid a mainland China outbreak after South Korea became the latest to impose extra requirements.

The Post also learned the Hong Kong government would announce its step-by-step border reopening plan as early as Thursday and that the daily quota for travel to the north through specific land ports, including Lok Ma Chau, would be set at more than 30,000 in the first phase.

Chief Secretary Eric Chan Kwok-ki raised concerns on Tuesday over the tests required by some countries he pledged to move towards the city's long-awaited resumption of quarantine-free travel with the mainland on Sunday with an emphasis on "controlling risks".

"These … measures are unnecessary and inappropriate … we hope they can reconsider and remove the restrictions," he wrote on his Facebook page. "Hong Kong society has already built a relatively comprehensive anti-epidemic barrier with our high vaccination rates."

Chan added he had already sent letters to the consuls general of several countries to voice his concerns.

Chan spoke out hours after South Korea – a popular travel destination for Hongkongers – joined a growing list of countries requiring travellers from Hong Kong and Macau to show negative polymerase chain reaction (PCR) test results starting on Saturday.

More than 93 per cent of the eligible population in the city have had two jabs, and 83 per cent have been given three, official figures showed.

The chief secretary added the government would continue to strive for a smooth resumption of cross-border personnel exchanges.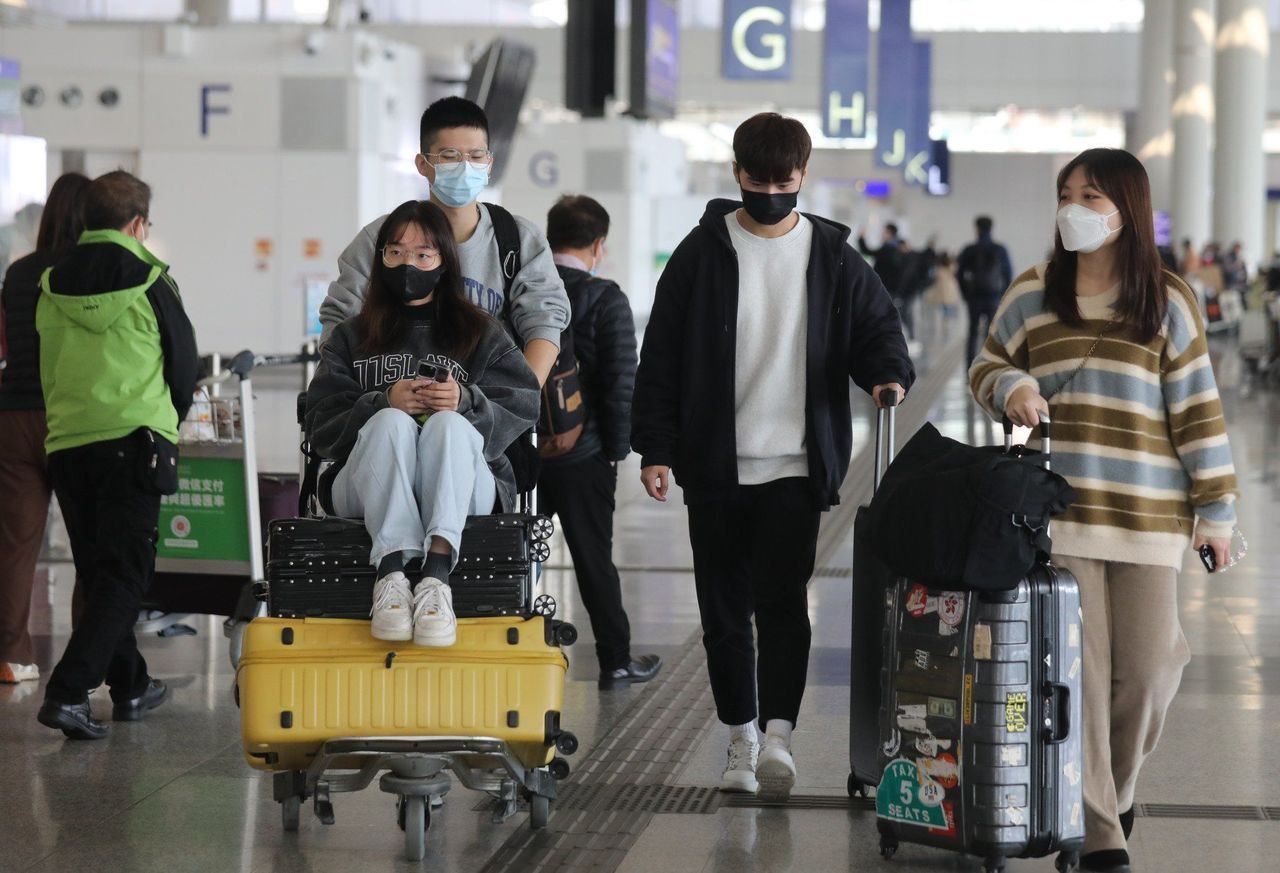 Travellers at Hong Kong's airport.
His remarks echoed those of the foreign ministry. Its spokeswoman Mao Ning said at a regular press briefing on Tuesday that some countries'
coronavirus
entry restrictions that targeted China "lacked scientific basis" and were "unreasonable".
The letters by the Hong Kong authorities were sent to the diplomatic representatives of Australia, Canada, France, India, the United States and South Korea, which have imposed restrictions on travellers from Hong Kong.
Taiwan's restrictions will come into force on Friday and its Central Epidemic Command Centre said that, until the end of the month, passengers from the mainland going through Hong Kong and Macau must have a negative PCR test within 48 hours of departure, or a negative rapid antigen test within 24 hours of leaving.
Hong Kong on Tuesday recorded 16,186 new
Covid
-19 infections, of which 324 were imported and 75 patients with the virus died.
The city is gearing up to restart quarantine-free travel with the mainland by Sunday – the same day it will reopen its borders and drop all post-arrival test and quarantine requirements for inbound travellers.
A government spokesman told the Post an inter-departmental group was formulating a proposal to achieve a "progressive, orderly and comprehensive" cross-border travel system and that details would be announced later.
Sources said that staff had been deployed to stand by at some railway border checkpoints at the West Kowloon terminus, Lok Ma Chau and Lo Wu, and the MTR Corporation was working hard to get high-speed rail train services to and from the mainland ready.
"Since the ticketing and security services of the high speed rail have been contracted out, it is doubtful whether the contractor can hire back sufficient staff to maintain normal operations within such a short period of time," an insider said.
The high-speed rail service, suspended for almost three years because of
Covid
-19, conducted checks before the end of last year and underwent trial runs, with trains running every day to ensure normal operations, the insider said.
But the source also revealed that a special trial run scheduled for Tuesday was called off for unknown reasons.
A spokesman for the MTR Corp said it would ensure sufficient manpower and drills and confirmed there was no trial run on Tuesday.
A government source said border checkpoints at Lok Ma Chau, Heung Yuen Wai and Man Kam To were more likely to reopen on the first day, but did not say whether the West Kowloon terminus would be ready as well.
Lawmaker Michael Tien Puk-sun said he understood a daily quota of 30,000 to 50,000 people would be imposed on cross-border travel through land ports including Lok Ma Chau. He added he expected the government would face a backlash if high-speed train services were excluded from the initial phase of reopening.
"There is no excuse for not resuming an idled HK$84.4-billion transport mode that could easily manage the number of daily passengers through the sale of tickets," he said.
Alan Chan Chung-yee, secretary general of the China Hong Kong and Macau Boundary Crossing Bus Association, told a radio programme that he had learned a quota of 30,000 people a day would be imposed for cross-border travel, with one-third of them allocated to Shenzhen Bay Port.
He said that more than 100 intercity buses would be available for use by Sunday, enough to transport the 10,000 travellers crossing by Shenzhen Bay Port.
But he warned the available fleet could not cope with more travellers if the government increased the numbers allowed because many buses were not roadworthy after being immobile over the pandemic.
Ben Chan Han-pan, a lawmaker, added he feared the city's railway system could also become overwhelmed after the border reopened.
He highlighted that the East Rail line, which ends at the Lo Wu and Lok Ma Chau checkpoints, had replaced its 12-carriage trains with nine carriages last May.
He appealed to the MTR Corp to expand its capacity and increase the frequency of trains to prepare for the border reopening. He added he thought most people would travel for family reunions at first, rather than for work or leisure, because of the
Covid
-19 situation on the mainland.
Separately, the University of Hong Kong's (HKU) medical faculty clarified in a press release on Tuesday the estimated number of new infections a day in Hong Kong ranged from 26,700 to 80,000.
The statement came a day after HKU virologist Jin Dongyan said the institute's study suggested that there were 150,000 to 200,000 infections a day.
But he told the Post on Tuesday he had been referring to the city's total existing infections at the moment.
HKU said, based on a study that tested 10,000 people a week, researchers had come up with the
Covid
-19 daily point-prevalence rate, which was between 2 to 6 per cent in the past week, and made the estimation.