Chief Executive John Lee says visit infringes upon China's sovereignty and territorial integrity, and greatly threatens peace and stability across Taiwan Strait.
Top Hong Kong officials and politicians joined a chorus of condemnation against US House Speaker Nancy Pelosi's visit to Taiwan on Tuesday night, with the city's leader saying her move "wantonly tramples" on the one-China principle.

In a statement issued about an hour after Pelosi landed in Taipei, Chief Executive John Lee Ka-chiu said her visit infringed upon China's sovereignty and territorial integrity, and greatly threatened peace and stability across the Taiwan Strait.

"The Hong Kong Special Administrative Region government has unwavering determination in and a clear stance against any advocacy of 'Taiwan independence', and fully supports the central government's resolute determination in safeguarding national sovereignty and territorial integrity," Lee said.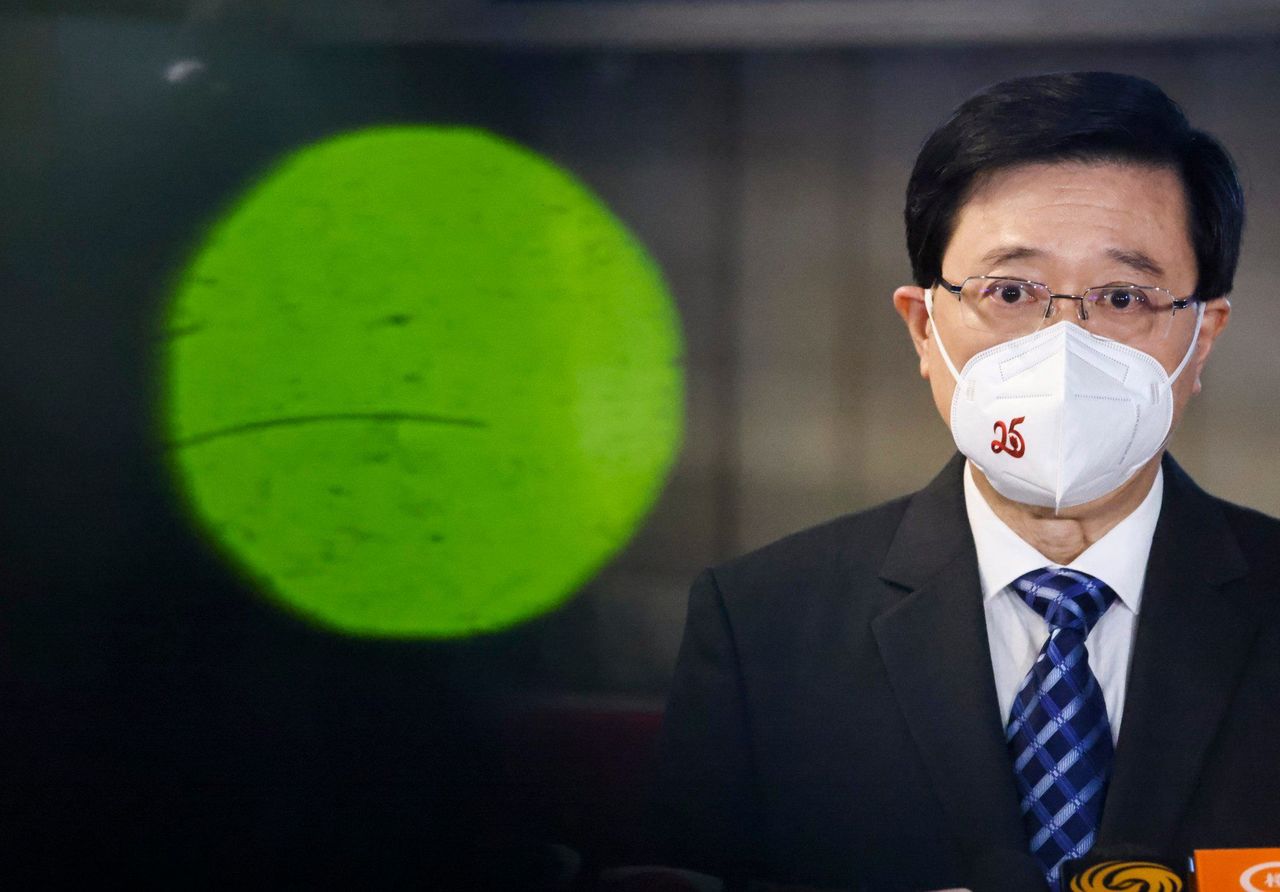 Hong Kong Chief Executive John Lee.

He added that her visit was "in contempt for the well-being of more than 20 million people in Taiwan" and "extremely selfish".

The Hong Kong government and other top officials, including Chief Secretary Eric Chan Kwok-ki, Financial Secretary Paul Chan Mo-po and security chief Chris Tang Ping-keung, issued similar statements.

Leading a Democratic congressional delegation, Pelosi – an outspoken critic of Beijing and staunch supporter of Taiwan – arrived in Taipei unannounced shortly before 11pm, in contrast to her high-profile visits to other destinations in her trip through Asia.

Beijing, which had repeatedly warned against her visit, denounced the trip immediately after Pelosi's military plane landed, claiming it violated the one-China policy Washington had committed to uphold.

Pelosi and her group were expected to meet Taiwanese President Tsai Ing-wen and other senior officials on Wednesday.

Former Hong Kong chief executive Leung Chun-ying, a vice-chairman of the Chinese People's Political Consultative Conference (CPPCC), the nation's top advisory body, said on Facebook that he strongly opposed her "sneak visit" to the self-ruled island.

"Shame on her," Leung said, referring to Pelosi's statement that her visit "in no way contradicts long-standing United States policy".

Former World Health Organization chief Margaret Chan Fung Fu-chun, a member of the CPPCC Standing Committee, also expressed her opposition to any official interaction between the US and Taiwan.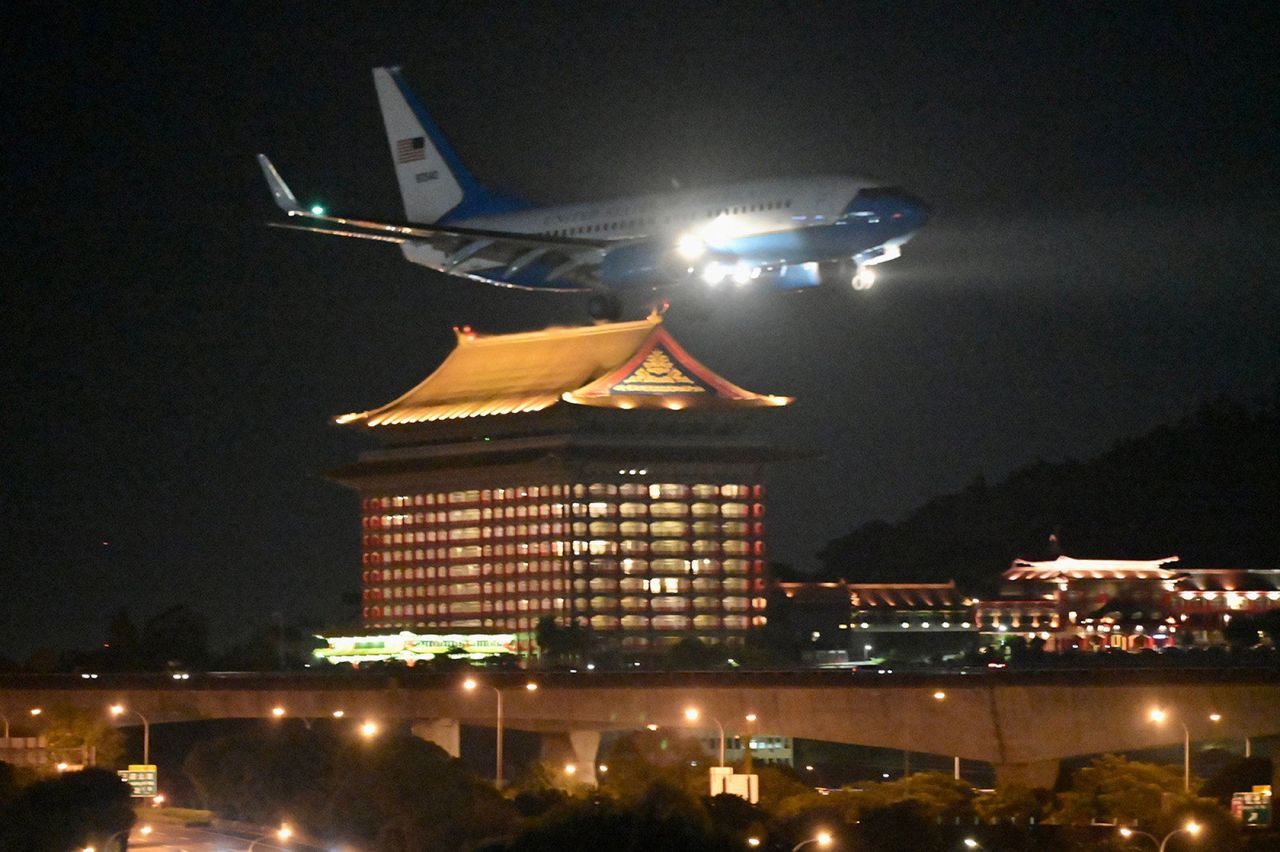 A US military aircraft carrying Pelosi prepares to land at Songshan Airport.

"As the No 3 figure in the US government, Pelosi visiting Taiwan on a US military plane is a gross interference in China's internal affairs, seriously undermining China's sovereignty and territorial integrity, wantonly trampling on the one-China principle, seriously threatening the peace and stability of the Taiwan Strait, and seriously damaging Sino-US relations," said Chan, who served as the city's director of health between 1994 and 2003 before joining the WHO.

Pro-Beijing political groups echoed the criticisms, including the Democratic Alliance for the Betterment and Progress of Hong Kong, the city's largest such party.

"We fully support the Chinese government and military in taking all necessary measures to take effective countermeasures against Pelosi's wrongdoing. All consequences arising therefrom must be fully borne by the US," a spokesman said.

The Hong Kong Federation of Trade Unions described Pelosi's visit as a provocation from the US and it had to bear responsibility for escalating tensions.

It added that the US had misjudged the situation and made mistakes repeatedly, which would bring catastrophic consequences for the safety and prosperity of the Asia-Pacific region and the world.

Pelosi's flight landed at Taipei Songshan Airport at 10.45pm. Dressed in pink, she stepped out of the plane and was warmly received by Taiwan officials.

She began her tour of Asia on Monday with a visit to Singapore. The delegation left Kuala Lumpur on Tuesday afternoon, arriving in Taiwan by a roundabout route.