Simply coming up with policies not enough – reforms must offer benefits that residents can 'see, touch and feel', says Xia Baolong, of Hong Kong and Macau Affairs Office.
A top Beijing official overseeing Hong Kong affairs has urged local politicians to win the public's trust by delivering results in several policy areas every year that residents can "see, touch and feel".

Xia Baolong, director of the State Council's Hong Kong and Macau Affairs Office, also praised city authorities for their national security crackdown on Apple Daily, the tabloid-style newspaper known for its anti-Beijing stance that ceased publication in late June after 26 years in circulation.

He described the now-defunct paper as Hong Kong's "largest toxic media outlet which was anti-China, troublemaking and had committed serious crimes".

The previously unreported remarks were made during a closed-door seminar in Beijing two weeks ago. Parts of his speech were covered at the time by the Post and other media, but a full transcript was only released on Friday by a pro-establishment publication in Hong Kong.

Xia, as reported earlier, spelled out the qualities needed in those running the city – requiring them to be staunch patriots, proactive in protecting national security and capable of strategic thinking to solve long-standing local problems.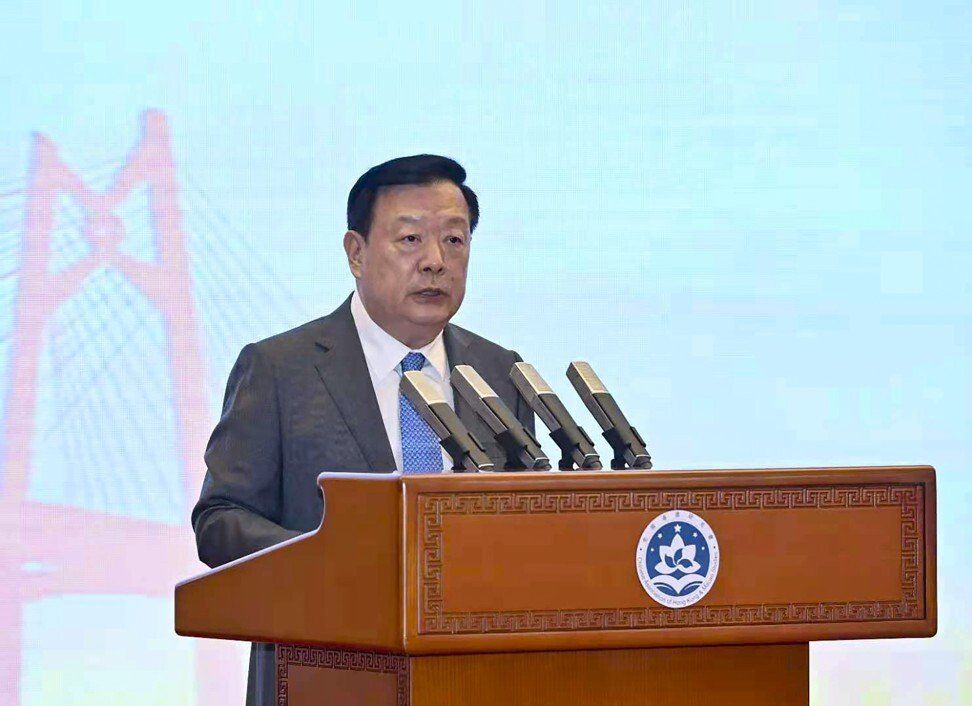 Hong Kong and Macau Affairs Office chief Xia Baolong.

He went on to say the Hong Kong leadership must take practical action that provided tangible benefits for the population.

"[Patriots] must not just want to do things. They must be able to do things and achieve results," he said, according to a copy of the speech published in Bauhinia Magazine.

"Each year they must achieve several actual things that the vast majority of residents can see, touch and feel. They must win the people's trust with results."

An executive summary of Xia's speech on July 16 revealed the standards he was setting for those governing Hong Kong, listing five essential qualities.

They must be firm patriots and proactive in resolutely safeguarding national security, while also able to solve the city's many problems and tensions through strategic thinking, Xia said.

He added leaders must also: serve the public by taking practical actions that deliver results; rally and unite all sectors for the development of the city; and work diligently with a sense of responsibility.

Xia's speech set the tone for what would be required of politicians ahead of a series of key Hong Kong elections in the coming months, including the race for the chief executive post.

Analysts said he was making clear that future city leaders and lawmakers must have a deep understanding of the city's role nationally and in the wider geopolitical context.

On uniting Hong Kong, Xia quoted the lyrics of a classic Canto-pop song, Below the Lion Rock , and said patriots must be able to lead the city towards "setting aside differences and confrontations, and pursuing its dreams".

Tam Yiu-chung, the city's sole delegate to China's top legislative body, the National People's Congress Standing Committee, suggested the Hong Kong administration was meeting Xia's expectations on several fronts, referring to its economy-boosting HK$36 billion (US$4.6 billion) consumption voucher scheme and the buying of broadcasting rights for the Tokyo Olympics so residents could watch the Games for free.

"The government has also managed to control the [Covid-19] epidemic, but it still needs to work harder so that it can persuade Beijing and Guangdong to allow the reopening of the city's mainland [China] border," Tam said, noting Hong Kong had not recorded any local coronavirus infections for more than 50 days.

But Lau Siu-kai, vice-president of Beijing's semi-official think tank, the Chinese Association of Hong Kong and Macau Studies, said he did not think Xia had in mind sweeteners such as the digital voucher scheme – offering HK$5,000 to each adult permanent resident – when laying down what was expected of local politicians.

"You can launch such schemes as long as you have money. But how about housing and economic reform that can introduce long-term structural changes, so public sentiment can be lifted and people can see hope in the city?" he asked.

"Hong Kong officials are good at explaining their input and long-term plans, but Xia is now asking 'Where are the outputs?'"

The July 16 forum was primarily focused on the national security law that Beijing imposed on Hong Kong a year ago, banning acts of subversion, secession, terrorism and collusion with foreign forces.

Xia said the legislation had ensured the city's stability. He praised authorities – singling out the police force in particular – for establishing a "wall made of bronze and iron" safeguarding national security.

Apple Daily – founded by the now-jailed media tycoon Jimmy Lai Chee-ying – printed its last edition on June 24.

Police that month arrested several senior Apple Daily executives, some of whom have been charged with conspiracy to collude with foreign forces under the national security law over a series of articles allegedly calling for sanctions on Chinese officials.

The Security Bureau also froze HK$18 million worth of the company's assets.