The city's tourism torch-bearers must stem the mediocrity creep, reach out to a global audience and work with Cathay Pacific Airways to recreate the magic.
As Hong Kong struggles to entice tourists back, there is much head-scratching about what needs to be done. Bureaucrats are abuzz with talk of new attractions. The feeling is the city needs to be gussied up, Botoxed and set to work like some wrinkle-free circus elephant with a new bag of tricks.

This sort of thinking is muddled and misses the point. Hong Kong, like any other city, has to evolve to meet the needs of its residents. But this does not mean blind emulation of places like Dubai, successful as they may be.

The emirate was a desertscape until it went on a massive construction spree, plonking down hotels, show-off buildings and outlandish attractions. As the national airline attempted to turn the place into a long-haul stopover hub, people needed good reasons to visit.

Hong Kong has no need to morph into an adult Disneyland. Travellers will not stampede to Bruce Lee country for indoor skiing or Phuket-style crocodile shows.

It possesses a rich living heritage. It is a vibrant city at the crossroads of the East and West. It offers fast-paced commerce, neon-draped skyscrapers, intriguing Cantonese culture fraught with verbal missteps, can-do people, unrivalled food and a remarkable history. It has mountains, fine beaches and arguably the world's best transport.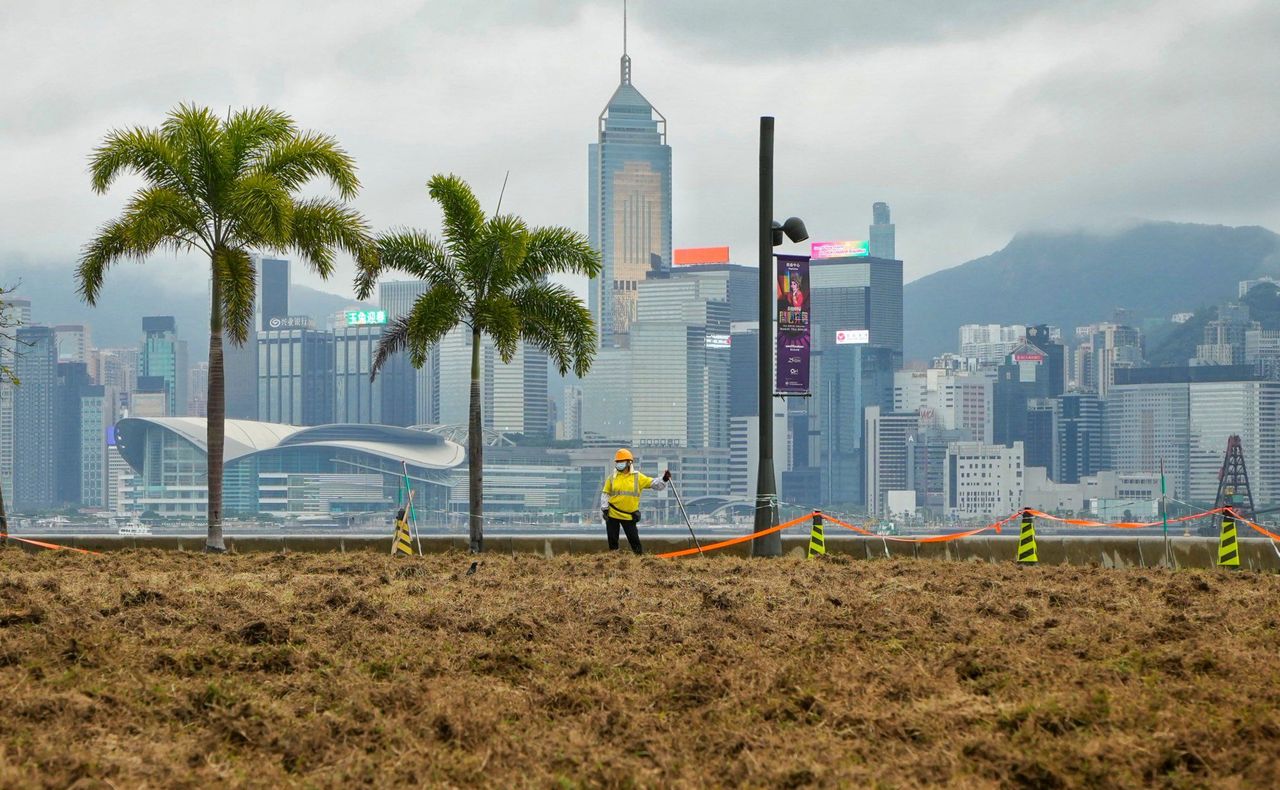 A worker repairs the lawn of the West Kowloon Cultural District on January 10, framed by the Hong Kong skyline.

Hong Kong does not need the perfectly manicured reimaginings of Singapore. It is the genuine article with rough edges and attitude, and four seasons. It is time for the city's tourism torch-bearers to stem the mediocrity creep and focus on the authentic and unique.

"Hello Hong Kong" got off on the wrong foot. It was poorly visualised, hackneyed and amateurish. Bland celebrities cavorted through stock shots with cheesy narration and elevator muzak.

The 500,000 ticket giveaway positioned this posh enclave in low-cost airline territory, and was upstaged by AirAsia's roll-out of 5 million free tickets.

To be a world city, Hong Kong needs its message to reach, and have relevance for, a global audience. Marketing cannot be solely aimed at cross-border traffic. This became amply clear when China's Covid-19 curtain came down. There has been much gnashing of teeth at the inconvenience wrought by budget hordes and, certainly, rules should be framed to limit irritants.

Chinese travellers will always visit and they should be made welcome. But to rebuild tourism revenues that touched HK$328.2 billion (US$41.8 billion) with 65.15 million visitors in 2018, other Asians, Australians, Americans and Europeans have to be encouraged to journey to one of the world's most expensive cities, and to stay longer.

Per capita spending touched a high of HK$8,123 in 2013 before slipping to HK$5,820 in 2019. By the first quarter of 2023, total visitors had just scraped past 4.41 million. There is much work to be done.

It is imperative for the Hong Kong Tourism Board to work in concert with Cathay Pacific Airways. It has done this before with good results. In the late 1980s, Cathay Pacific launched its "Arrive in Better Shape" and other memorable campaigns. These were in turn mirrored by the tourism board's promotions, which climaxed with the 1995 "Wonders Never Cease" – to the tune of Tina Turner's foot-stomping The Best.

Through the 1980s, Thailand showed the power of a tourism board working in tandem with the national airline. Its "Visit Thailand Year" campaign in 1987 was a runaway success.

In late 2019, Singapore Airlines and the Singapore Tourism Board partnered for "Unexpected Journeys", a film series featuring the adventures of Singaporean comedian Rishi Budhrani in places called Dull, Boring and Bland in Scotland, the United States and Australia. He then invited people back to Singapore (on Singapore Airlines, of course). It was a brave departure that didn't always find its mark.

It is time for Hong Kong to graduate from the safe and tested. The city must move away from monoculture luxury brands – cheaper and better presented in Paris – to showcase vibrant local design, handicrafts, fashion and hi-tech innovation. Creative talent must be aggressively promoted and given prime downtown display space.

Kam Tin's excellent Red Brick House Market shows what the city can do. Places like Tai Kwun, PMQ and other creative cores need a fillip. The Hong Kong Trade Development Council needs more showrooms to present its innovative products. Late though it is, the new interest in museums and art is to be applauded.

All this makes the city more appealing. And there's money in wooing locals as hotels discovered during the staycation craze.

Hong Kong's outdoors are underused. They are available for hikes, runs, kayaking, photography, birdwatching and family adventures. Of course, country parks and fragile zones need protection from overcrowding, litter, fires and environmental degradation. But smaller upscale groups, perhaps some with an eco-friendly thrust – tree planting or coral regeneration – can help finance the rewilding of Hong Kong and its green lung that stretches across the northern border with chirruping marshlands, fish ponds and hills.

Some are diving into the grit to offer stories of everyday heroes. HongKongShifts.com is one inspired initiative that celebrates diversity and promotes social inclusivity. It focuses on ordinary yet hugely engaging people, like Mui the golf-ball seller, Yiu the Po Toi O boat operator and Jean the buffalo whisperer.

These are the forgotten little people whose stories are far more compelling than a wooden celebrity clunking down Peel Street.