Some netizens may prefer the city's floral bunny stamps to China Post's mischievous grinning rabbit created by a master artist, but if public art is to inspire rather than bore, originality and dynamism must be nurtured.
How do you like your rabbit this Lunar New Year? Netizens have given the China Post stamp commemorating the Year of the Rabbit an emphatic thumbs down, complaining that the rabbit painted by legendary artist Huang Yongyu is "horrific", "evil" and "ugly".

Much better, they say, to have something like Hong Kong's philatelic tribute to the new year, pointing to the doll-like, porcelain white, sedate creature decked out in pastel flowers designed by Kan Tai-keung.

Huang's creation may look as mad as a March hare but it is by far the more striking, dynamic and interesting of the two. Its scarlet eyes and grinning mouth glow like embers against its cool, blue-gray fur. It stands assured and ferocious on its hind legs, holding up pen and paper in its distinctly human hands. An image to arouse great resolve.

As a kind of public art commission, stamp designs are as official and decided-by-committee as they go. They are collected and widely seen, especially during the festive seasons when more snail mail is exchanged. So, to have a stamp provoke shock in a country where harmony and respect for traditions are the values usually celebrated in public art is rather exciting.

The 98-year-old Huang probably couldn't care less. The erudite, much-loved artist is the epitome of cool – just a few years earlier, he was still driving around Beijing in an open-top red Ferrari.
And this rabbit is just one of many zodiac animal paintings and sculptures that he's done over the years. In fact, he could be said to have kick-started the tradition in China of issuing stamps that feature animals of the Chinese zodiac, when he made the first such stamp for the Year of the Monkey in 1980.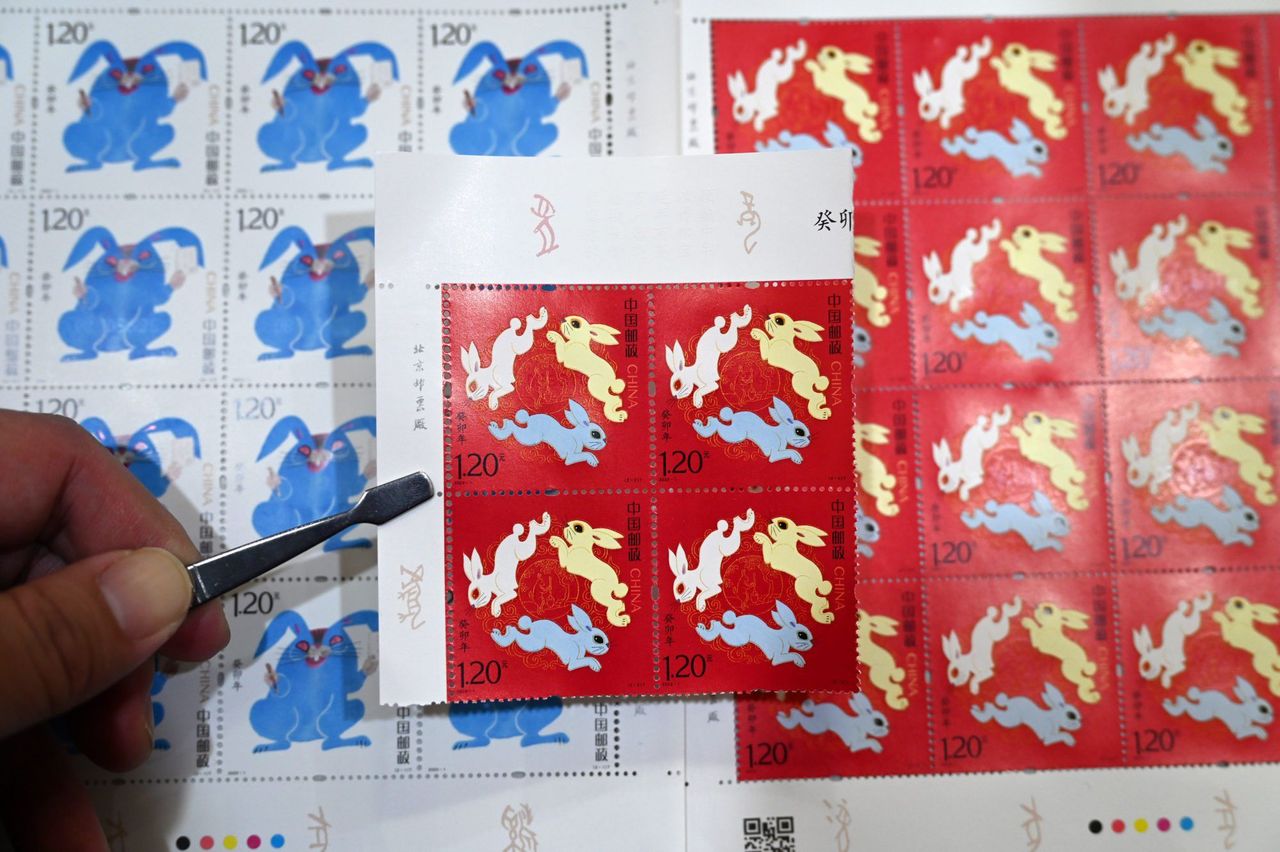 A stamp collector in Neijiang, Sichuan province, displays the special stamps created by renowned artist Huang Yongyu to mark the Year of the Rabbit, on January 5. The blue rabbit has been derided by some netizens as "ugly" and "horrific".
And who cares about a few online commentators declaring a taste for the banal? (Kan is, of course, a highly respected figure in Hong Kong's art and design circle. I just don't think the stamp set is his best work.)
But something else about this episode bothers me, and it is that the bunny seen as more mischievous and unconventional is the one issued by China Post, while Hongkong Post opted for a safe and tame option that is as kitsch as it is uninspiring.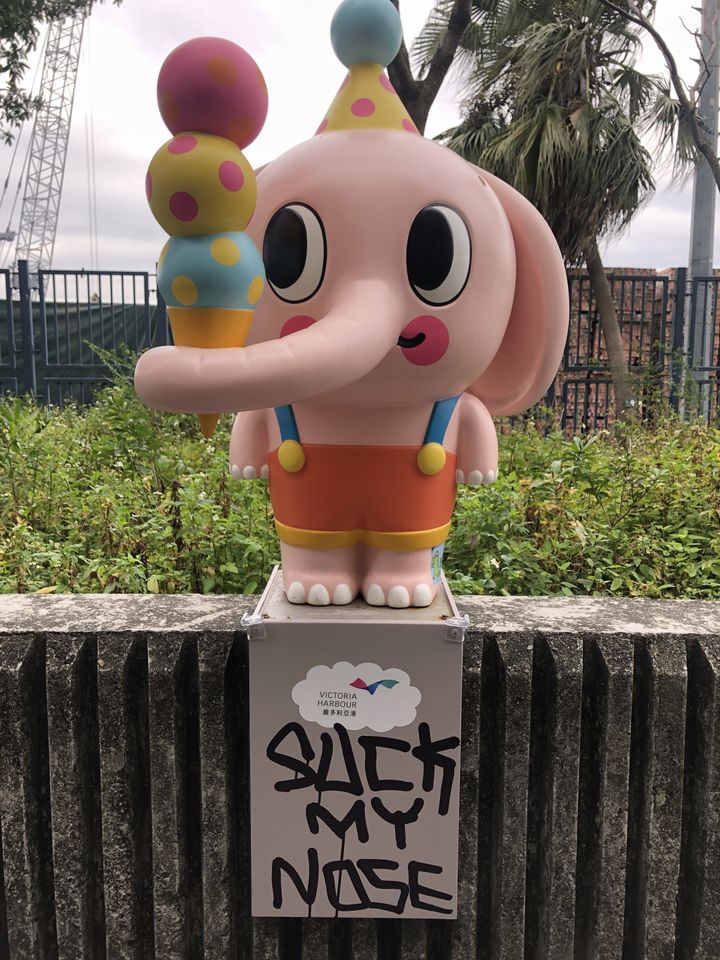 Graffiti is seen under one of the cartoon sculptures along Kennedy Town's harbourfront promenade on January 27.

And this reflects the general taste of Hong Kong's public art. Increasingly, we are being cosseted – nay, suffocated – by what is considered "cute", "pretty" and "decent" – adjectives used by Chinese netizens to describe the Hong Kong rabbit stamp set.

Look around you, and you will see flat, dull juvenilia everywhere on the streets of Hong Kong. Does anyone actually notice, let alone feel inspired by most of the district council murals that seem to have been commissioned on the basis of inoffensiveness and childishness? Let's hope the HKwalls festival in March adds a little pizazz to the city's streets.

And can we please stop designing all public information notices as if Hong Kong is one giant nursery school? The worst of the lot has got to be "K T Chai", the new Airport Express mascot.

If Hello Kitty had mated with a penguin, this would be their baby. And international visitors standing on the train platform fresh off the plane will hear an ear-piercing announcement in a fake child voice provided by – of all people – the talented actress and musician Ivana Wong, introducing "K T Chai", an English approximation of the Cantonese for "Little Airport Express" which means absolutely nothing to non-Cantonese speakers and belies Hong Kong's increasing provincialism.


Let's not get too carried away with the brouhaha over China's rabbit stamp design. The recent special issues by China Post – to honour China's national parks, the 20th Communist Party national congress, and contemporary Chinese scientists, to name but three series – are conventionally stuffy.

And Huang also designed a second stamp for the Year of the Rabbit, though it's not anywhere near as interesting as the troublesome blue rabbit.

Still, it would be nice for the artist known for his mischievousness, irreverence and also, deep connections to Hong Kong (Huang and his late wife lived here for some years) to send us a spirited and original talisman for Lunar New Year. This city certainly needs to get its mojo and self-confidence back. And K T Chai just won't do it for us.