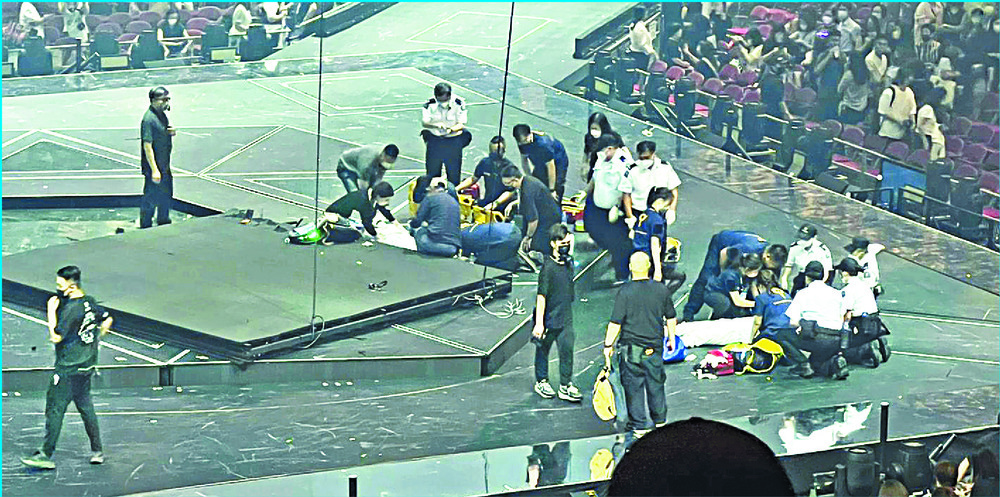 Time to cue in new stage-safety rules
A pilot scheme is being planned to ensure stage safety during large-scale performances, Secretary for Culture, Sports and Tourism Kevin Yeung Yun-hung said.
Currently, hirers of the Hong Kong Coliseum have to recruit qualified people to set up stage installations which meet safety standards, as well as appoint authorized professionals to check the stage.

The government is in discussions with the performance industry on amending the venue rental terms and conditions - including introducing new measures to strengthen stage safety, such as doing mechanical loading tests - four months after a giant screen fell onto the stage at a Mirror concert in the Coliseum which injured three dancers.

"We may have to launch the pilot scheme first, to see what items, levels or performances we have to review, so we can go about it in the most practical and effective way," Yeung said. "Theoretically speaking, we should choose those [performances] which are in larger scale, as it has a wider coverage, so we can have a more comprehensive view."

But Yeung said under the pilot scheme, independent third-parties will be needed to review the stage installations as the Leisure and Cultural Services Department, which oversees the Coliseum, is not responsible for engineering works.

Yeung said the cost of hiring third-parties - and who should bear it - has yet to be decided, but the LCSD can establish a list of third-parties as an industry reference.

Yeung also said there will be new measures that require rehearsals to be conducted as early as possible after dancers of the Mirror concert said in an open letter on Saturday that rehearsal times were insufficient.

Rehearsal times will be customized according to the duration and type of performance, as well as the number of performers.

In response to the Chinese national anthem blunders at international rugby games, Yeung said he was unsure whether the mix-ups were due to individual human errors and will await police investigation.

Meanwhile, Mirror concert dancer Mo Lee Kai-yin's father, pastor Derek Li Shing-lam, said his son had his first shower in four months after getting injured on stage.

Li said in his latest prayer letter that his son's "fever" is now under control, and that he was able to sit on a wheelchair for a longer period of time and look outside the window.

The 28-year-old dancer is receiving physiotherapy for his lungs, muscles and cervical spine everyday, his father added.

He is also getting treatment from Chinese medicine practitioners.