On Thursday, TikTok's CEO, Shou Zi Chew, will be opening a lion's mouth and placing his own head into it.
He's giving testimony in the US Congress for the first time, a scary thing to do.

And at stake is the future of the phenomenally popular video-sharing app in the US.

"I think that there is a real risk that if this hearing doesn't go well… that could have a massive impact on the future of TikTok," said Chris Stokel-Walker, author of TikTok Boom.

Mr Chew is likely to face a barrage of questions on TikTok's relationship with China, what data it collects, and what it does with it.

He'll also be quizzed on why several journalists were spied on by ByteDance employees - something TikTok has already admitted.

Mr Chew will say user data is safe - away from the reach of the Chinese government.

He knows politicians from all sides want to see the platform either sold - or outright banned in the US.

"He's going into the lion's den," said Mr Stokel-Walker.

Mr Chew is going to need to give the performance of a lifetime. And already, close observers have seen a change of tactic from the Singaporean.

TikTok's boss, who has had a range of senior positions in the world of finance, generally sports a suit jacket and tie.

But on Tuesday, he posted a TikTok with a very different look.

Instead of a suit, he was wearing a white T-shirt and hoodie - the uniform of the nonchalant tech founder.

The 40-year-old was suddenly speaking like a teenager too - talking of being "super excited".

"I think he's trying to give off a sort of the casual tech bro," said Caitlin Chin from the Center for Strategic and International Studies, a bipartisan think tank.

"He's actually been starting to gain a bit more of a public profile, especially leading up to this hearing."

The Singaporean has generally kept a low profile since taking over at TikTok in 2021.

However, that approach appears to have changed. TikTok is fighting for its life, and Mr Chew knows it.

The big problem TikTok has in the US and Europe is that it is owned by a Chinese company, ByteDance.

And in China, there are specific laws that require companies to hand over information to the Chinese Communist Party if requested.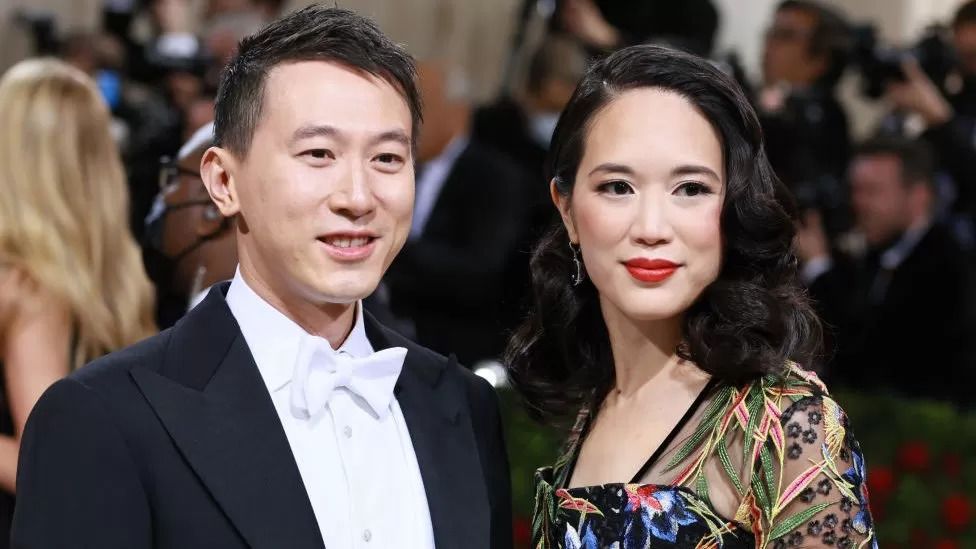 Shou Zi Chew and his wife, Vivian Kao, attend the 2022 Met Gala in New York City

TikTok holds reams of data about its users, including location information and biometric data.

For years TikTok has argued that it would never hand over user information.

It has spent tens of millions of dollars on lobbying efforts and strategies to appease governments.

At the heart of its attempt to convince US lawmakers is "Project Texas".

This is the company's commitment to store US data in the US - on servers run by a US company - Oracle.

The company says so far it has spent $1.5bn on this project - and describes it as a "firewall" that protects data from foreign governments.

TikTok had hoped it would satisfy politicians on all sides.

Last year Mr Chew wrote to politicians saying he believed the project would "safeguard user data and US national security interests".

But sadly for TikTok, Project Texas has been looked at sceptically by both Republicans and Democrats.

For many US politicians, for as long as TikTok has a Chinese owner, it will be considered suspicious.

Last month FBI director Christopher Wray didn't mince his words about the platform.

"This is a tool that is ultimately within the control of the Chinese Government. And to me, it screams out with national security concerns," he said.

For most US lawmakers, TikTok would be a far more palatable platform if it were not owned by a Chinese company.

Last week it was reported by the Wall Street Journal that the Biden administration had requested the company be sold for this reason.

This is not what ByteDance wants. TikTok has enormous potential. And besides, the Chinese company doesn't wish to sell its greatest asset simply because US politicians want them to.

This is the backdrop to Thursday's congressional hearing.

We already have a fair idea of what Mr Chew is going to say from TikTok briefings.

He'll argue that 150 million American users will lose out if the platform is banned - and that thousands of small businesses rely on the platform.

He'll push back on the idea that ByteDance is Chinese-owned - saying the company has many international investors.

And he'll also argue that Chinese laws cannot compel ByteDance to share American data - because TikTok is a US-based company, with its data stored in the US.

But often these hearings make headlines for one or perhaps two specific exchanges.

Mark Zuckerberg's famous Senate hearing in 2018 is often remembered for one brilliant question from Senator Richard Durbin.

"Mr Zuckerberg, would you be comfortable sharing with us which hotel you stayed in last night?" he said.

The Facebook boss looked visibly uncomfortable before saying "no".

"I think that might be what this is all about…your right to privacy," the senator said.

It's these curveball questions that Shou Zi Chew should fear most.