Hong Kong Alliance in Support of Patriotic Democratic Movements of China responds to Chris Tang ahead of its vote on disbanding.
A core member of the group behind Hong Kong's annual Tiananmen Square vigil has told the Security Bureau it does not pose a threat to national security ahead of a key vote by the organisation on whether to disband.

The Hong Kong Alliance in Support of Patriotic Democratic Movements of China was responding to a Friday deadline set by Secretary for Security Chris Tang Ping-keung for information as part of his decision to revoke the alliance's company registration over alleged national security law violations.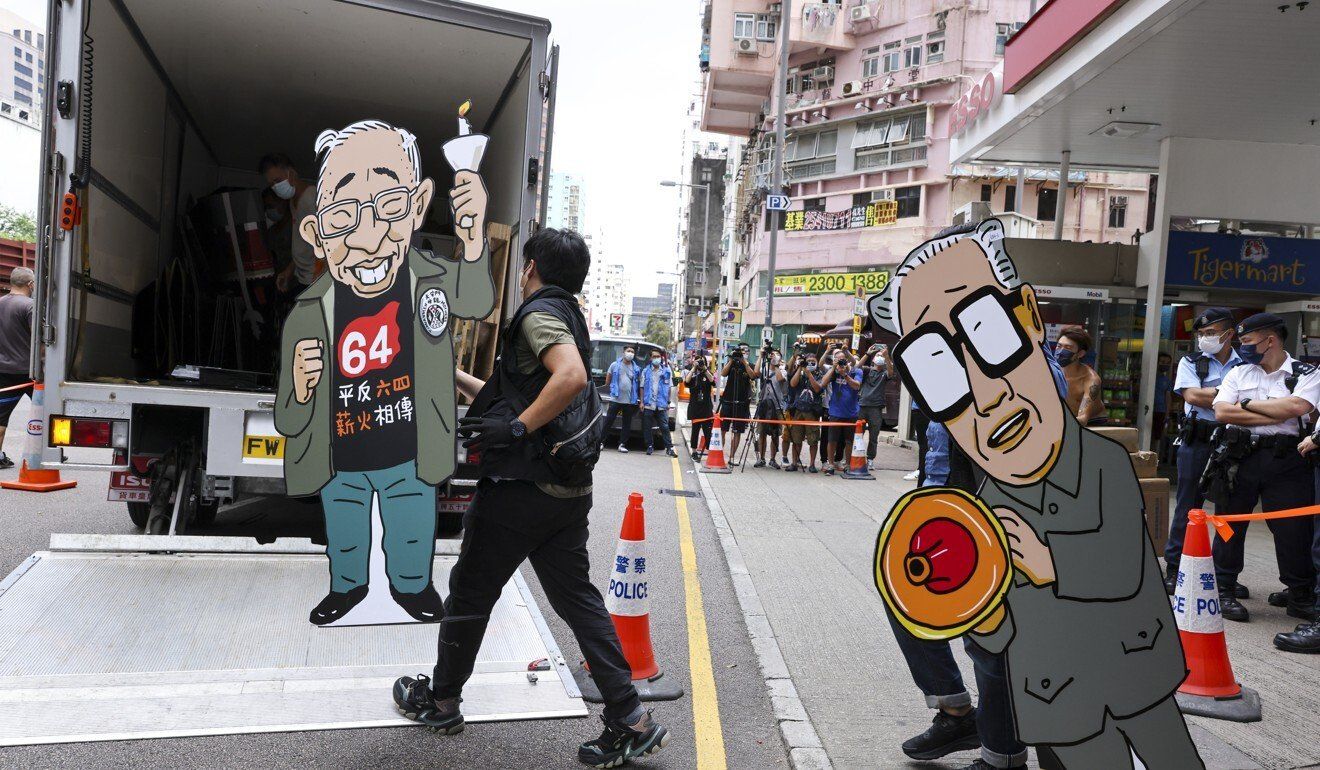 National security police raid the June 4 museum in Mong Kok on September 9.

Alliance secretary Richard Tsoi Yiu-cheong said it was difficult for the group to respond to each of the authorities' inquiries in detail, as all standing committee members had "lost their freedom" and could not meet to discuss the matter.

The group disagreed with allegations made by Tang and the police commissioner, Tsoi said.

"The alliance also failed to see clear and sufficient grounds from the government that our existence would pose threats to national security, public safety and public order," the letter read, adding the organisation intended to dissolve after 32 years of activism.

Group members would gather for an emergency meeting on Saturday to vote on disbandment.

"If the motion is passed, the alliance will enter liquidation, which in fact means the group is disbanded."

Tang issued letters to seven standing committee members of the alliance on September 10, saying the bureau would recommend to the chief executive and her de facto cabinet, the Executive Council, that the group's company registration be cancelled.

He said in the letter that ending the alliance's operation was required in the interests of national security, public safety and public order.

Tang intends to take all the evidence and information supplied into account and make further recommendations to the chief executive and her cabinet members, who hold final power to order a company engaging in undesirable activities to be struck off.

Currently, five leaders of the alliance, including vice-chairwoman Chow Hang-tung, are in custody after a magistrate found their failure to provide information for a police investigation endangered national security.

Chow was also charged alongside the alliance, group chairman Lee Cheuk-yan and vice-chairman Albert Ho Chun-yan with inciting subversion.

The defendants had advocated "overthrowing or undermining the basic system of the People's Republic of China" established by the constitution or "overthrowing the body of central power of the People's Republic of China".

On Monday, Lee and Ho, who were also jailed for offences related to their roles in various protests and rallies, appealed to members to back the dissolution at an emergency general meeting to be held at its June 4 museum in Mong Kok on Saturday. But Chow on Thursday openly objected to their calls, saying the move would mean the group would lose its voice irreversibly.

The alliance has already closed its social media accounts to comply with an order from national security police amid an ongoing investigation into its activities. But it has opened a new Facebook page to disseminate news.

The alliance has been unable to organise its flagship June 4 vigil marking the 1989 Tiananmen Square crackdown in Beijing for the past two years with police denying permission on public health grounds amid the coronavirus pandemic.

The national security law, imposed by Beijing in June last year, targets acts of secession, subversion, terrorism and collusion with foreign forces, and carries a maximum punishment of life in prison.