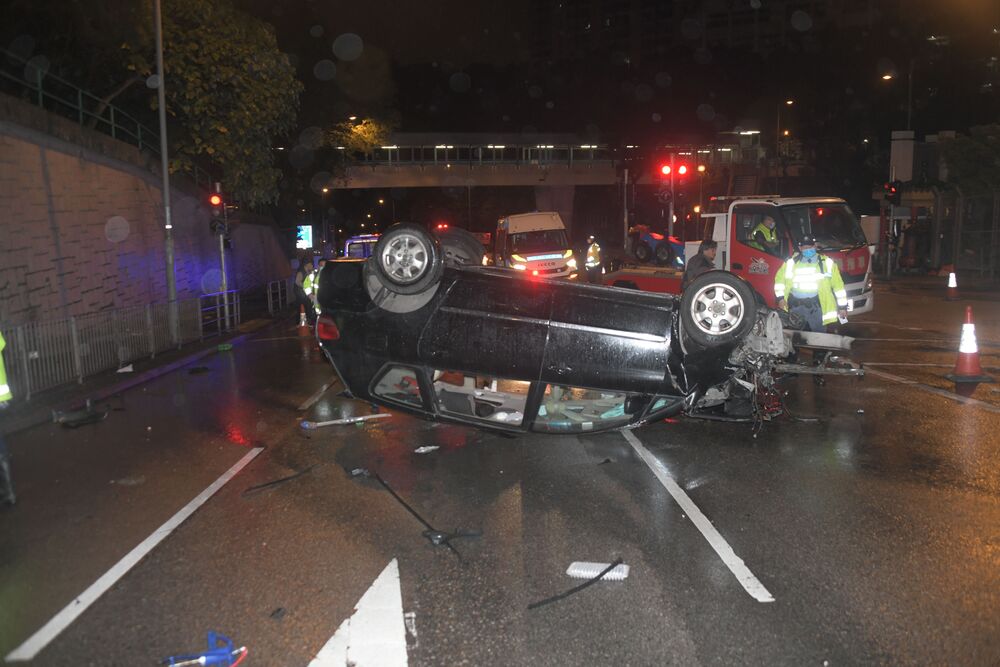 Three teens arrested for driving without license when none admits to being the driver
Three teenagers and an adult were arrested for driving without a license after the vehicle they were on flipped over in Sau Mau Ping early on Thursday.
A 31-year-old passenger, named Chu, suffered serious injuries after being thrown out of the vehicle. He was unconscious when being rushed to Queen Elizabeth Hospital in Yau Ma Tei, and was admitted in serious condition.

Three other teenagers in the car -- two male aged 16 and 17 and a 17-year-old female -- sustained minor head and facial injuries and were conscious when rushed to United Christian Hospital in Kwun Tong.

As all four have left the badly damaged vehicle before police arrival, and none of them willing to admit being the driver, police arrested all four of them for driving without a license, driving an unlicensed vehicle and driving without third-party insurance.

The 17-year-old young man was also arrested for drunk driving as he was not able to pass the alcohol test, police added.

The accident took place on a downward slope on Sau Mau Ping Road towards Kwun Tong, and the driver apparently lost control in the rain at a junction of Shun On Road near Shun Tin Estate and rammed onto the metal railings on the side of the road.

The vehicle then rebounded onto the middle of the road and overturned. The car was badly damaged with the engine bay completely squashed into scrap metal and both the front and rear axle bent.

As police officers and paramedics rushed to the scene, they found an unconscious man lying on the ground near a traffic light, but could not locate other passengers.

According to a bystander, the vehicle was traveling down the slope at extremely high speed with four passengers on board.

"After the accident, someone dragged the injured man out of the compartment, and then the three passengers packed their personal belongings and fled," he said.

One of the young men fled in an opposite direction, and was suspected to have hidden in a public toilet, but a citizen followed him and told police of his location.

He was then arrested when he failed to pass the alcohol test.

Around two hours after the incident, police officers received a report that his 16-year-old son was one of the passengers, and he fled the scene to a bus stop near Tin Yiu House of Shun Tin Estate.

Police later found the youth and a young woman. Both claimed they were injured and required hospital treatment.