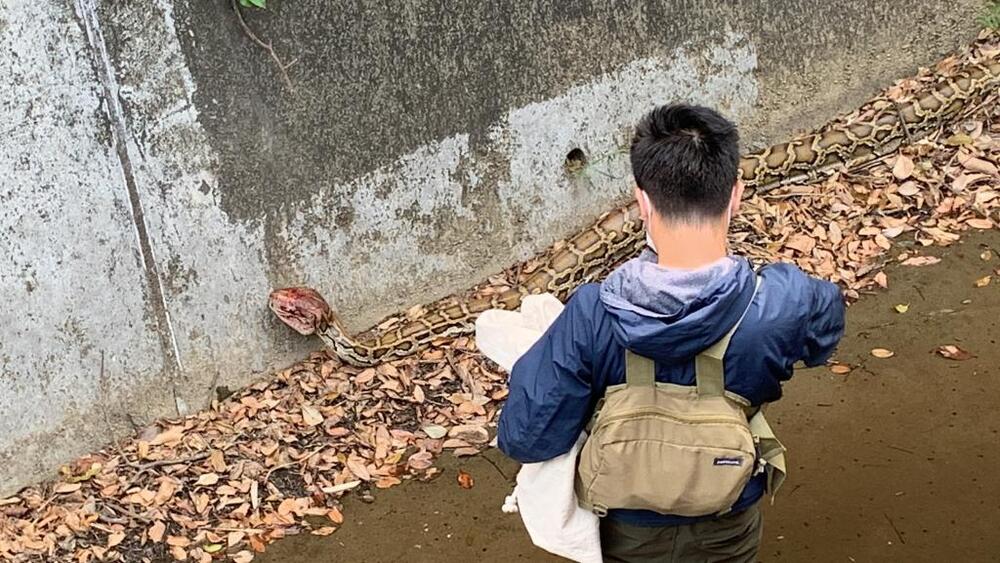 Three-meter python found bleeding in Tsuen Wan
A vigilant hiker on Thursday spotted a 3-meter-long Burmese python with a bloodied head slithering along the runoff canal at Fu Yung Shan in Tsuen Wan.
After spotting the injured serpent in the drainage ditch near Yuen Yuen Institute, the hiker reported it to the local police, who then responded, locating the python, and summoning a snake catcher to rescue it.

The snake catcher surnamed Lee, who has over 13 years of experience, said it was a Burmese python which is considered a large snake in Hong Kong.

This kind of snake mainly feeds on small mammals, such as small and medium-sized wild boars.

He added that the python had injuries to its head and eyes, believed to have been sustained over a week ago. The reptile was estimated to be between 6 and 10 years old, which will be later ascertained depending on its food intake.

After observing its injuries, Lee said the snake may have been attacked, but he could not tell whether it was injured by human beings or other animals.

He also said the python's body was very swollen due to its serious injuries, adding that its eyes were also hurt, which seemed to affect its vision as it did not try to attack the snake catcher when being caught.

According to Lee, the Burmese python is a protected animal, and it will be sent to Kadoorie Farm for treatment.