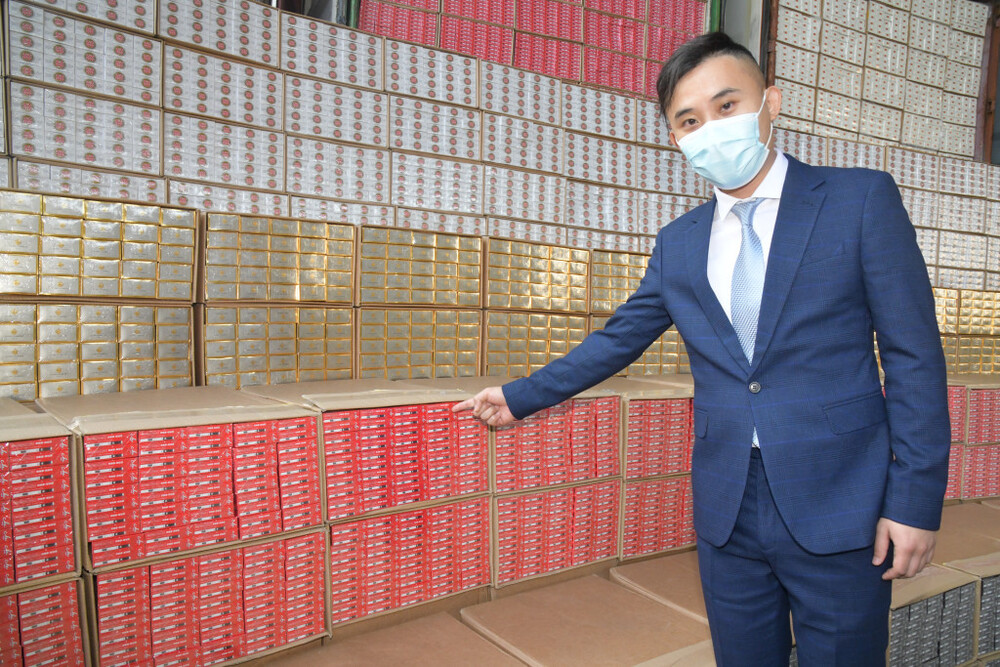 Three men arrested by customs in HK$150m illicit cigarette bust
Three men were arrested as customs busted two large-scale illicit cigarette smuggling cases worth HK$150 million, with a duty potential of about HK$100 million, earlier this month in Tai Kok Tsui and Sheung Shui. 
In the first case, officers intercepted two container trucks near Hoi Fai Road in Tai Kok Tsui in the morning on December 1, and seized about 21 million illicit cigarettes inside two 40-foot containers. 

Two male drivers, aged 54 and 60, suspected to be connected with the case were arrested. 

After further investigations, officers searched two other 40-foot containers inside a container yard on Jockey Club Road and a metal hut on Man Kam To Road in Sheung Shui respectively the same day, and seized another 21 million illicit cigarettes. 

In the second case, officers intercepted a container truck inside a container yard near Tai Tau Leng Village in Sheung Shui on Wednesday evening. Upon inspection, about 11 million illicit cigarettes were seized inside a 40-foot container and a 58-year-old male driver was arrested. 

Investigations are ongoing and customs said they will continue to trace the source and flow of the illicit cigarettes. More arrests may be made. 

Including the illicit cigarettes seized in this operation, customs have seized about 694 million suspected illicit cigarettes this year as on Wednesday. 

The number already exceeded last year's total seizure amount of about 427 million suspected illicit cigarettes by 60 percent, customs added. 

Officers said they will also closely monitor smuggling activities of illicit cigarette as Christmas and New Year holidays approach. 

Customs warned that smuggling is a serious offense and offender upon conviction is liable to a maximum fine of HK$2 million and seven years' imprisonment.