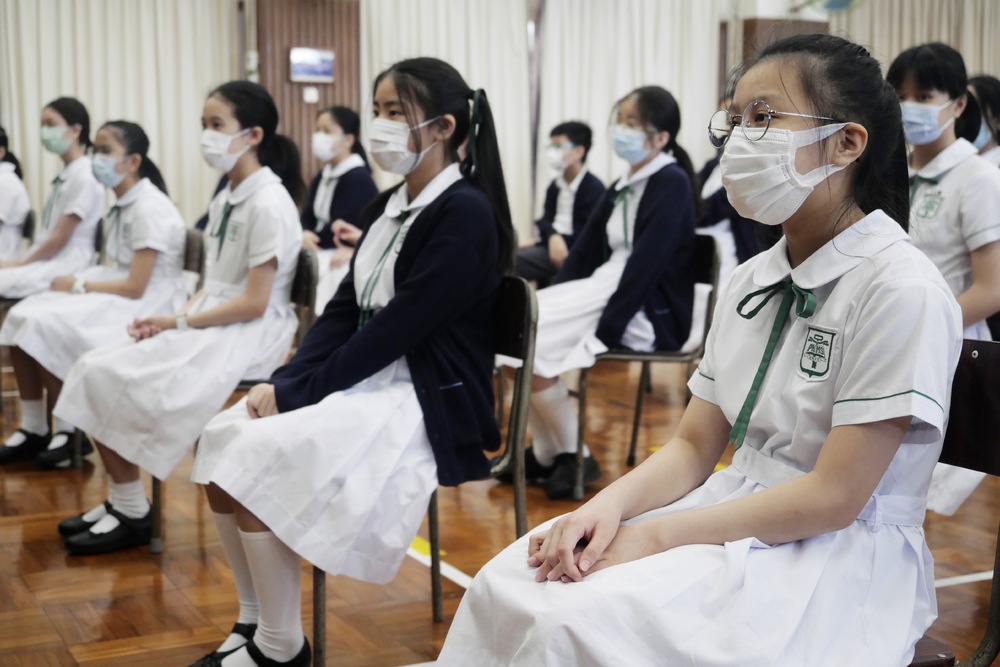 Three jabs necessary for full-day in-person secondary classes in November
Secondary schools can only resume full-day face-to-face classes if students' rate for the third Covid-19 jab reaches 90 percent or above by November, the Education Bureau announced Tuesday.
Otherwise, the schools can only conduct half-day face-to-face classes, according to the letter sent to schools regarding strengthening anti-pandemic measures.

The bureau also pointed out that students who are double jabbed before October 1 can be viewed as having completed the vaccination requirement before they can get the third jab. They will then be allowed to attend face-to-face classes for a whole day, participate in maskless activities, and have lunch at school.

On another note, the bureau has launched an award scheme to motivate students to get vaccinated. Schools will be awarded a gold certificate if students' third jab rate reaches 90 percent or above.

The top prize is followed by a silver certificate with a vax rate ranging between 80 percent and 90 percent, and a bronze certificate awarded if the rate is between 70 percent and 80 percent.

The certificate will be awarded in December, February, April, and June. Schools that can secure the gold certificate three times or more will receive the platinum certificate.

Students who need not receive the third jab yet, those aged five to 11 who need only two shots, and those who do not need the third jab following an infection, will be viewed as having fulfilled the requirement with only two shots as well.

Starting from September this school year, the bureau will update the vaccination rate of teachers, school staff members, and students monthly via online surveys.

Speaking on RTHK this morning, Joseph Tsang Kay-yan, co-chairman of the Hong Kong Medical Association's advisory committee on communicable diseases, supported the tightened vaccination threshold for students.

He also hoped students in Hong Kong could enjoy a normal school life like kids in other countries.

Under Article 28 of the Convention on the Rights of the Child adopted by the U.N., the right of a child – defined as those under the age of 18 – to education is recognized.