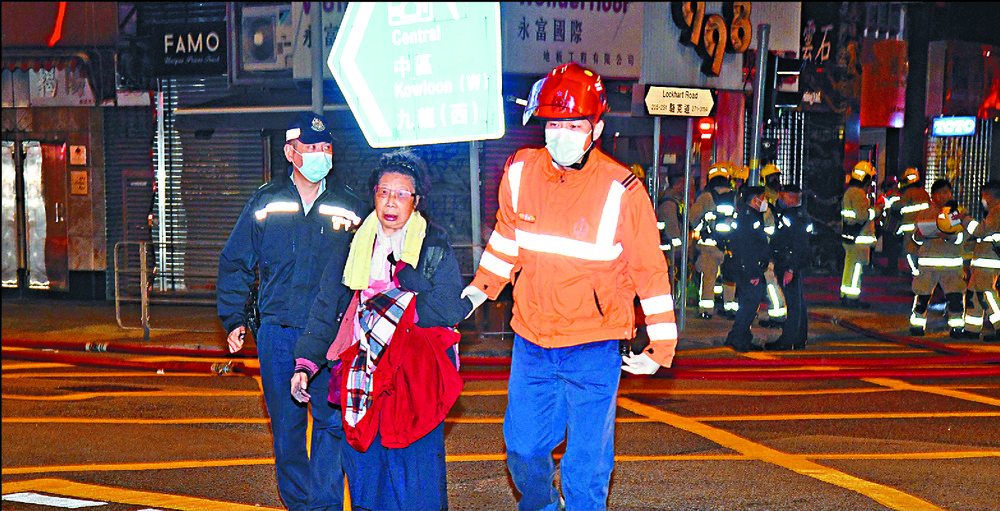 Three die in family tragedies
A father and son were found dead in a fire at a Wan Chai flat in the early hours of yesterday, with both of whom found to have knife wounds in their chests.
The blaze at the 300-square-foot flat on the sixth floor of Kam Lok Mansion on Lockhart Road broke out at 3.47 am and was put out at 4.55 am.

The son, believed to be in his 30s, was found unconscious in the two-bedroom flat and declared dead at 5.48am in Ruttonjee Hospital in Wan Chai.

The charred body of his 89-year-old father, Lau, was found inside a bedroom and he was declared dead at the scene at 4.55am.

"Apart from being burned, there's a two-centimeter injury on his chest caused by a sharp object," said assistant district commander Sin Kwok-ming, adding that the old man had lived at the unit for 30 years.

Sin also said the old man was found in a supine position, indicating he might have seen the attacker, with a knife next to him.

The son, who was severely burned, was found in the bathroom with a one-centimeter wound in his chest.

Sin said officers are still trying to confirm their relationship, while their cause of death will be confirmed by autopsies.

"They were the only ones in the flat at the time. There is no evidence suggesting that a third party was in the flat, as the doors and windows were all locked," he said.

"There was also no sign to show that the two were in a dispute before the fire."

The fire was suspicious as two cans of accelerants were found at the scene.

A neighbor said the son always took his father for hospital appointments as the old man had trouble getting around.

Firefighters put out the fire at 4.55am, and 25 residents left the building by themselves while another 14 were evacuated by firemen to safer areas.

The tragedy came as a 25-year-old man was arrested for murdering his 50-year-old mother at their home in Ngau Tau Kok.

The incident first came to light at about 4.30pm on Wednesday, when a United Christian Hospital nurse visited the 25-year-old, who was a patient, at Sheung Wing House in Upper Ngau Tau Kok Estate, but the man, Wong, refused to open the door.

She called in the police as she heard suspicious noises from the flat.

Officers broke in and found the mother unconscious in bed with a neck injury. She was declared dead at the scene.

The son was sent to the hospital and later arrested for murder. It is understood the mother had been dead for two to three days, while the son has a history of mental illness and a propensity to violence, which required him to see a doctor regularly.