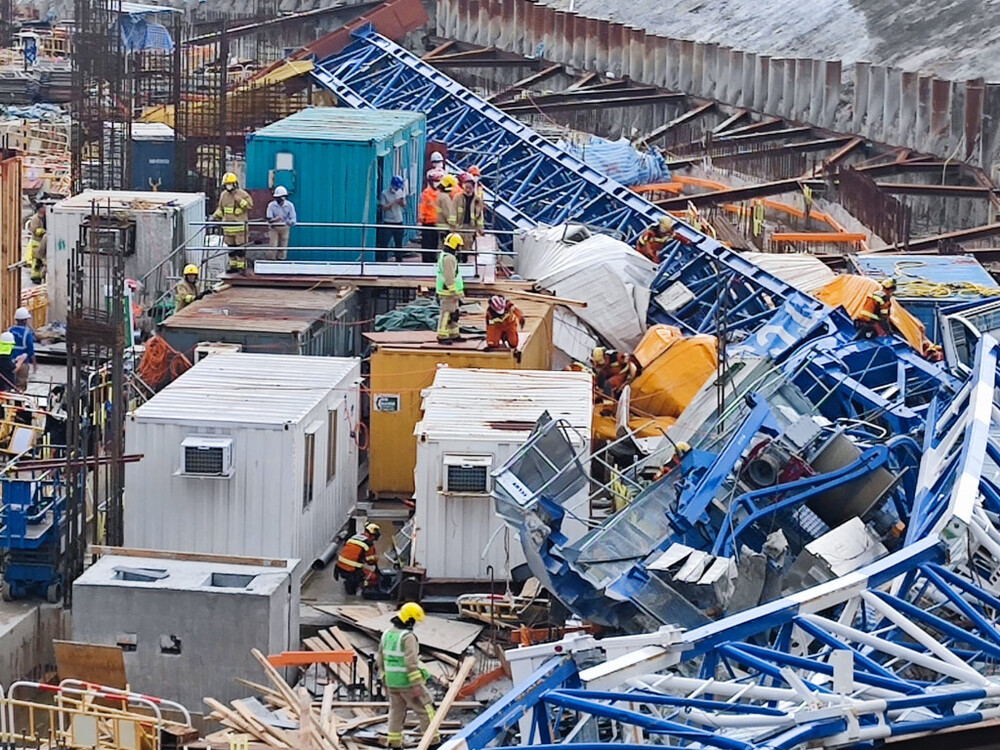 Three dead, six others injured as Sau Mau Ping tower crane collapses
At least three construction workers were killed, and six others were injured on Wednesday morning after a huge tower crane collapsed at a construction site on Anderson Road in Sau Mau Ping.
The incident that happened at 10.54am saw the crane fall on multiple containers used as temporary offices inside the construction site.

A 41-year-old electrical worker surnamed Hui was certified dead at the site after suffering a skull fracture, while a 22-year-old assistant engineer surnamed Poon died after being rushed to hospital, police said.

Another 25-year-old engineer surnamed Tsui that trapped under the wreckage was confirmed dead in the evening after rescuers tried to reach him for hours in vain.

"We can only see the lower half of his body, and he was unresponsive when we tried to communicate with him," the firefighter said.

Six injured workers, two in serious condition, were taken to hospital.

Fire Services Department said the tower crane weighs about 65 tonnes. Urban Search and Rescue Team and High Angle Rescue Team were deployed to help with search and rescue operations.

The case is classified as an industrial accident, and officers are investigating the cause of the incident.

Lawmaker Kwok Wai-keung, who represents the labour sector, said crane collapses are rare in the city and called the accident a "major blow" to the industry.

Kwok urged authorities to investigate whether the collapse was due to a design flaw or human error, and to publish their findings as soon as possible.

The scene of the accident was part of a massive construction site for a subsidised public housing project that aimed to create 19,000 homes, according to local media reports.