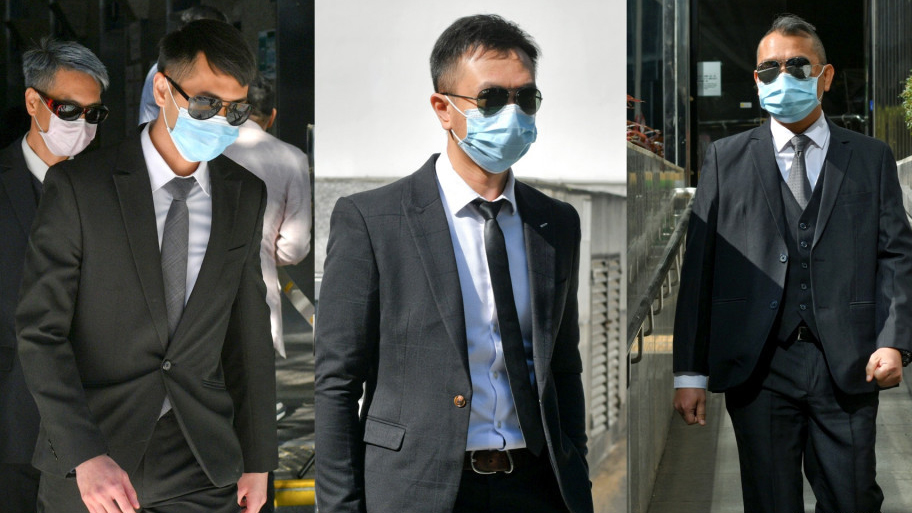 Three cops jailed up to 16 months over arranged gambling den raid
Three cops were jailed Friday for 14 and 16 months for perverting the course of justice after their arranged gambling den raid, and arrests with triad members were busted by another police undercover.
Chiu Kwong-lam, 56, Lai Fuk-hong, 51, and Fu Yu-man, 38, were earlier convicted of perverting the course of justice for placing the equipment in an illegal gambling den in Tsuen Wan, arranging four people to pretend gamblers, and writing up false investigation reports between May 2 and July 1, 2018.

Chiu was jailed for 14 months, while Lai and Fu were each jailed for 16 months as the trio appeared before deputy district judge Katherine Lo Kit-yee in the District Court on Friday.

The fourth involved cop Cheung Tsz-kin, 30, walked free after the trial. The fifth defendant, 39-year-old Chan Siu-po, who operated the gambling den, was jailed for eight months following his guilty plea.

The court heard the undercover cop infiltrated the triad society Wo Shing Wo for in-depth investigations in 2016 and was arranged to work at the Tsuen Wan gambling den by his superior Wong Wai-kwan in January 2018.

On June 22, 2018, Wong told the undercover cop that he had sorted things out with the police for a "surprise raid. The undercover cop and other arrested "customers" would be paid HK$1,500 to HK$5,000 after they were released on bail.

The undercover cop, as instructed by Wong, contacted Lai and met him and the other defendants in the police station. Lai then told the undercover cop to place cigarettes, drinks, and the tenancy agreement at the gambling den. Lai also specified removing most of the chairs and connecting the CCTV to a hard drive.

Lai stated that the "arrestees" must not be South Asians, underage teenagers, or those who look like they were wanted by police.

In handing down the sentence, Lo noted that a public officer committing a crime is way worse than a citizen doing so. Their arranged raid also impacted the city's judicial system and weakened citizens' faith in the police.

Still, Lo accepted that the trio committed the crime out of impulse, and it was only an isolated incident. She added the trio had been serving the city well and shared good characteristics.

She noted there was no evidence to prove that Chiu instructed Lai and Fu to commit the crime, and Chiu being stripped of his 30-year pension was already a significant punishment.