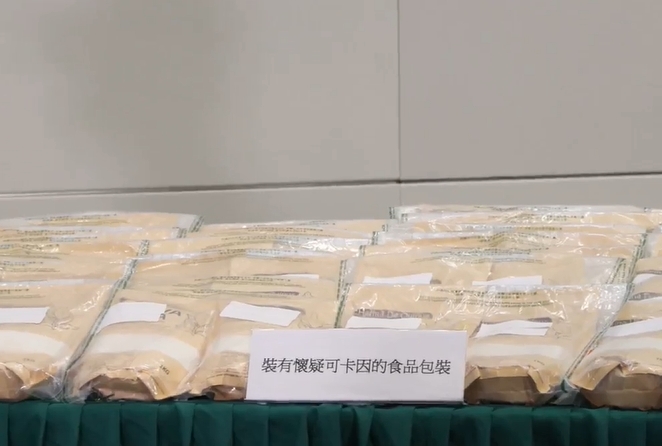 Three arrested over trafficking HK$210 million cocaine hidden in quinoa flour from Peru
Customs arrested three men involved in trafficking 240 kilograms of cocaine with a market value of HK$210 million from Peru.
The three arrestees, one of which was suspected to be a core member of a drug trafficking syndicate, were believed to mix the drug powder with quinoa flour to avoid the Customs' inspections.

The Customs launched an investigation last week to detect a batch of containers reported to be quinoa flour shipped from Peru in a cargo site in Yuen Long, finding 240 of 1300 packs of goods showing unusual images under the X-ray inspection.

After unpacking the goods for analysis, officers detected 240 kilograms of cocaine powder, worth HK$210 million, in the seizure.

Officers then deployed a series of operations based on the recipients' information for the goods and arrested three men in a warehouse of an industrial building yesterday morning in Tai Po.

A 70-year-old warehouse owner, a 52-year-old manager of the recipient company, and the recipient, 24, were arrested. The latter two were currently detained. The 24-year-old was believed to be a core member of a drug trafficking syndicate.

It is estimated that only 15 percent of the total amount of drugs in circulation did the seizure account, officers said, noting the drugs were trafficked to meet the demand for sales in Christmas.