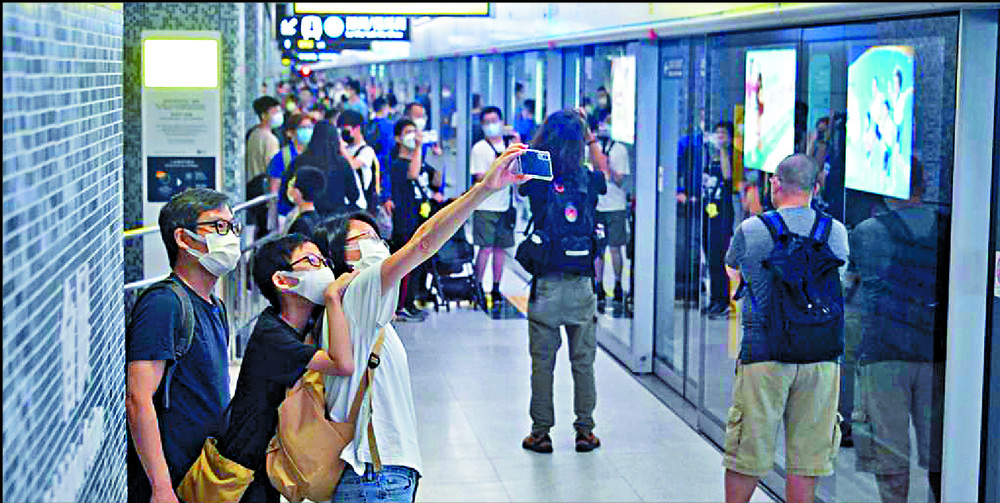 Thousands turn up for peek at exhibition stop
Excitement is growing among train buffs and commuters as the launch of the East Rail Line cross-harbor extension nears, with some 4,000 visitors flocking to the open day yesterday for a sneak peek of the new Exhibition Centre station.
From Sunday onward, East Rail Line commuters will be able to alight at the new terminal station in Admiralty instead of Hung Hom as part of the extension.

The station in Wan Chai North - one stop before Admiralty - proved a huge draw yesterday.

The remnant of a World War II bomb - dropped between 1943 and 1945 by an Allies' air strike targeting Japanese warships - that was displayed on the station's platform quickly became a popular photo opportunity spot for visitors.

A sign accompanying the display told visitors that during the station's construction in 2018, three 450-kilogram bombs were unearthed.

One railway enthusiast said the display was a nice addition, adding the bomb bore witness to the city's turbulent history.

He was also excited to see a photo display charting the history of the century-old East Rail Line.

"The photos on the walls of the platform are fascinating and a job well done as it allows passengers to see the history of the line," he said.

Another visitor said he was looking forward to the official debut of the line's cross-harbor extension, especially after his "unforgettable" experience riding the Tuen Ma Line when it first opened in June.

"The launch of the cross-harbor extension will make it more convenient for people to cross the harbor, rendering it unnecessary to suffer the traffic jams at the Cross-Harbour Tunnel in Hung Hom when heading to work in the morning," he said.

"I am ready to take the first train across the harbor to commemorate the opening of the line extension As there are no new railway lines opening in the near future, I will certainly treasure the opportunity."

But one visitor raised doubts about the nine-carriage trains which recently replaced the 12-carriage ones, the latter having dominated the East Rail Line since the 1980s.

"I am worried the southbound trains [heading toward Admiralty] will be too crowded when arriving at the Sha Tin and Tai Wai stations and passengers from those two stations will have a hard time finding space in the carriages," he said.

Indeed, many mourned the loss of the 12-carriage mid-life refurbishment trains, which ran one last scheduled service from Hung Hom station to Sha Tin station on Friday.