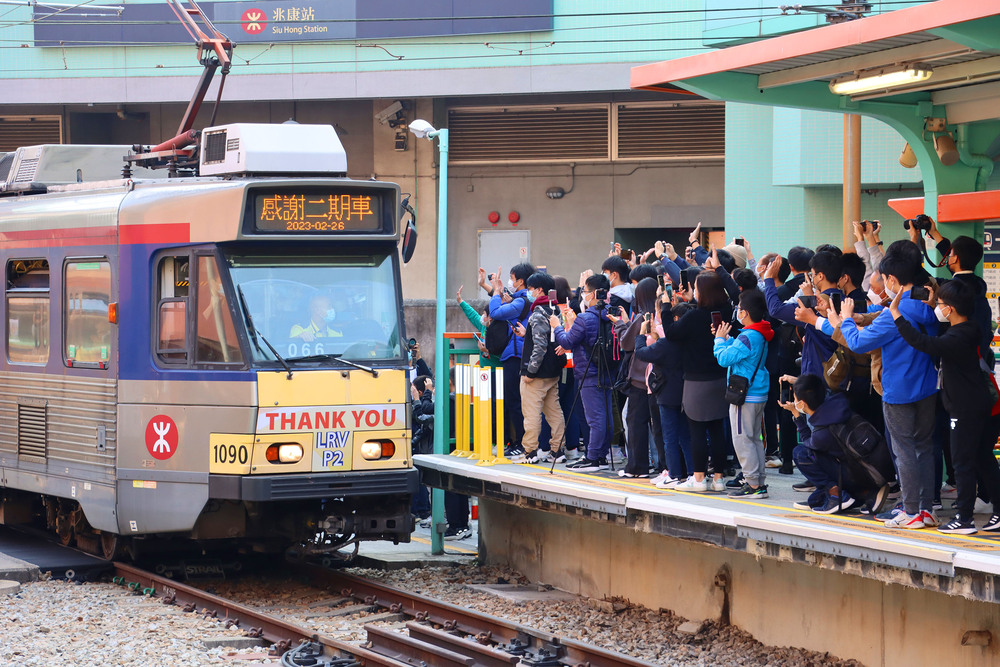 Thousands of passengers bid farewell to Phase 2 Light Rail train
Over a thousand fans waved goodbye to the to-be-retired Phase 2 Light Rail Vehicles on Sunday morning for the last trip after its 30 years of service.
The swansong ride of a Light Rail Vehicle train arranged by the MTR Corporations departed from Yuen Long Stop to Siu Hong Stop at 9.15 am this morning, stopping at Siu Hong Stop for an hour for fans to say goodbye.

"I started waiting at Yuen Long Stop at 8 am and took the special trip," said a female resident surnamed Wong, "I have been taking Light Rail rides for 30 years, and my 5-year-old son also loved Light Rail. We came here especially to send our gratitude."

A primary five schoolboy surnamed Wu said he had started waiting for the train at Yuen Long Stop at 8.30 am but failed to take the ride, "I was a bit disappointed but I am happy to be able to say goodbye to the Phase 2 Light Rail."

Phase 2 Light Rail has been serving the Northwest New Territories and connecting communities since 1992, providing convenient and quality public transport services to residents in Tuen Mun, Yuen Long and Tin Shui Wai," said MTR Corps' Operation Director Lee Kar-yun.

A retired Phase 2 Light Rail train will be donated to a school for exhibition and for the knowledge popularisation of Hong Kong's transport, according to MTR.

There were 30 Japan-made Phase 2 Light Rail trains served in Hong Kong transportation for the past 30 years, and were replaced by China-made Phase 5 Light Rail trains, which were purchased at a price of HK$745 million and put into service in November 2020.