With public beaches and playgrounds closed under city's social-distancing curbs, residents packed onto ferries to reach outlying destinations.
Thousands of residents flocked to Hong Kong's outlying destinations and a geopark in Sai Kung, with Sharp Island a hot spot for some fresh air on the final day of the Easter break.

Ticket sellers at booths lining Sai Kung's public pier offering boat tours to nearby islands said about 1,000 visitors had bought passes for Sharp Island each day during the long weekend.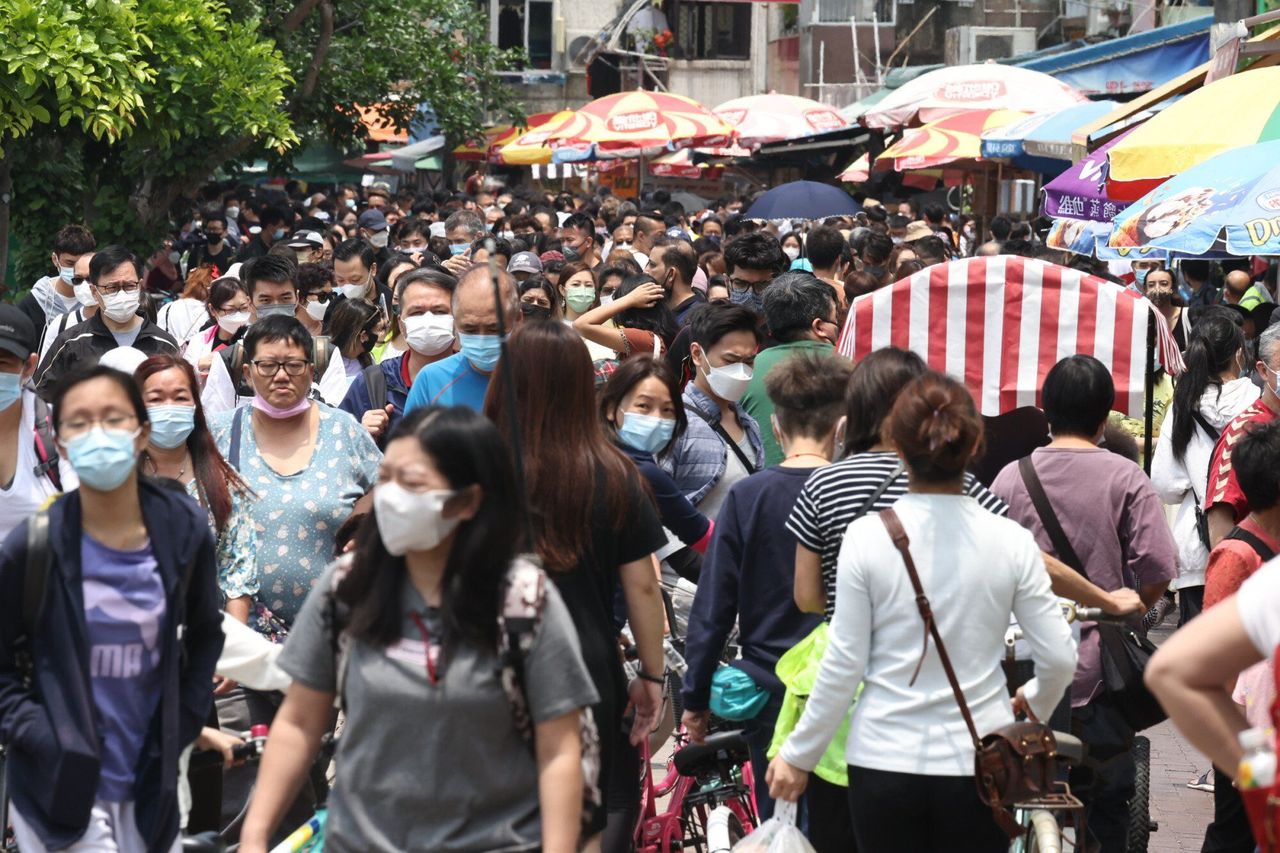 Cheung Chau was swamped at the weekend.

About 500 people, some having camped overnight, could be seen at lunchtime on Monday on the island, named after its angular shape. More were seen arriving in boats at 2.30pm to appreciate the tombolo emerging at low tide.

The island, which is one of Hong Kong Geopark's volcanic rock formations, is popular among visitors due to its beaches.

Louis Chan, 41, brought his wife and two children to the beach. He said they were not worried about getting infected with Covid-19 as the family had recovered from the virus last month.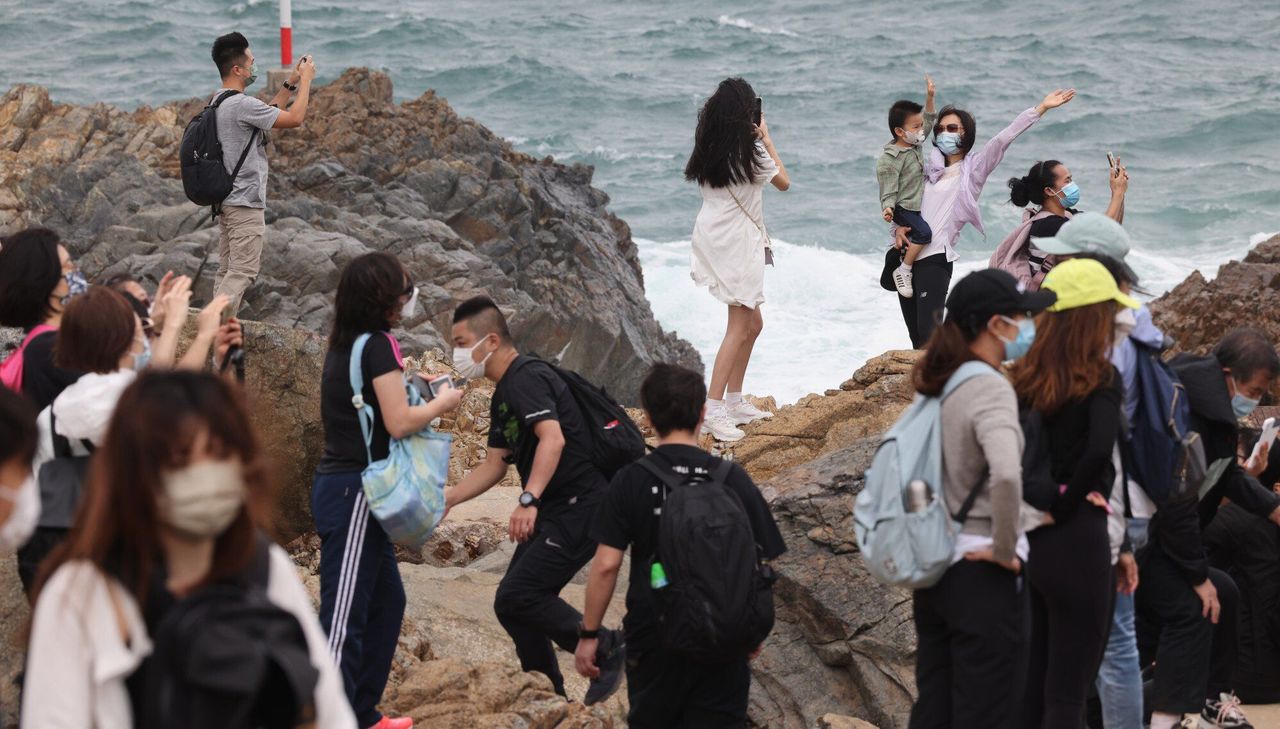 Residents flock to Hong Kong's outlying islands on the last day of the Easter holiday.

"People have nowhere to go under the toughest social-distancing rules. I am not surprised to see the crowds on the islands during the public holidays at all," the teacher said.

With public beaches and playgrounds closed and fenced off under Hong Kong's social-distancing curbs, residents instead packed onto ferries to reach beaches unaffected by government closures.

With options limited, as swimming pools, cinemas, theme parks, museums and sports venues have been shut for most of the year, many residents found ways to spend the last day of the holiday outdoors.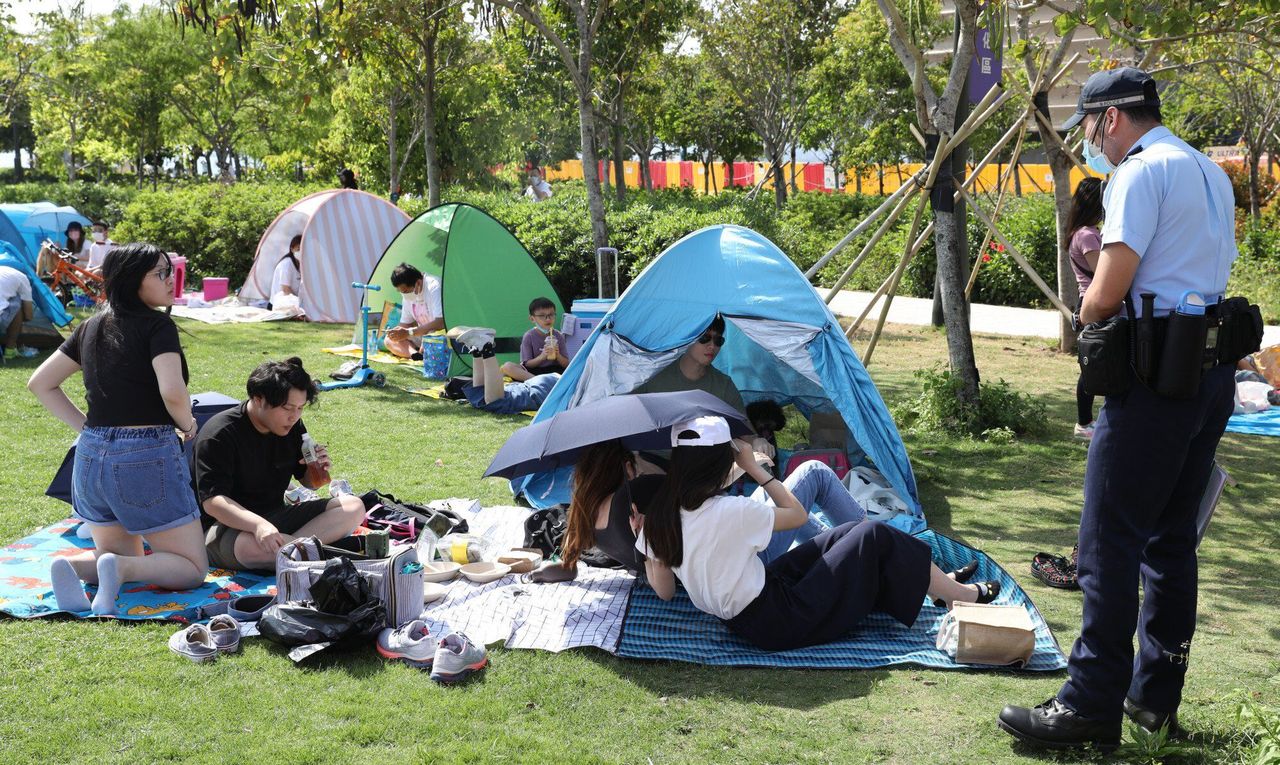 A police officer has a word with visitors at the weekend to ensure social-distancing rules are kept at the West Kowloon Cultural District.

Authorities will start easing some measures on April 21, including allowing restaurants to operate dine-in services for four more hours until 10pm, with up to four people per table. Gyms, museums and cinemas will reopen, but bars, beaches and swimming pools will remain closed.

The city will also lift a ban on private gatherings of more than two households and allow four people to congregate in public, up from the current two-person limit.

Health authorities confirmed 613 new coronavirus cases on Monday, the fourth day in a row infections were below the 1,000 mark. The city's overall Covid-19 case tally since the pandemic began stood at 1,198,438 with 9,159 fatalities.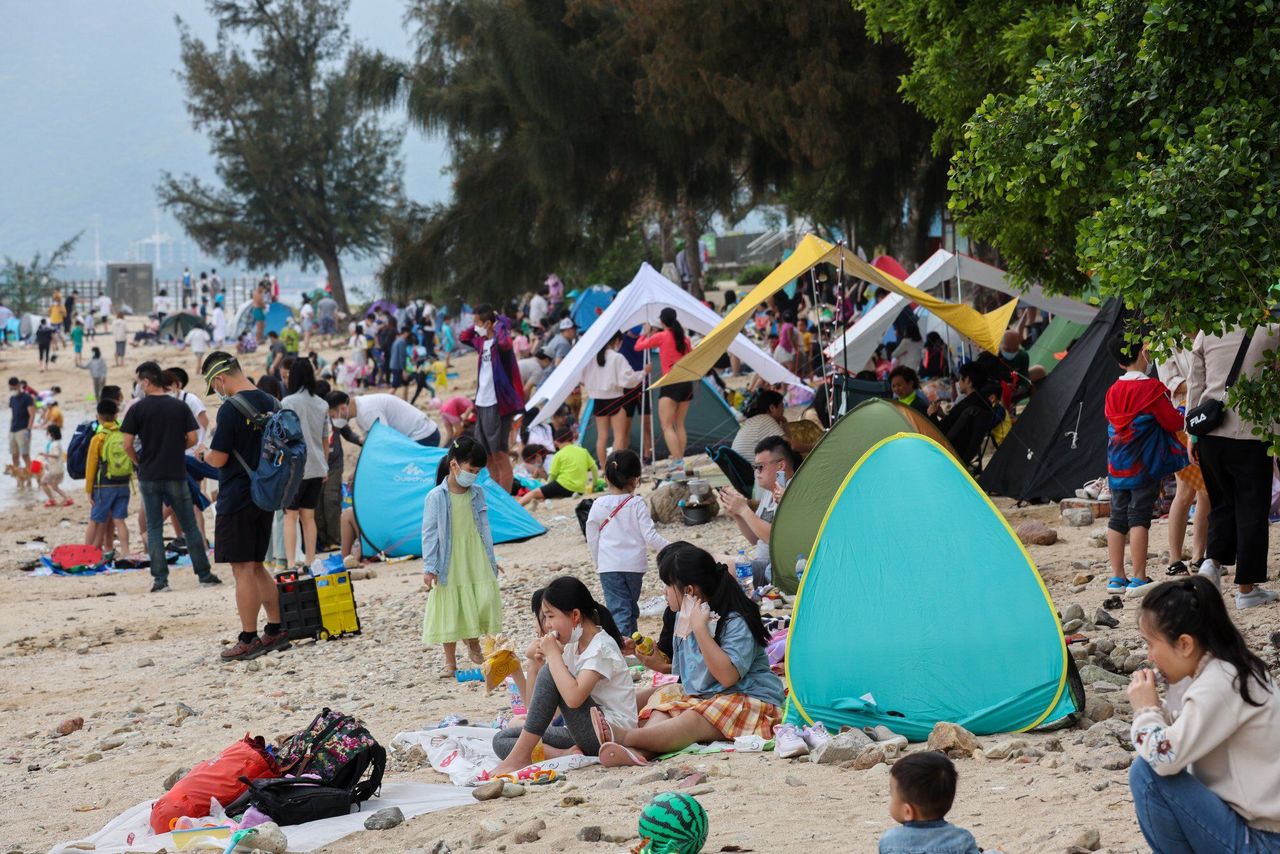 Crowds of people at Sharp Island in Sai Kung on Monday.

Experts predicted a small rebound in cases could occur following the Easter holiday as more people went outdoors, but Professor Ivan Hung Fan-ngai, an infectious disease expert from the University of Hong Kong, said the risk was low as many people had gained natural protection after recovery.

More residents arrived in the afternoon to take photos at low tide on Sharp Island. Among them was Jackson Hung, a 23-year-old student, who was on the scene for pictures with his girlfriend.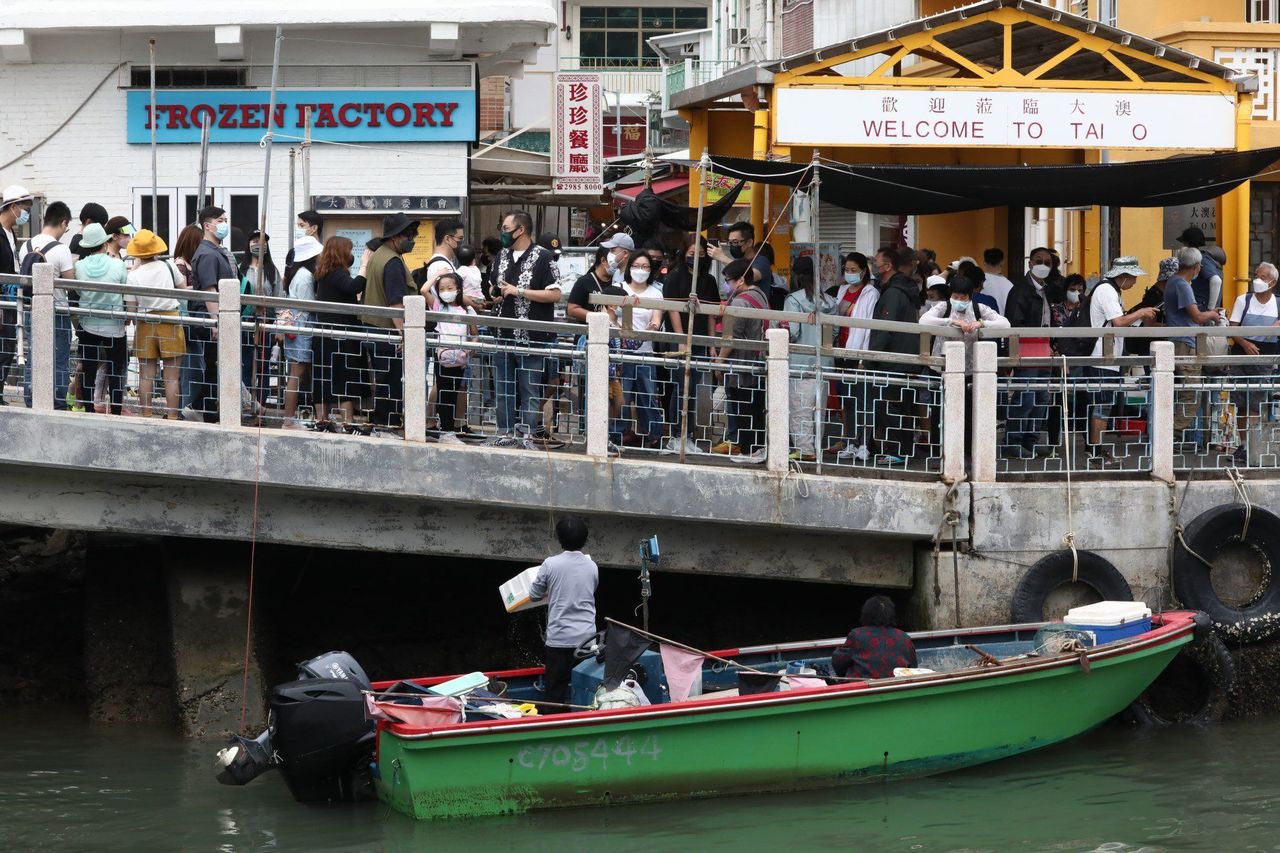 Holiday crowds enjoy Easter Sunday at Tai O on Lantau Island.

"I'm tired of being stuck at home for over three months," he said. "The restrictions made me feel lonely as I was unable to meet classmates and friends in person."

Hung said he avoided packed areas on the island to reduce risks of catching Covid-19.

Yip Siu-hang, 28, enjoyed a barbecue with five friends on the island.

"We can't see the end of the pandemic, but should we lose our normal life at the same time?" said the logistics officer, adding that the group of six would walk around to keep some distance from each other.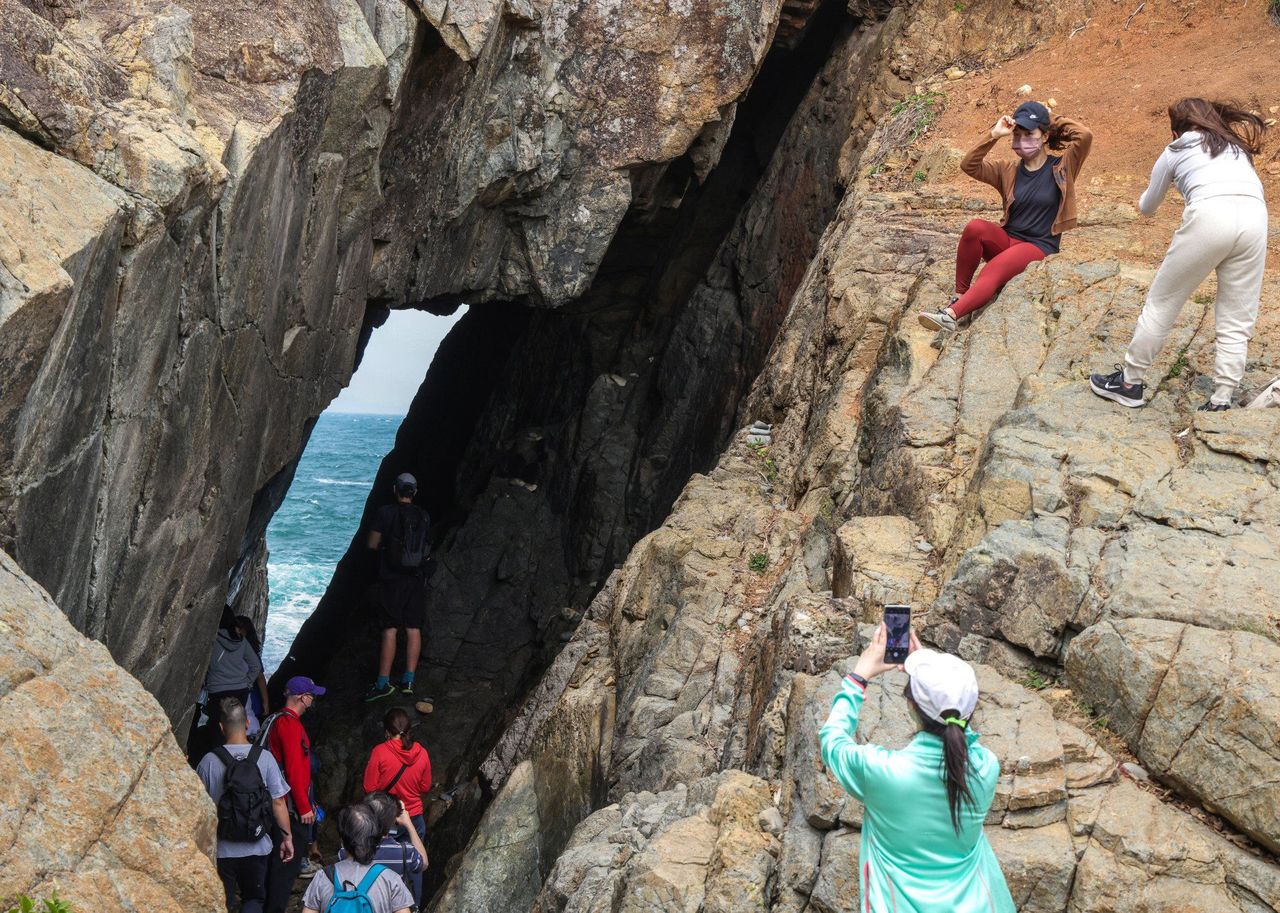 Visitors enjoy the outdoors at a rock arch in Shek O.

Crowds were also thronging the city's Central ferry piers, where people boarded vessels to outlying scenic gems such as Cheung Chau and Lamma Island.

The Post observed that while people remained in separate groups outside the pier buildings, there was no social distancing enforced in the boarding queues.

While most travellers were families with young children, there were also larger groups of nearly a dozen people.

Francis Lam, a 27-year-old legal sector worker, said he planned to spend the whole day on Cheung Chau with his girlfriend.

"My girlfriend and I have already spent so much time indoors, frequenting too many shopping malls, so we wanted to go somewhere outdoors today," Lam said, adding he was not worried about Covid-19 as case numbers had been declining.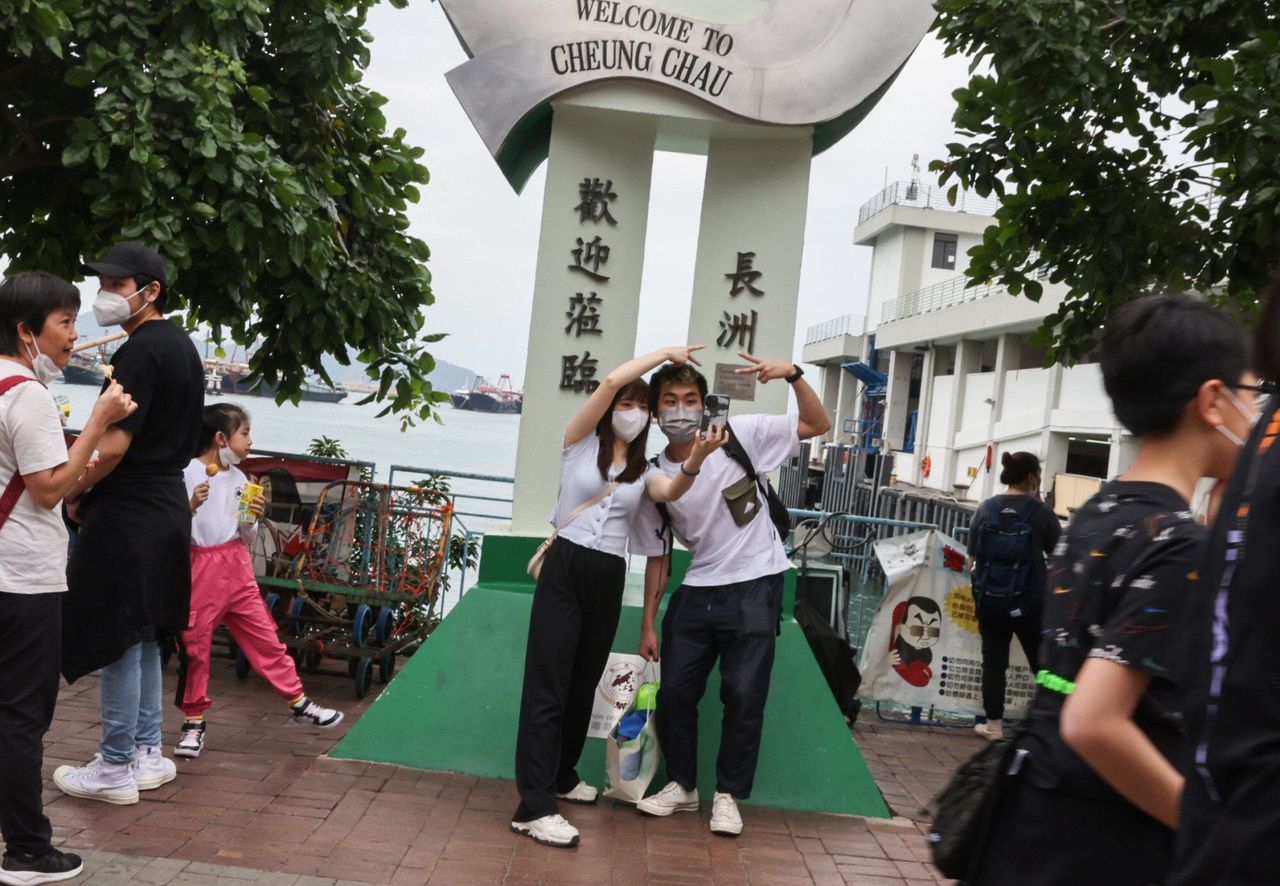 Time for a photo on Cheung Chau.

Jack Chan, who works in merchandising, was visiting Lamma Island with his two daughters, aged two and seven, and their grandfather.

"We are going to Lamma Island because there is a fishing village museum that is in a relatively open area. I am a little worried about Covid, but I think it should be fine as long as we observe social distancing and personal hygiene," the 40-year-old said.

Under the current rules only two people are allowed to gather in public, with those from the same household exempted. Anyone found in breach of Covid-19 regulations is subject to a HK$5,000 fixed penalty.

On Sunday, the Leisure and Cultural Services Department said 34 people were issued with fixed penalty notices for breaking rules on group gatherings or failing to wear masks.